1er article 2014 et on commence l'année en douceur… Pour moi la journée du 1er Janvier est toujours synonyme de détente, détox et cocooning ! Et quand je suis à la maison j'aime bien être confortable dans mes vêtements tout en étant jolie ;-) J'ai donc recyclé un pull pour l'occasion (heu oui c'est encore un pull de mon chéri… rappelez-vous j'avais déjà recyclé plusieurs de ces pulls ici, ici et encore ici) bien confortable, bien loose avec une jolie dentelle pour lui apporter une touche de féminité… Suivez le tutoriel pour customiser le vôtre !
First article for 2014 so let's start the year smoothly… For me 1st of January is always synonym of relaxing and detoxing ! And when  I am at home I love to be comfortable in my clothes while being pretty :-) So I have decided to recycle a sweater (yes it's one more time one of my men….remember I had already recycled many sweaters here, here and here) comfy, loose with a cute lace to add a touch of feminity… Follow the tutorial to customize yours.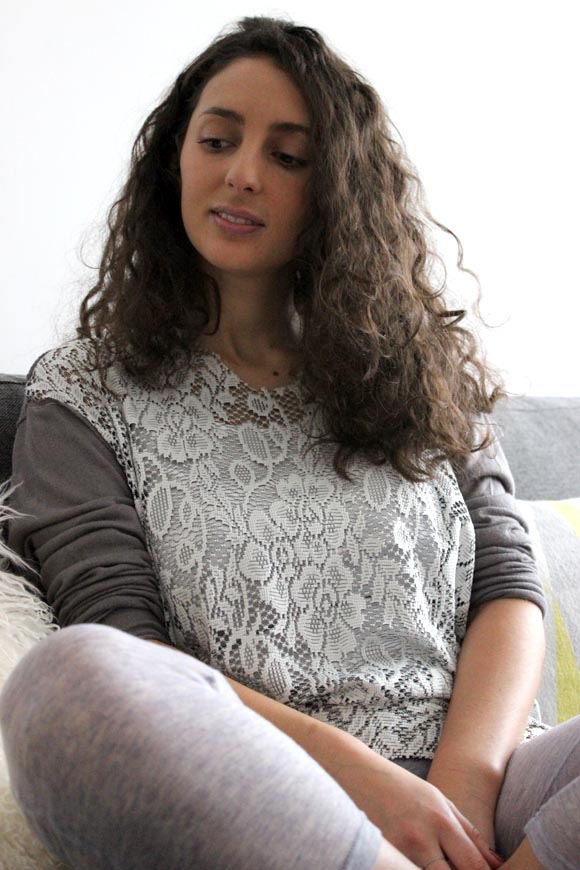 Pour customiser votre pull avec de la dentelle il vous faut : 
–Un pull col round ou V mais pas de col roulé ce serait trop compliqué à transformer. Cette technique marche aussi avec un sweat.
–De la dentelle. La mienne vient comme d'habitude des coupons Saint-Pierre.
-Du matériel de couture.
To customize your sweater with lace you will need : 
–A sweater with a round or V neck but no turtleneck it will be too complicated. This technic can also be use with a sweatshirt.
–Lace. Mine is as usual from Les coupons de Saint-Pierre.
–Sewing material.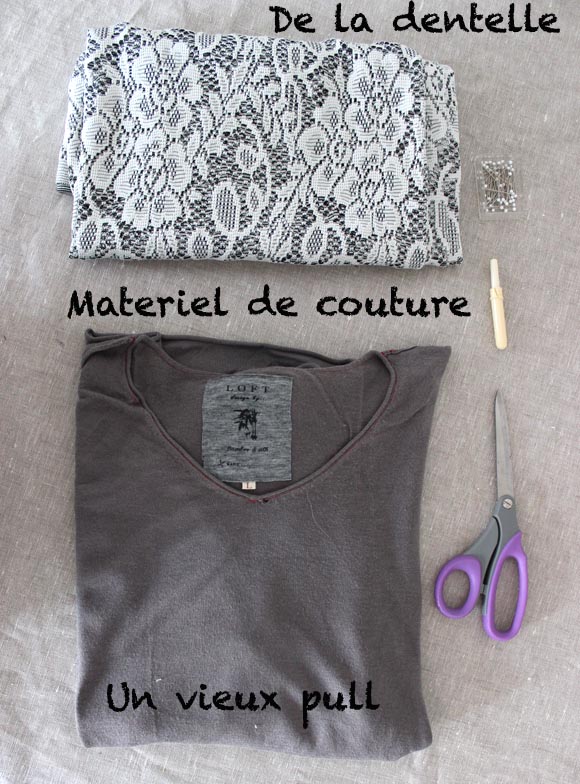 Commencez par découper le devant du pull.
Start by cutting the front of the sweater.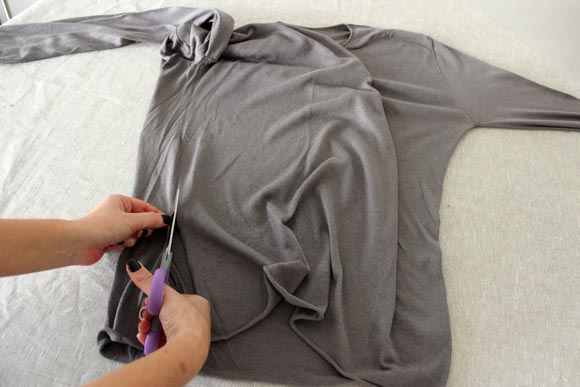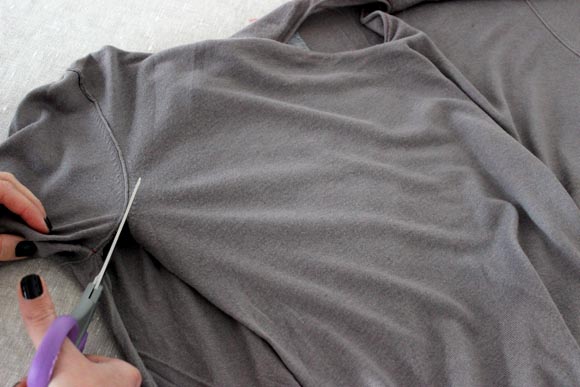 Vous vous retrouvez avec le devant du pull. Il va vous servir de patron pour découper la dentelle.
You will get the front of the sweater that it's going to be used as a pattern to cut the lace.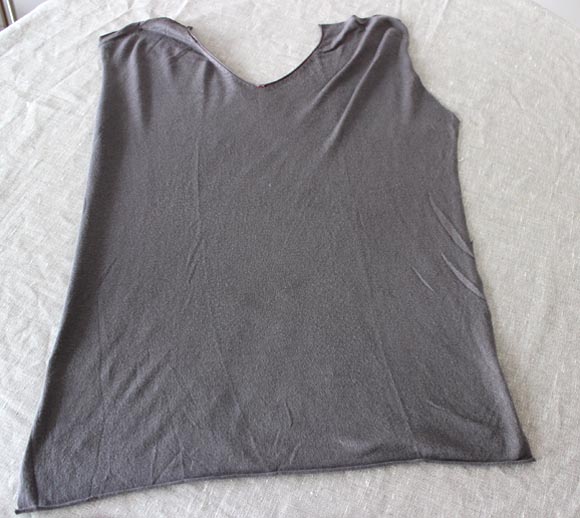 Posez-le sur la dentelle et découpez autour en laissant une marge de sécurité.
Place it on the lace and cut around. Don't forget to let some cm of security.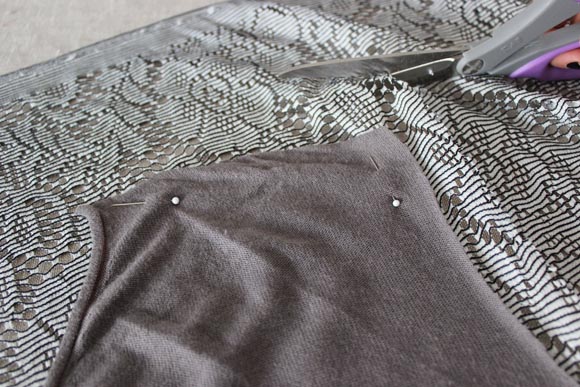 Vous obtenez la même forme dans la dentelle.
You get the same form in the lace.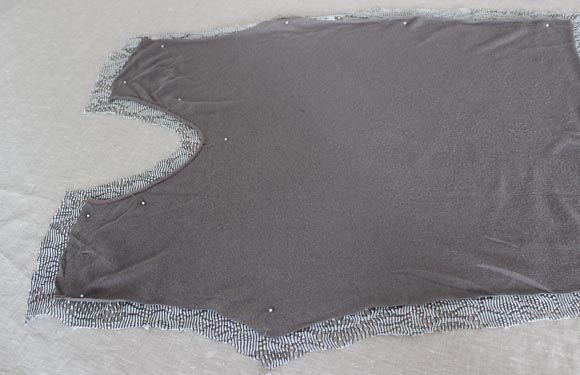 Epinglez-la sur la pull et cousez-la.
Pin it on the sweater and sew it.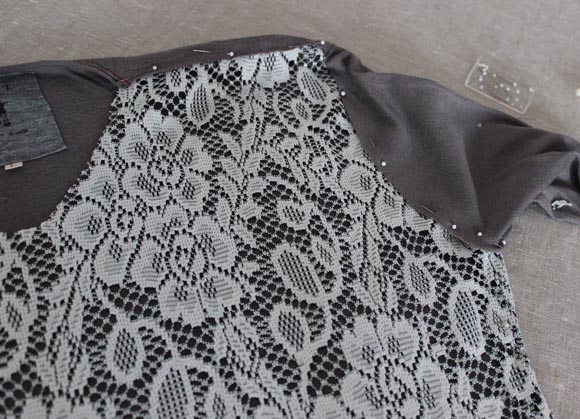 Et voila le travail ! Vous pouvez aussi utiliser cette technique pour créer un dos en dentelle.
And here is what you get ! You can use this technic to make a back lace.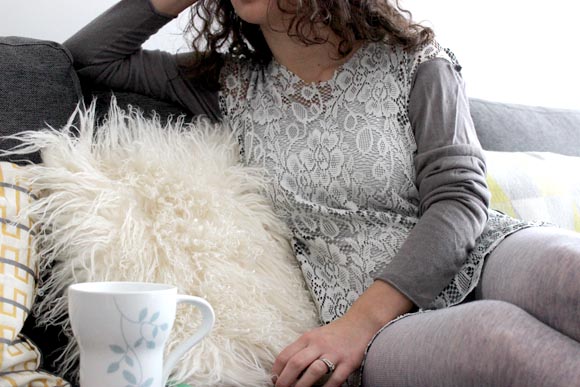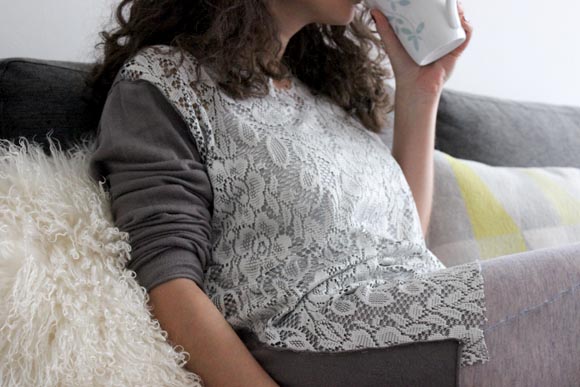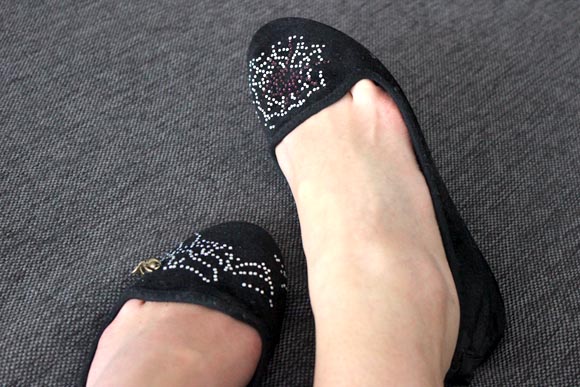 Pull DIY, leggins Princesse tam-tam, ballerines Charlotte Olympia like DIY 
DIY sweater, Princesse tam-tam leggins, Charlotte Olympia like DIY slippers