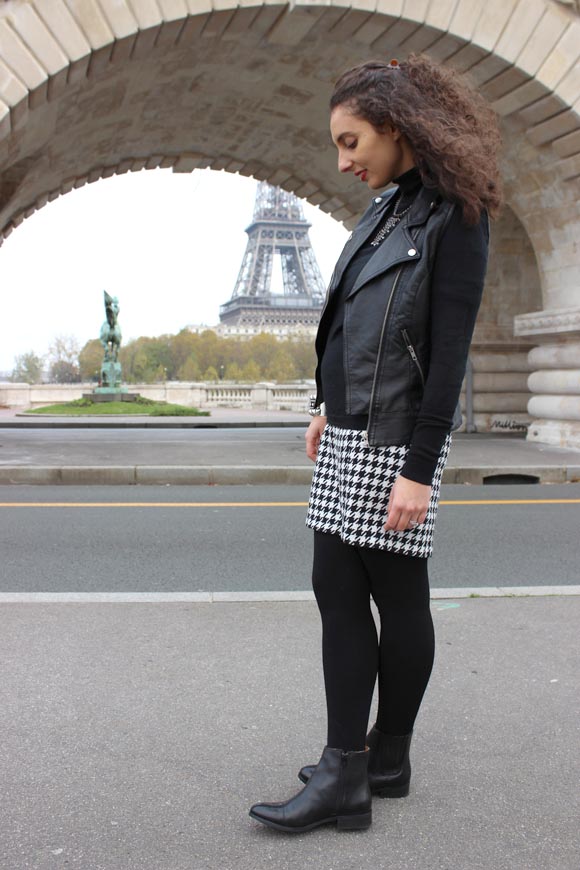 Le pied-de-poule c'est hyper tendance cet hiver ! Pourtant c'est un imprimé qui a déjà été au goût du jour et oui la mode est un éternel recommencement… Il était beaucoup moins rock auparavant, plus classique, presque BCBG. Alors pas étonnant pour moi d'avoir trouvé une robe Promod dans un vide-grenier pour 5euros. Je vous en parlais d'ailleurs ici. Je n'ai donc pas pu m'empêcher de lui redonner un petit coup de jeune ! Et c'est pour moi l'occasion de vous montrer comment recycler une robe que vous ne portez plus !
Hound's-tooth cloth print is so trendy this winter ! However this print had already be fashionable before… Yes girl fashion is an eternal renewal… It was not so rock before, but more classical, preppie. So I was not surprise when I found this cute dress in a garage-sale for only 5euros. I was talking about it here. I couldn't resist to give it a new look ! And this is the occasion for me to show you how to recycle a dress that you don't wear anymore.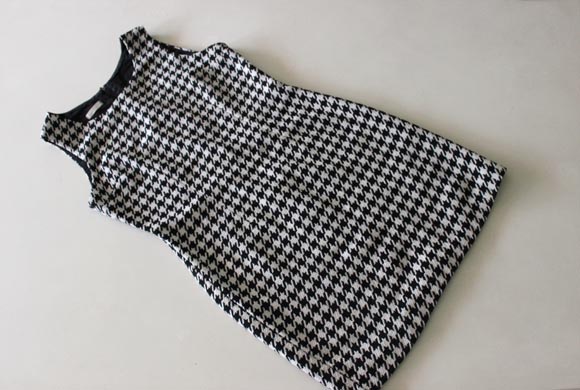 Voici la petite robe chinée…
Here is the second-hand dress…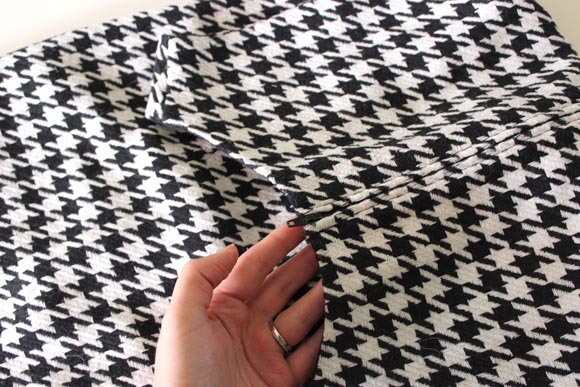 Une des premières choses à faire pour relooker votre robe est de vous assurer que la fermeture éclair est bien fermée et remontée.
The first thing you need to make sure to make-over your dress is to close the zipper.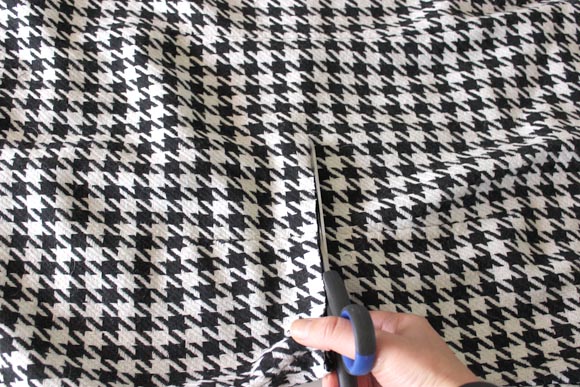 Coupez la robe à la longueur désirée. Il n'y aura pas d'ourlet donc coupez pile à la hauteur sans prendre en compte de marge.
Cut your dress at desire length. We won't make any hem so cut it at the perfect length.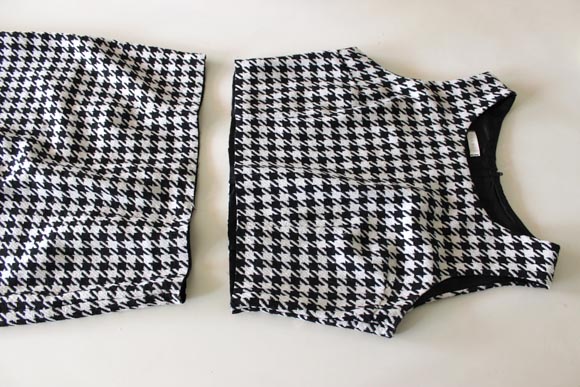 Vous obtenez 2 parties. Surtout ne jetez pas le haut je vous prépare une surprise dans un prochain article ;-)
You get 2 parts. Don't through away the top I am preparing a surprise in a next article.
Décousez ensuite la fermeture éclair que vous pourrez jeter. Elle ne vous servira plus.
Sew out the zipper. You can through it. You won't be using it anymore.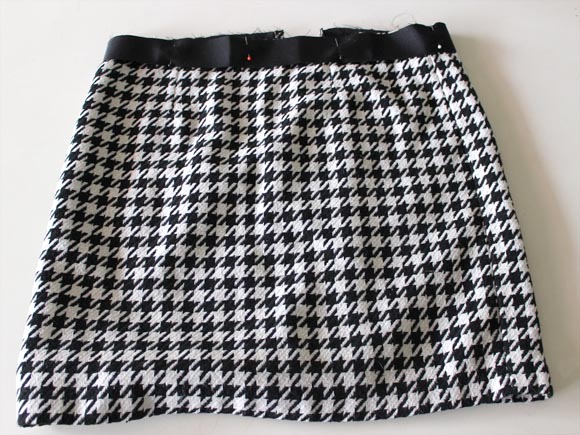 Epinglez un morceau de gros grain.
Pin a piece of gros-grain ribbon.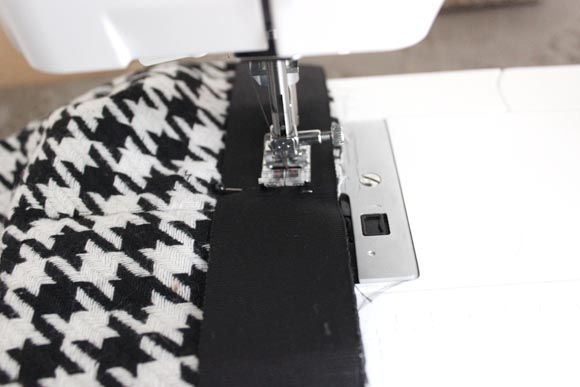 Cousez-le.
Sew it.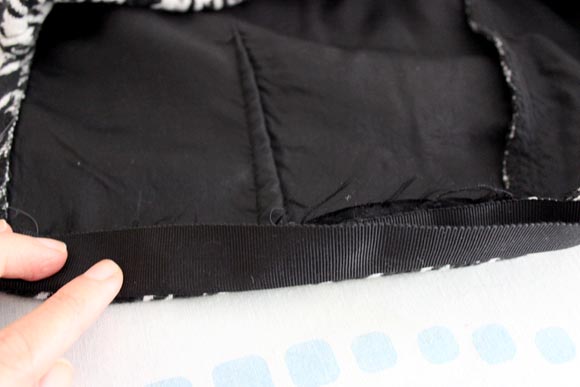 Retournez-les.
Fold it.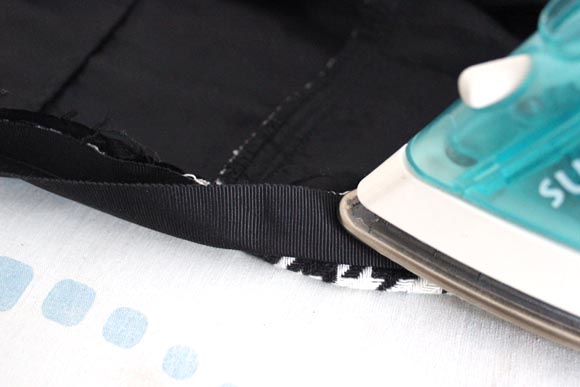 Et repassez-le pour l'aplatir. Vous pouvez faire quelques points invisibles pour le maintenir en place.
And iron it to flatten it. You can make some invisible points to keep it in place.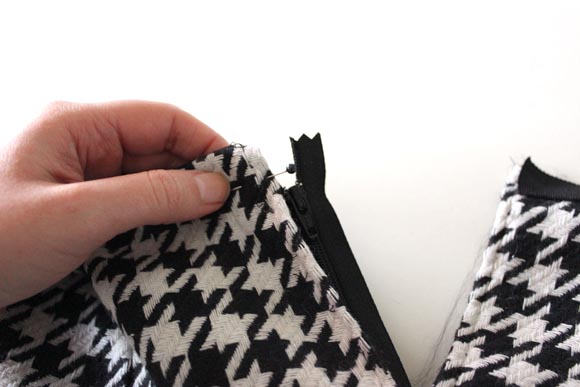 Epinglez une nouvelle fermeture éclair et cousez-la.
Pin a new zipper and sew it.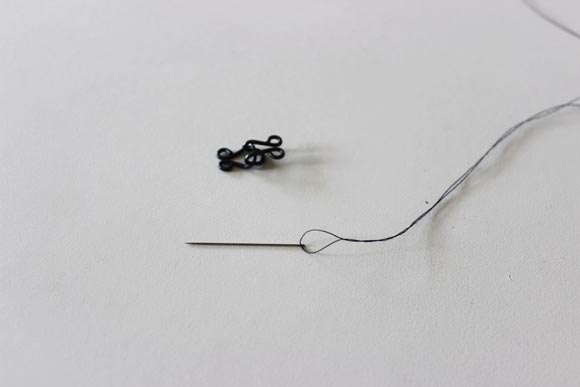 Et finissez par coudre une agrafe de jupe.
And finish by sewing a skirt staple.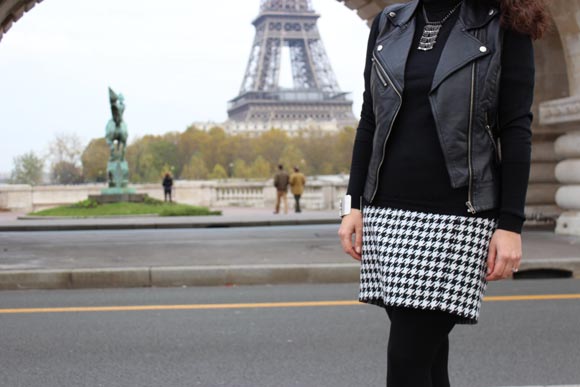 Voila une nouvelle jupe toute neuve ! J'aime l'idée de recycler les vêtements lorsque je le peux. Je suis une serial shoppeuse mais j'avoue que j'essaye de ne pas surconsommer non plus.
And here is my new brand skirt ! I love the idea to recycle clothes when I can. I am a serial buyer but I have to admit that I try not to over consume.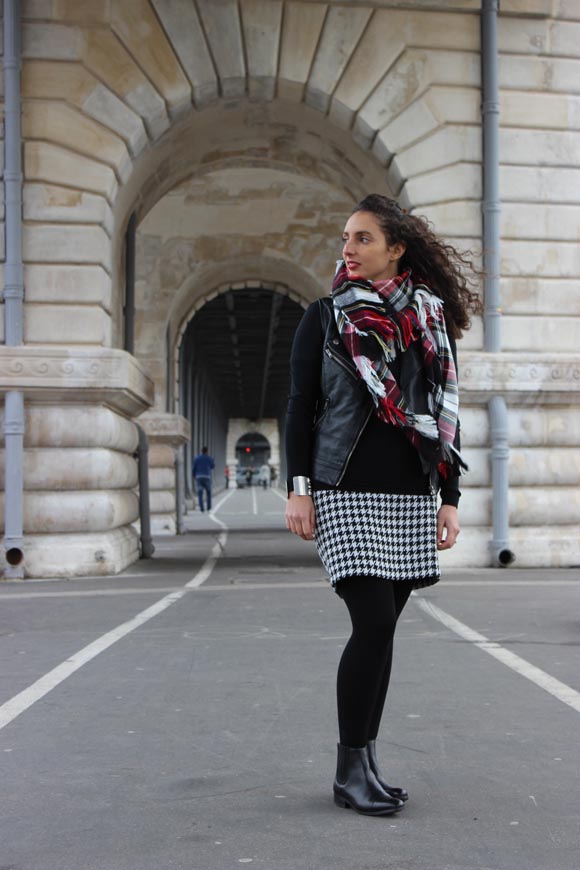 Portée avec une pièce un peu rock comme un perfecto et une écharpe tartan elle colle pile à la tendance !
Worn with a rock piece like a perfecto and a tartan scarf I feel like it is very trendy !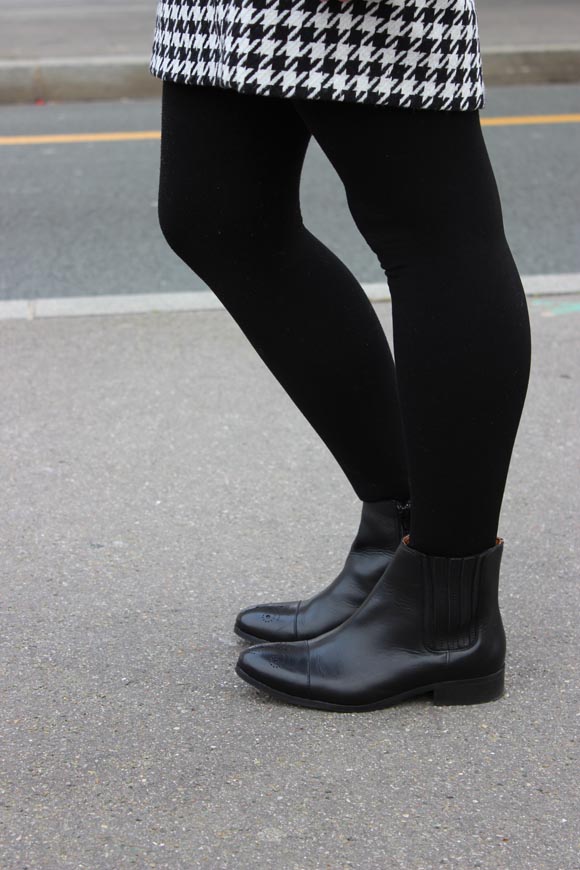 J'ai craqué cette année pour la collection Eram. Je trouve que les modèles sont vraiment sympas, au goût du jour et surtout que les prix restent raisonnables pour des chaussures en cuir !  Mon gros coup de coeur ce modèle Chelsea pour 89 euros. Je ne les quitte plus ! Je les trouve classiques, intemporelles, tendances et masculinee à la fois. La paire de boots parfaite !
I felt in love this year with the Eram collection. I feel like their shoes are very nice, trendy and prices are affordable for leather shoes ! My big crush these Chelsea only 89 Euros. I can't live without them right now ! There are classical, timeless, trendy and masculin. The perfect pair of boots !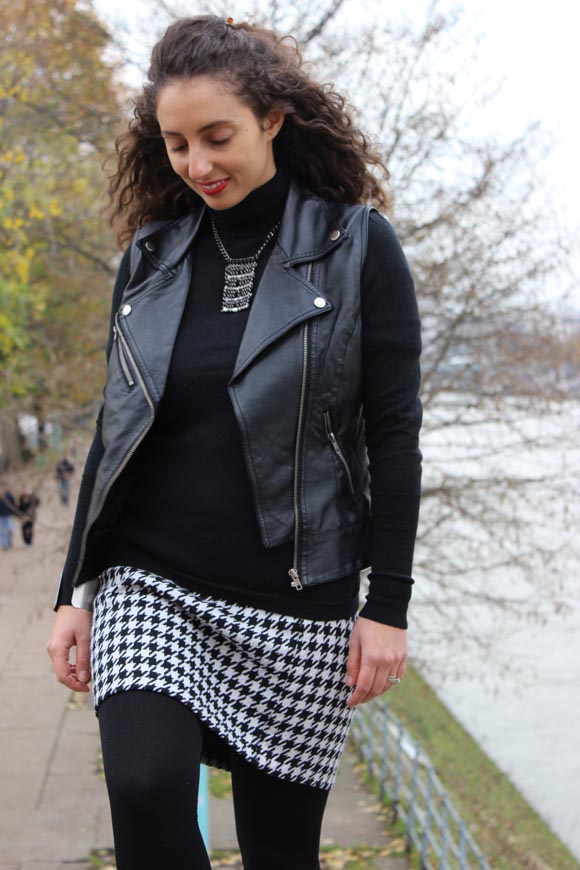 Perfecto sans manches Kiabi, Pull Alain Manoukian, Jupe DIY, Collier Chanel like DIY, manchette Aldo, boots Eram, écharpe tartan dégriffée.
Motor bike jacket Kiabi, Sweater Manoukian, DIY skirt, Necklace Chanel like DIY, Aldo bangle, tartan scarf sale.