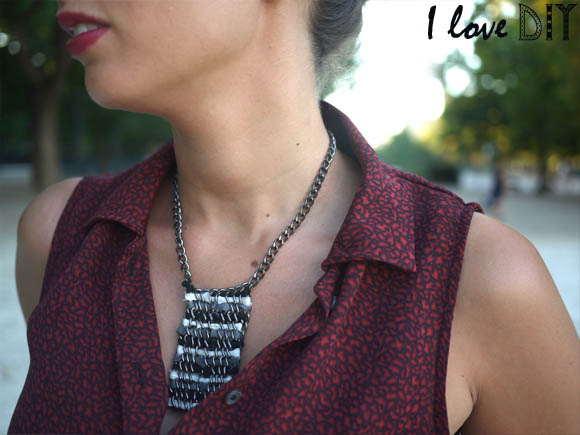 Un joli collier sur un chemisier il n'y a rien de plus chic surtout quand il s'inspire d'une grande maison comme Chanel (Inspiration par la).
Un peu de chaîne et quelques rubans plus tard, il n'en faut pas plus pour en faire mon nouveau hit accessoire de l'automne.
A beautiful necklace on a shirt there is nothing more stylish moreover when it is inspired by a famous house like Chanel (Inspiration here ).
Few chains and ribbons later, I had my hit accessory for the autumn.
Pour fabriquer votre collier il vous faut :
-De la chaîne au mètre. Les maillons doivent être assez grands pour que vous puissiez passer le ruban à travers.
-Des rubans noir, gris, blanc. Ils peuvent être de différentes matières.
-Des pinces à bijoux.
-Une grande aiguille.
To realize your necklace you need :
-Chains. The links need to be large enough so that you can cross it with the ribbon.
-Ribbons : black, grey, white. They can be different materials.
-Pliers.
-Big needle.
Commencez par couper la chaîne pour obtenir un grand morceaux pour faire le tour du cou (pour moi 40 cm) et 9 morceaux de 8 cm de longueur.
Start by cutting the chain to obtain one big piece to go around your neck (for me 40 cm) et 9 pieces of 8 cm of length.
Vous pouvez mettre plus de 9 morceaux si vous souhaitez que le rectangle soit plus large. Et vous pouvez aussi couper les petits morceaux à plus de 8 cm pour faire un collier plus long.
You can also chose to have more than 9 pieces if you want the rectangle to be larger. And cut the chain more than 8 cm to have a longer necklace.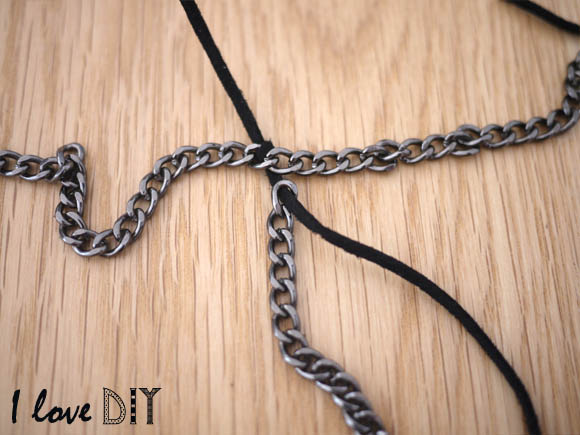 Ensuite passez le fil noir afin de lier les 9 morceaux au tour de cou en faisant un noeud bien serré au départ. Suivant le ruban que vous utiliserez vous pouvez mettre un point de colle pour que le noeud tienne bien.
Then pass the black ribbon to link the 9 pieces to the around the neck chain and make a bow at the beginning. Depending on the ribon you have chosen you can add a little point of glue so that the bow won't move.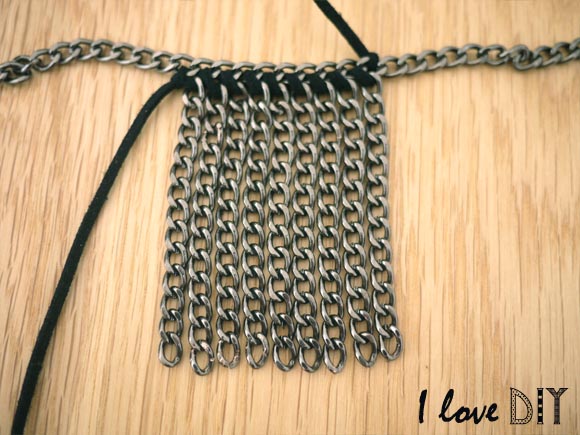 Après avoir lier les 9 morceaux voila ce que vous obtiendrez.
After linking the 9 pieces here is what you get.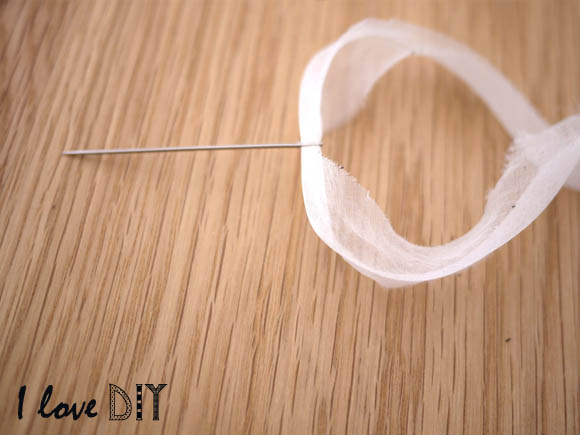 Passez ensuite le ruban dans l'aiguille pour faciliter son passage dans les maillons des chaînes. Cette étape est facultative mais vous fera gagner beaucoup de temps.
Pass the ribbon on the needle to make the passing on the links easier. This step is optional but it can make you save a lot of time.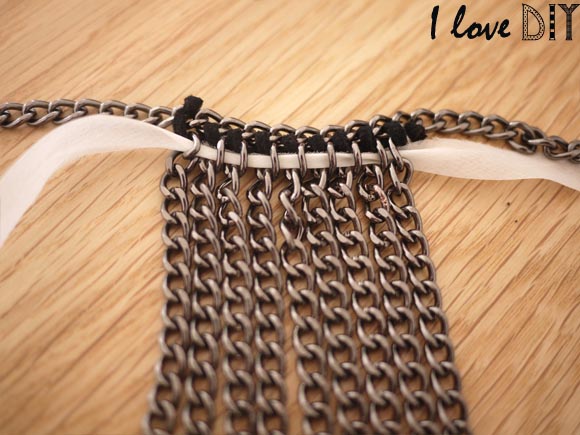 Procédez de même en alternant le noir, le gris et le blanc sur toute la longueur.
Proceed the same way by alternating the black, the grey and the white all over the length.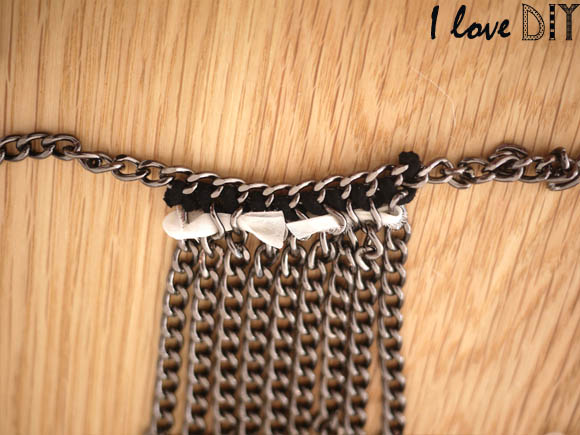 Rabattre le ruban à l'arrière en le repassant dans les maillons.
Refold the ribbon at the back by passing it back on the links.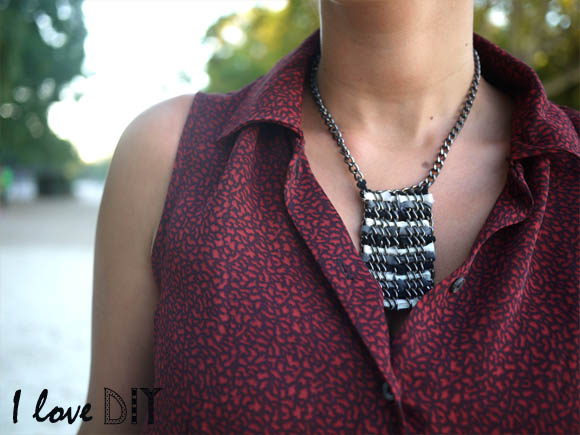 Portez votre collier Chanel like sans modération !
Wear your Chanel like necklace with abandon !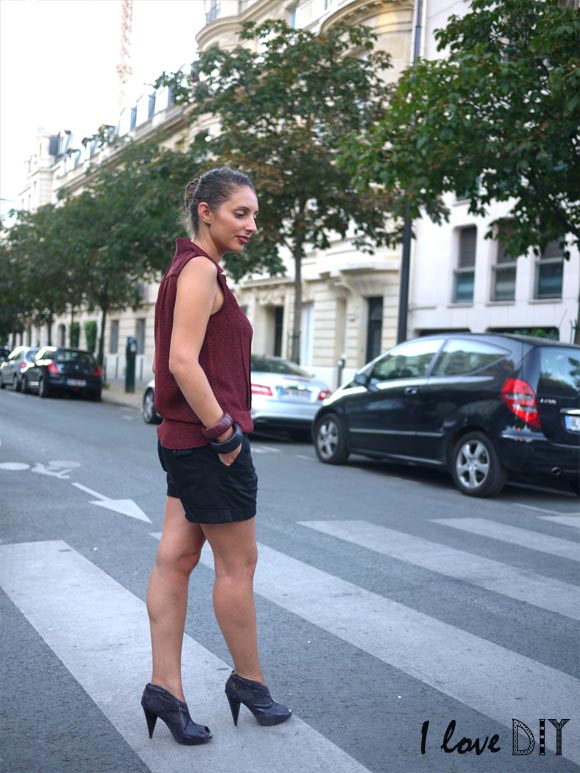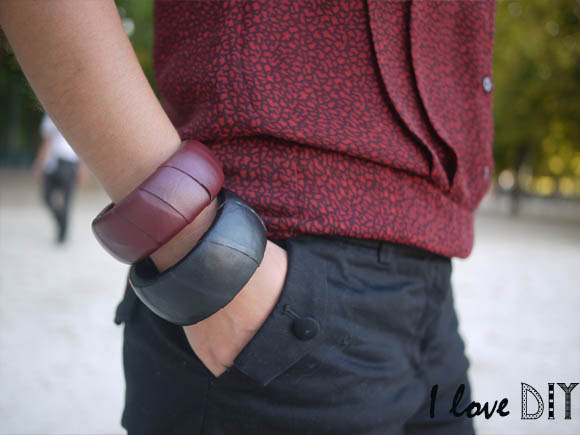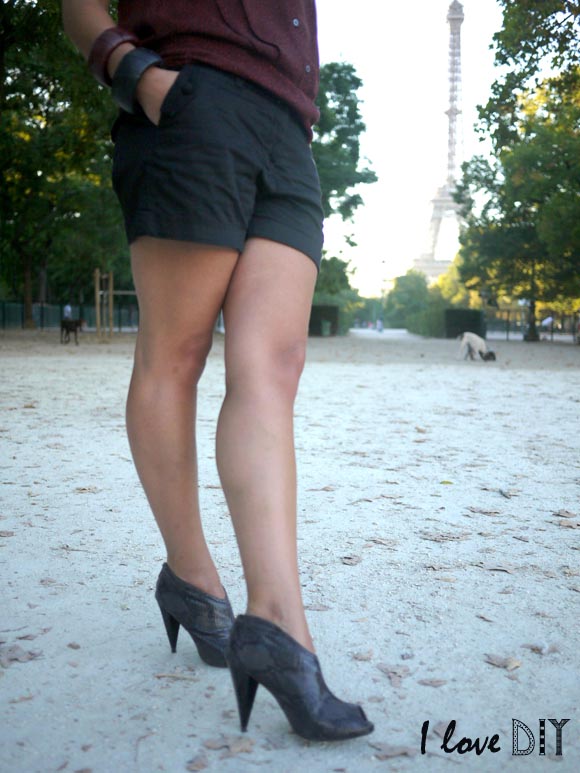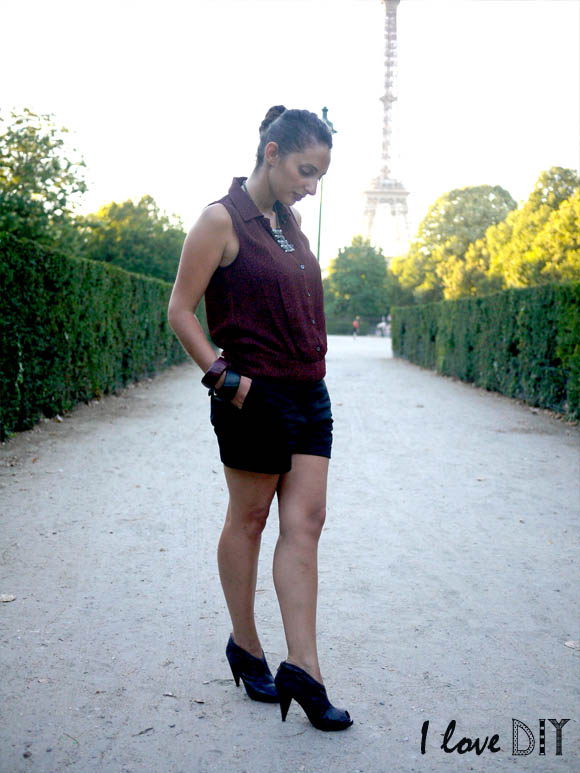 Je porte avec :