baskets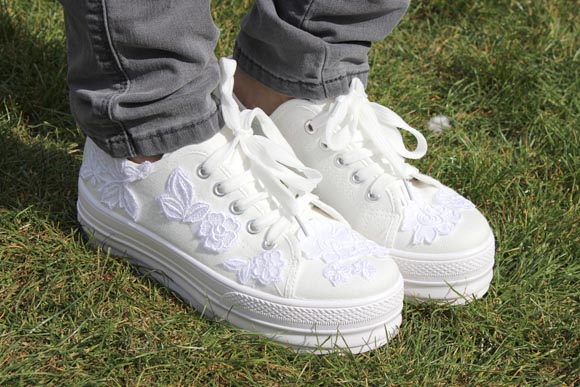 Vous n'avez pas pu passer à côté de la grosse tendance shoes du moment : les baskets compensées façon No name plato ! Cette tendance n'est pas nouvelle et vous l'aviez peut-être déjà adoptée il y a quelques années et bien fouillez votre cave et ressortez-les !
Je vous propose aujourd'hui de customiser ces baskets compensées (vous pouvez bien sûr utiliser cette technique sur n'importe quelle type de baskets en toile) avec une jolie dentelle pour les rendre romantique et féminine…
I am sure you didn't miss the big shoes trend of the moment : the No name plato  sneakers ! This trend is not new and maybe you already wore this kind of shoes some times ago. So go to your cave and bring them back to life !
I propose you today to customize plato sneakers (you can also use this technic in any kind of coton sneakers) with a delicate lace to give them a romantic and feminine look.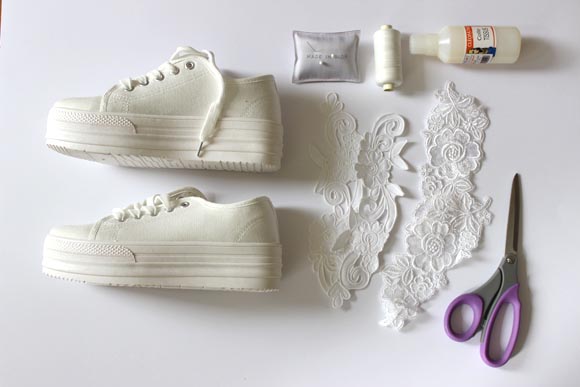 Pour customiser vos baskets avec de la dentelle il vous faut :
-Des baskets plateformes en toile (les miennes viennent de chez Tati)
–Une application de dentelle sur organza des coupons Saint-Pierre
–Une application satin aussi achetée aux coupons de Saint-Pierre
–De la colle textile Cléopatre
-Une paire de ciseaux
-Du fil et une aiguille
To customize your sneakers with lace you need :
– Wedge sneakers (Mine are from Tati)
–Lace applique from "les coupons Saint-Pierre"
–Satin flower applique also from les coupons de Saint-Pierre
-Textile glue
-Scissors
-Needle and thread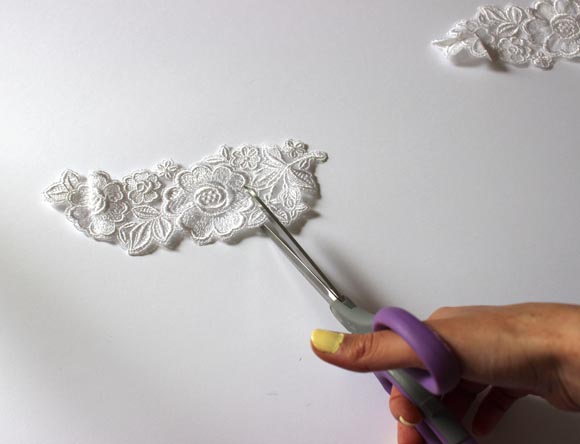 J'ai découpé les motifs directement dans l'applique.
I have cut directly the pattern on the applique.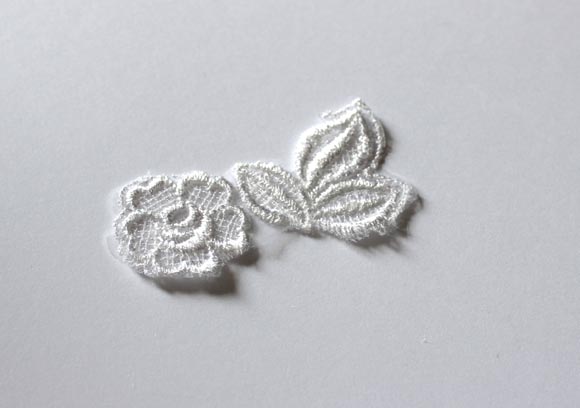 En sélectionnant des petits éléments pour recouvrir ma chaussure.
I have selected small elements to cover the shoes.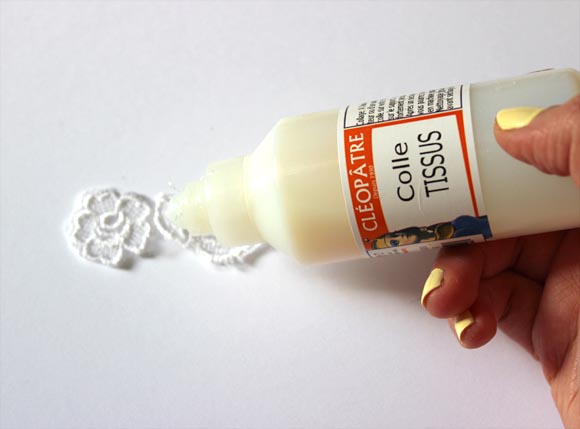 Appliquez la colle au dos.
Apply the glue at the back.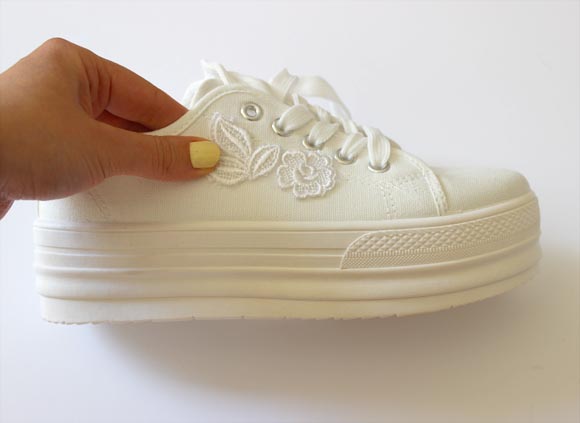 Et commencez à recouvrir la chaussure.
And cover the shoes.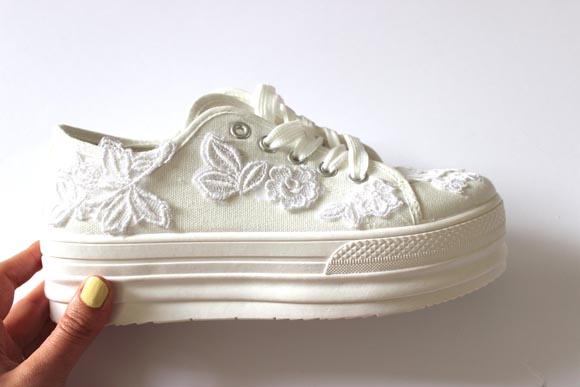 J'ai recouvert le côté extérieur et le devant en alternant les appliques organza et les appliques satin pour varier la transparence et les matières.
I have cover the exterior and the front alternating organza and satin appliques to vary the transparency and the material.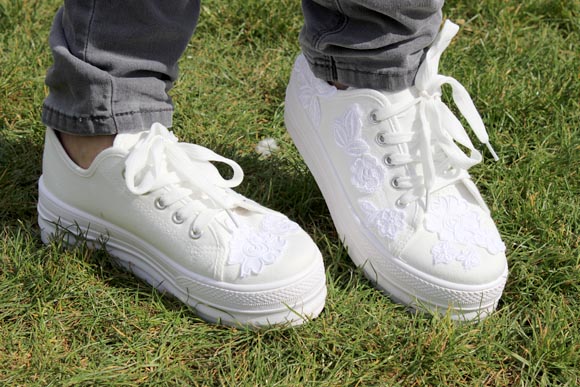 Je suis très fan de ma nouvelle custo ! et je pense qu'elles vont devenir mes nouvelles meilleures amies car elles allient confort, tendance et originalité : Elles sont uniques en somme ;-) Alors faites les vôtres !
I am so fan of my new customization ! I think there are going to be my new besties. They are comfy, trendy and original : and above all unique ;-) So make your own !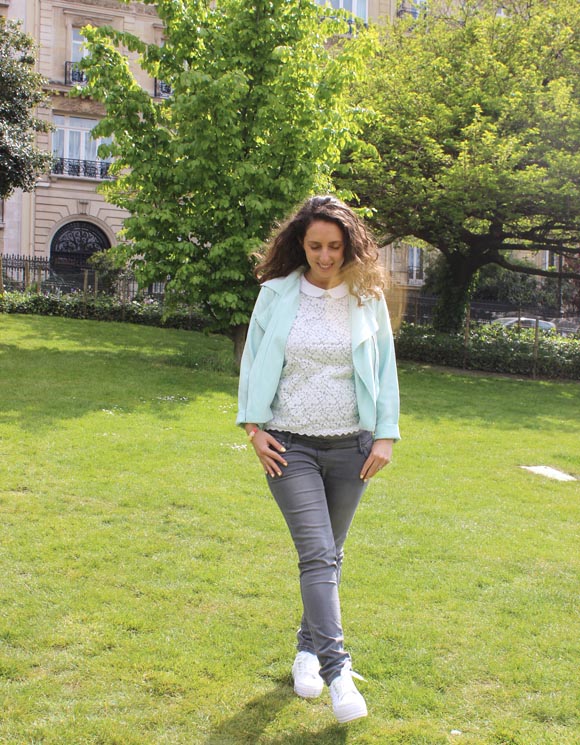 Je les porte avec un jeans slim C&A, un top en dentelle Simons, un perfecto Mint Vero Moda pour une tenue fraîcheur. Mon bracelet  est DIY et je vous en parle prochainement ;-) Et mon vernis jaune pastel c'est Hema.
I am wearing them with a grey slim from C&A, a lace top from Simons, a perfecto Mint from Vero moda.  My bracelet is DIY and I will talk about you later ;-) My yellow nailpolish is from Hema.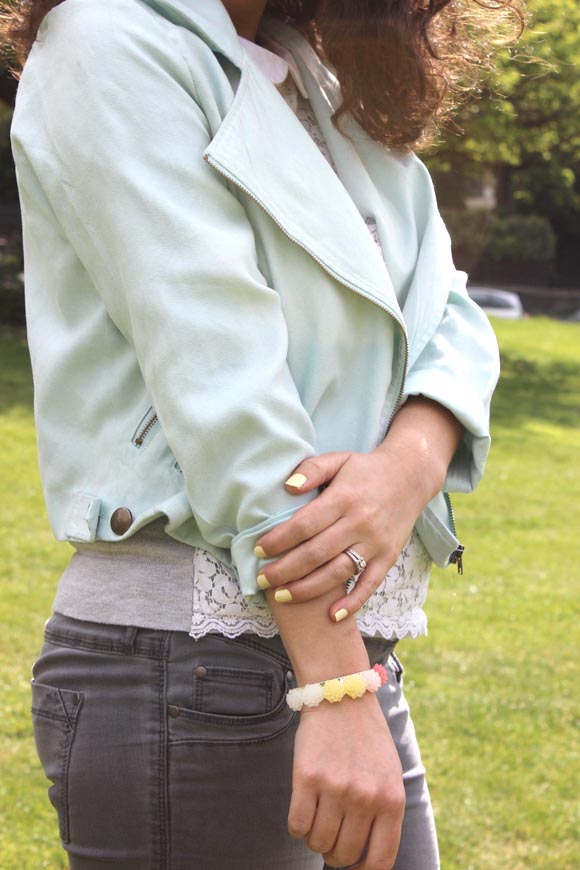 Tagged: baskets, chaussures, custo, dentelle, DIY, lace, les coupons de saint pierre, plateforme, shoes, sneakers, tati, tutoriel, wedge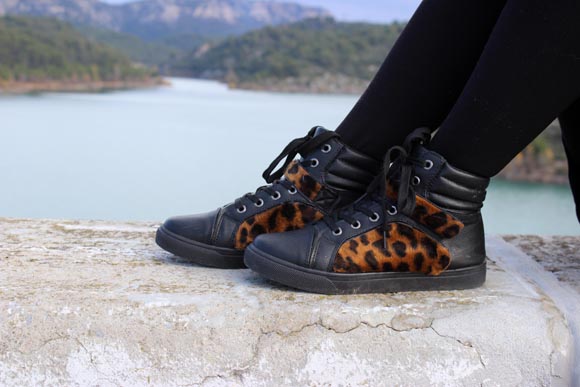 Le léopard c'est pour moi l'imprimé intemporel… chaque fois il revient sous un nouvel angle. On le voit cette année en grand avec des motifs XXL et des couleurs pas franchement animales.
Moi j'aime le porter sur des accessoires en petites touches. Alors cette paire de baskets noires et tristounettes ne l'est pas restée  longtemps… Quelques coups de ciseaux et de colle plus tard, mais sneakers ont une nouvelle  tête !
Leopard print is for me timeless… Every time it's back with a new trend. This season it is back with XXL prints and colors no really animals.
 I love to wear it on accessories. So this black and sad pair of shoes couldn't stay like that a long time… A few cut and some glue later, my sneakers have a new look !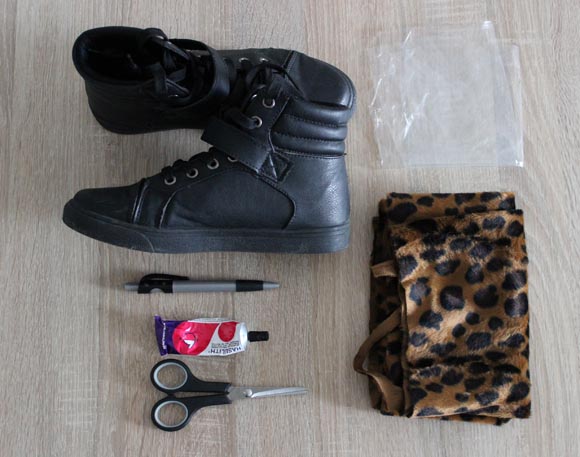 Pour customiser vos baskets avec une touche de léopard il vous faut : 
-Une paire de baskets
-Du tissu léopard
-Un morceau de plastique le plus transparent possible
-Un stylo
-De la colle
-Une paire de ciseaux
To customize your sneakers with leopard print you need : 
-A paire of sneakers
-A piece of leopard fabric
-A piece of clear plastic as much transparent as possible
-A pen
-Glue
-Scissors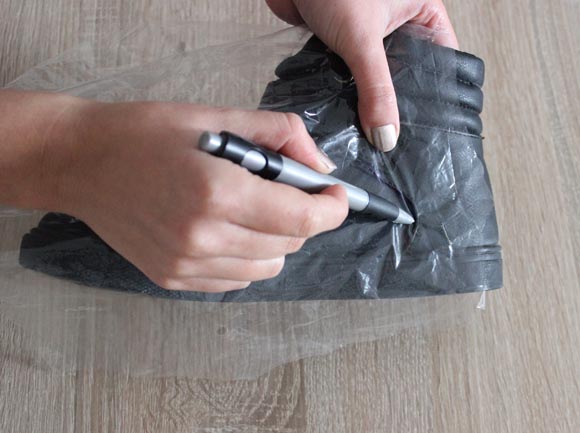 Je me suis servie des endroits évidés avec coutures pour décalquer sur le plastique et reproduire la forme. Si vous baskets ne sont pas faites de la même manière définissez vous-même la forme.
I used cut out place to transfer on the plastic and copy the form. If your sneakers are not made like mine, draw the form the way you want.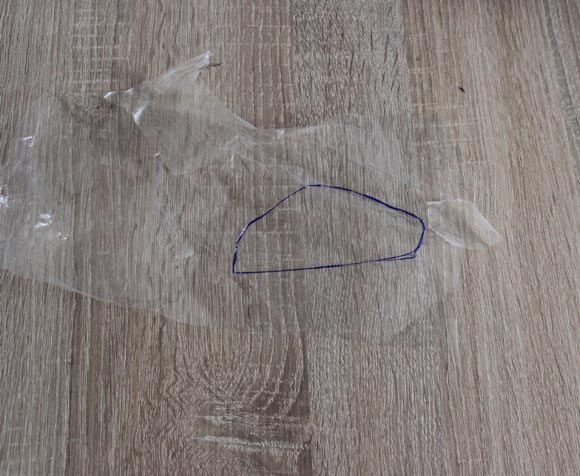 Voila la forme que j'ai obtenu.
Here is the form I get.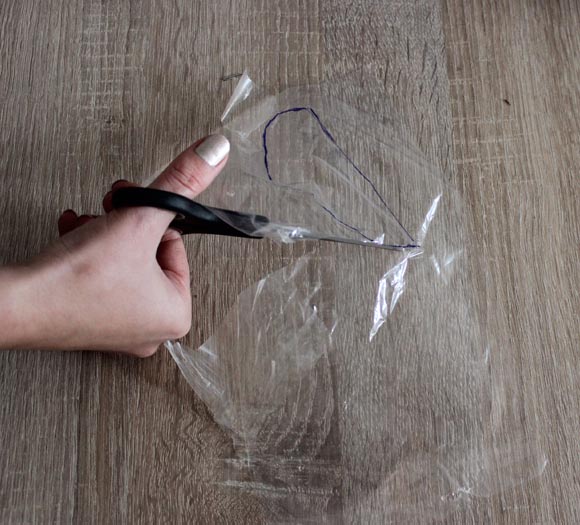 Découpez le plastique selon la forme dessinée.
Cut the plastic thanks to the drawing.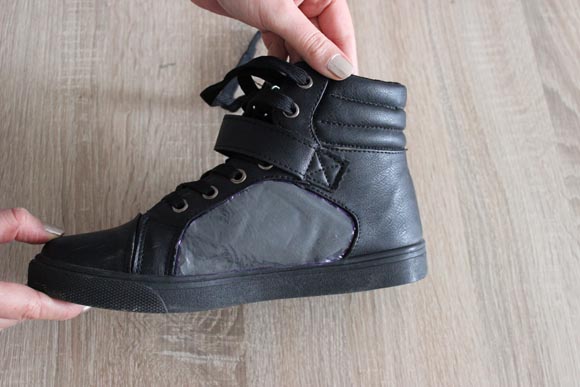 Vérifiez, en posant le plastique sur votre chaussure, si la forme découpée correspond bien.
Verify, by placing the plastic on your shoes, if the cut form is what you want.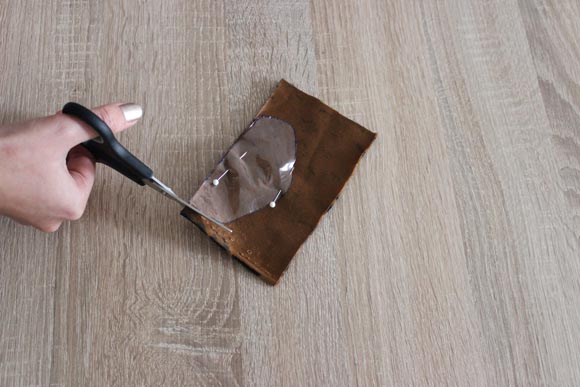 Epinglez la forme sur le tissu et découpez la autant de fois que nécessaire. J'ai pour ma part découpé 4 morceaux identiques.
Pin the form on the fabric and cut it as many times as needed. I have cut it 4 times for my project.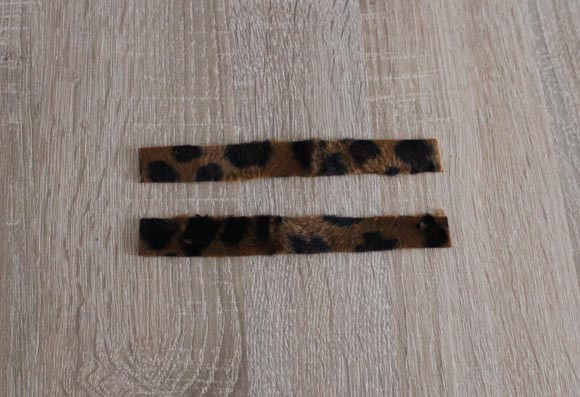 J'ai aussi réalisé 2 bandes pour recouvrir les lanières.
I have also realized 2 strips to cover the straps.
Appliquez de la colle sur le tissu, bien positionnez aux endroits définis et laissez sécher.
Apply the glue on the fabric, place it well at the define space and let it dry.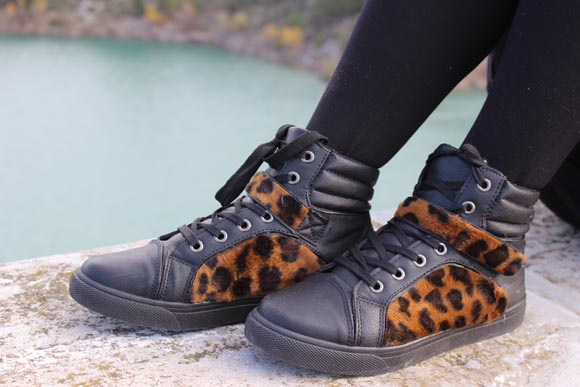 Et voila ! J'ai une nouvelle paire de baskets léopard ! Vous aimez ?
And here I am ! I got a new pair of leopard sneakers ! Do you like it ?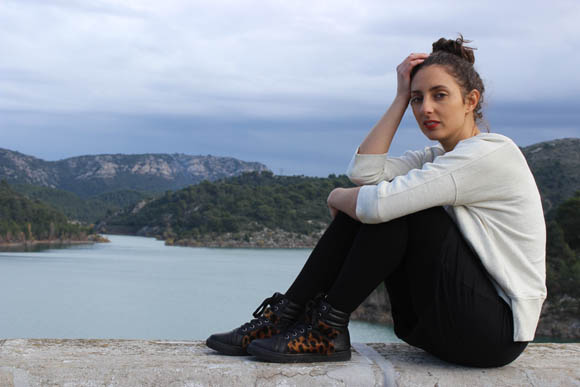 Ne sont-elles pas parfaite pour une ballade à la Sainte-Victoire pour un passage éclair à Aix-en-Provence ?
Aren't they perfect for a walk at the Sainte-Victoire in Aix-en-Provence ?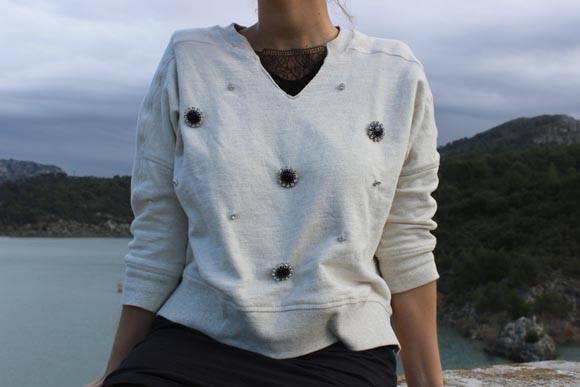 Sweat customisé pour Marie-Claire Idées, robe portée en jupe Sandro, Baskets DIY.
Sweat customized for Marie-Claire Idées, dress wore like a skirt Sandro, Sneakers DIY.