Hier les filles je vous parlais de ma sélection shopping jupe ourlet dentelle.  Que des modèles à moins de 25€ ! Mais si vous avez envie de relooker une jupe tube dans cet esprit alors suivez-moi je vous montre comment faire en moins de 15 minutes. Ce tutoriel est très facile et accessible à tous.
Yesterday I was talking about my shopping selection for lace hem skirt at less than 25€ ! But if you want to make-over  your skirt in this spirit follow me I show you how to do it in less than 15 minutes. This tutorial is very easy and everybody can make it.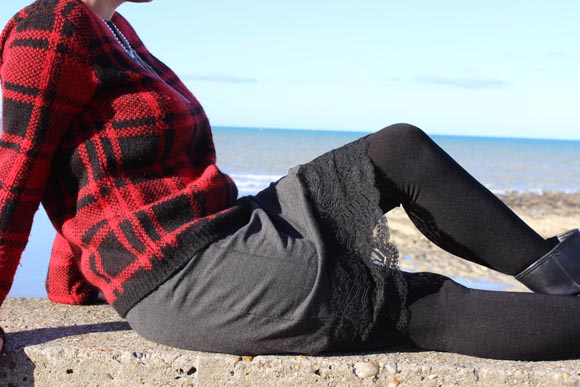 Pour customiser votre jupe avec un ourlet en dentelle il vous faut :
-Une jupe. La mienne est un basique de chez Camaïeu.
-Un mètre de dentelle ELASTIQUE LARGE minimum 13cm. La mienne vient de chez A little mercerie.
-Du fil et une aiguille.
To customize your skirt with a lace hem you will need :
-A skirt. Mine is a basic from Camaïeu.
-One meter of LARGE ELASTIC lace minimum 13cm.
-Needle and thread.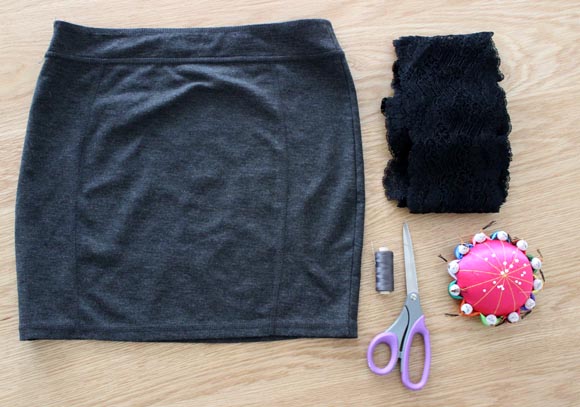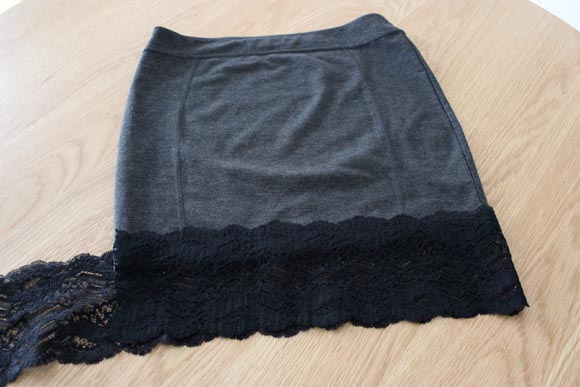 Commencez par poser la dentelle tout autour de la jupe et coupez-la en laissant 3 cm en plus.
Start by placing the lace around the skirt and cut it. Leave 3 cm more.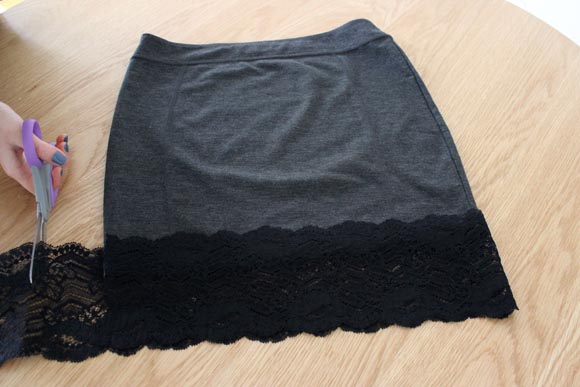 Epinglez la dentelle SUR la jupe. Ce qui est justement joli dans cette tendance c'est le fait que la dentelle soit au dessus de la jupe. Je l'ai donc posé à 5 cm du bord.
Pin the lace OVER the skirt. What is cute in this trend is the fact that the lace is placed over the skirt. I pin it at 5 cm from the edge.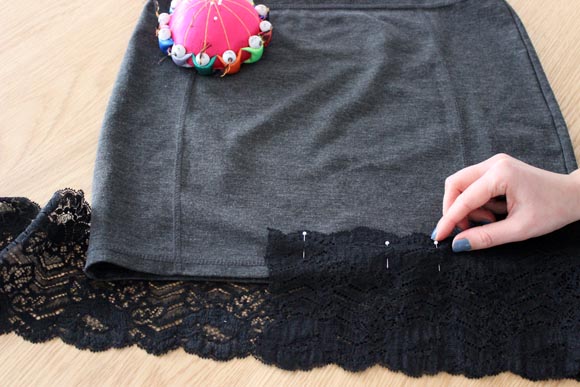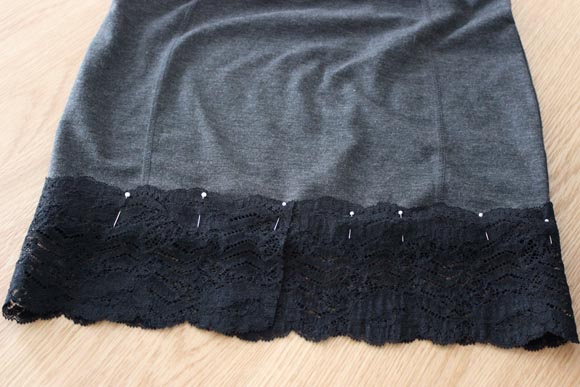 Cousez la dentelle à la main avec de petits points invisibles.
Sew the lace by end with small points.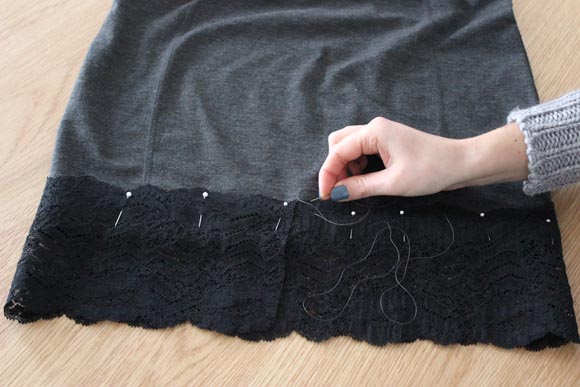 Comme vous aurez laissé un surplus de dentelle, les deux morceaux vont se chevaucher à l'arrière de la jupe.
As you have left 3 cm more lace, the 2 pieces will overlap at the back of the skirt.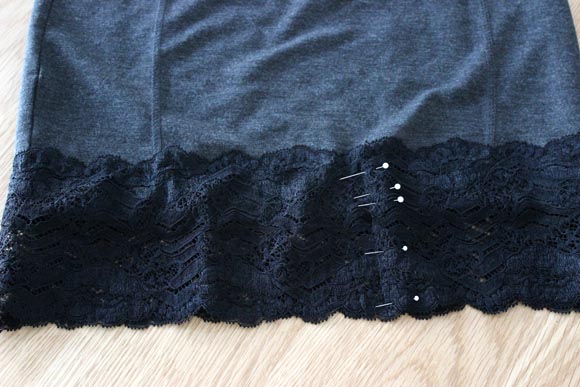 Cousez aussi cette partie.
Sew this part too.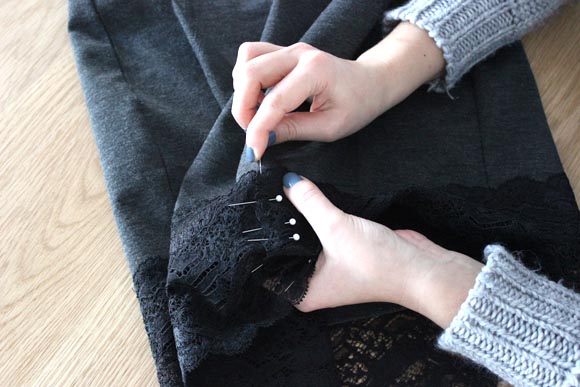 Et voila en moins de 15 minutes, vous avez remis au summum de la tendance une jupe tube toute simple !
Here you are in less than 15 minutes you have make over your skirt to turn it in a very fashionable piece.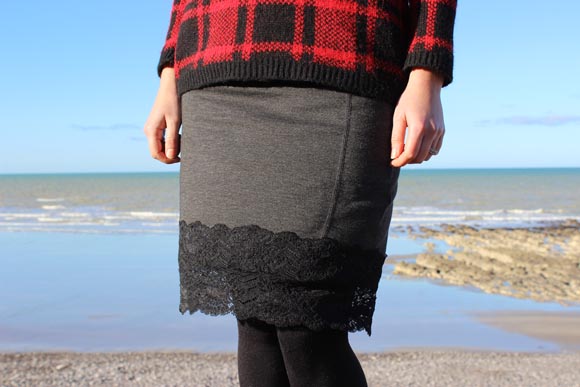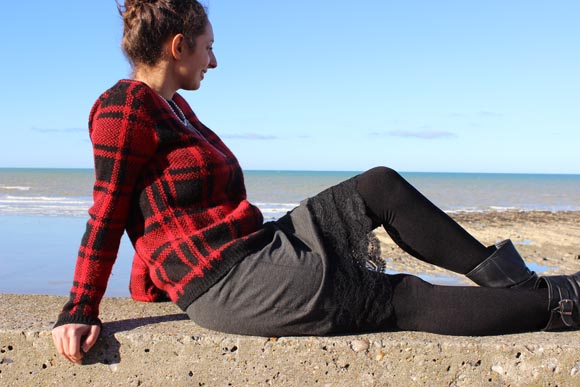 Pull Pimkie, Collier perles et chaîne DIY, boots Aldo.
Sweater Pimkie, Pearls and chains DIY necklace, Boots Aldo.
Je crois que vous savez quoi faire ce week-end ;-)
I think you know what to do this week-end ;-)