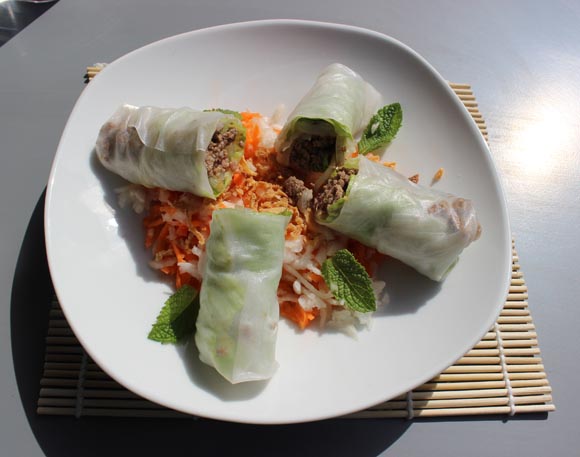 Je vous avez déjà parlé d'une de mes recette favorites : les rouleaux de printemps maison. Et je vous avez promis une autre variante plus originale ! Pour être franche celle-ci est vraiment la version que je préfère ! Alors ni une ni deux je vous montre comment préparer de succulents rouleaux de printemps à la viande.
I already told you about one of my favorite recipe : Home made spring rolls. I had promised you to give a variant more original ! And to be honest this one is really the one I prefer ! So let's make delicious meat spring rolls.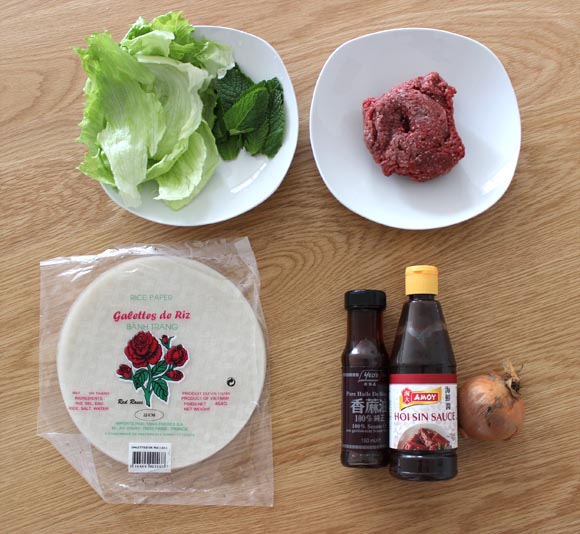 Pour préparer des rouleaux de printemps au boeuf il vous faut :
-110 g de boeuf haché par personne
-De la laitue Iceberg
-De la menthe fraiche
-Un oignon
-De l'huile de sésame grillé
-De la sauce Hoi Sin (épicerie asiatique)
-Des galettes des riz
To prepare beef spring rolls you will need :
-110 g of minced beef per person
-Iceberg lettuce
-Fresh mint
-One onion
-Grilled sesame oil
 -Hoi Sin sauce (available in asian super market )
-Rice Paper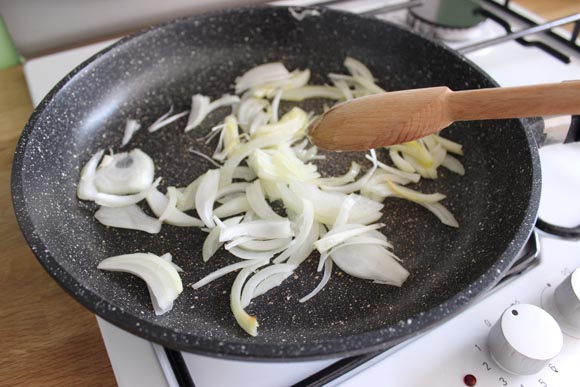 Commencez par émincer l'oignon et faites le revenir jusqu'à ce qu'il soit vraiment très tendre. Réservez-le.
Start by slicing thinly the onion and brown it since it's really soft. Put it aside.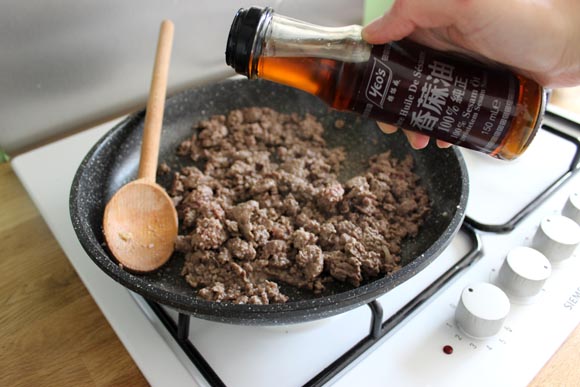 Faites ensuite revenir la viande de  boeuf. Une fois cuite ajoutez-y quelques gouttes d'huile de sésame grillé. ATTENTION cette huile est très concentrée et quelques gouttes suffisent à parfumer. N'en abusez pas au risque de vraiment rendre le plat écoeurant.
Then cook the beef. Once it's ready add few drops of grilled sesame oil. WARNING : this oil is extremely concentrated and few drops are sufficient. Don't put too much or you will miss the recipe.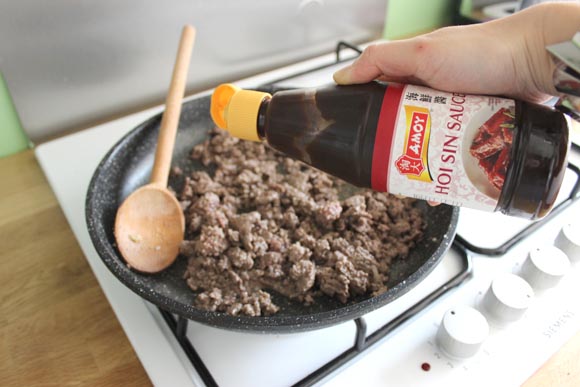 Ajoutez ensuite la sauce Hoi Sin qui est une sorte de sauce barbecue. J'ai déjà réalisé cette recette avec de la sauce au soja sucrée car je n'en avais plus. Mettez la sauce à votre convenance. Personnellement je n'aime pas quand la viande est trop sèche mais je n'aime pas non plus quand ça baigne dedans car  elle assez sucrée.
Add some Hoi Sin sauce which is a kind of barbecue sauce. I have already realized this recipe with sweat soy sauce. Put as much sauce as you like. Personally I don't like when the meat is too dry but I am also careful because the sauce is very sweat.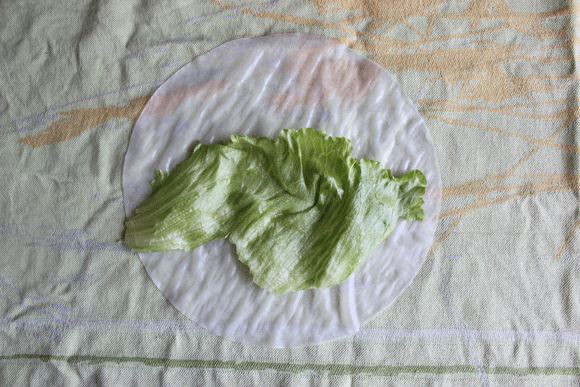 Ensuite mouillez la galette de riz, posez une feuille de salade, la menthe, les oignons et finissez par la viande. Je ne vous ai pas remis les étapes pour rouler et fermer votre rouleau car vous pouvez les trouver ici dans mon précédant article.
Then water the rice paper, put some iceberg, then mint, onions and finished by the meat. I haven't put the steps to close the roll because you can find it in my former article here.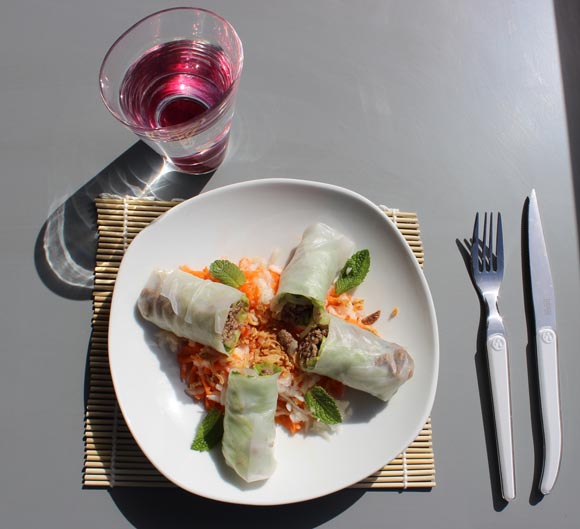 Et voila ! Accompagnez vos rouleaux d'une jolie salade de carotte et de choux assaisonnée d'un trait de nuo-man et vous obtenez le parfait repas ! Alors elle vous plait cette nouvelle recette ?
J'en ai encore une autre en tête plutôt végétarienne et pas vraiment asiatique ;-) ça vous tente aussi ?
And here you are ! Eat them with a carrot and cabbage salad with some nuoc-man sauce and you'll get the perfect meal ! Do you like it ?
I have one more recipe : veggie and not italian at all ;-) Would you like me to share it ?