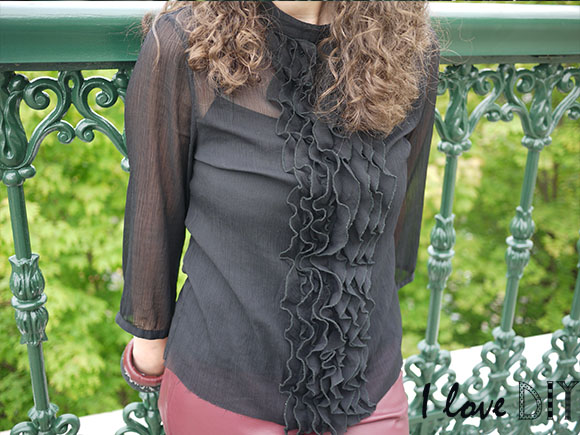 Parfois on a des vêtements qu'on a mis et remis qu'on aime toujours et qu'on ne met plus. Dans ces cas la j'essaye toujours de trouver une alternative pour les porter de nouveau. J'ai eu ma période robe il y a peu. Je ne portais pratiquement que ça ! Et aujourd'hui je suis plutôt dans une période pantalon et short. Du coup je vous montre aujourd'hui comment donner un air nouveau à une robe pour la transformer en petit haut. Attention DIY dramatiquement facile !
Sometimes we have clothes that we have wear and wear again, that we still like but that we don't wear anymore. In this case I always try to find an alternative to wear it again. I got my dress period. I was wearing only dress ! And today I am more pants and shorts. So I wanted to show you today how turn a dress in a top. Warning this DIY is dramatically easy !
Pour transformer votre robe en petit haut il vous faut des aiguilles et une paire de ciseaux. Suivant le tissu de votre robe il faudra faire un ourlet. Le mien étant une mousseline fluide je n'en ai pas eu besoin. Le plus important est de bien marquer où couper. Il vous faudra peut-être réessayer votre robe plusieurs fois pour être sur de la longueur. Mais il vaux mieux ne pas négliger cette étape. J'ai plier la robe dans la longueur pour avoir une découpe totalement symétrique et homogène.
To transform your dress into a top you will need needle and scisors. Depending the fabric of your dress you will need to hem it. Mine was a muslin so I didn't have to. The most important step is to mark well where you are going to cut. You will probably need to try on several time your dress to be sure. But don't ignore this step.  I fold over the dress to have a perfect and symetric cut.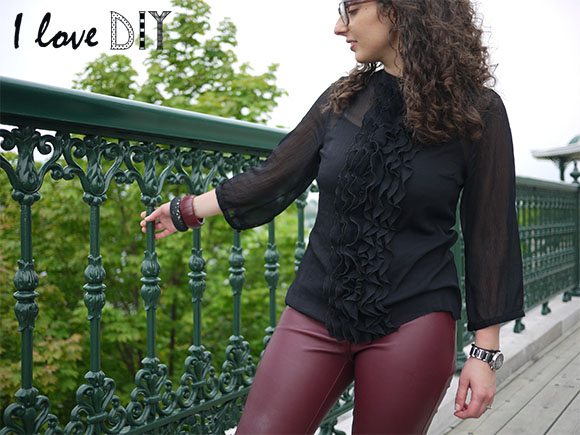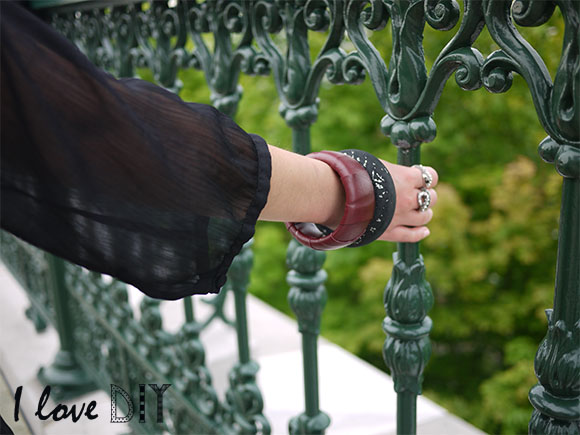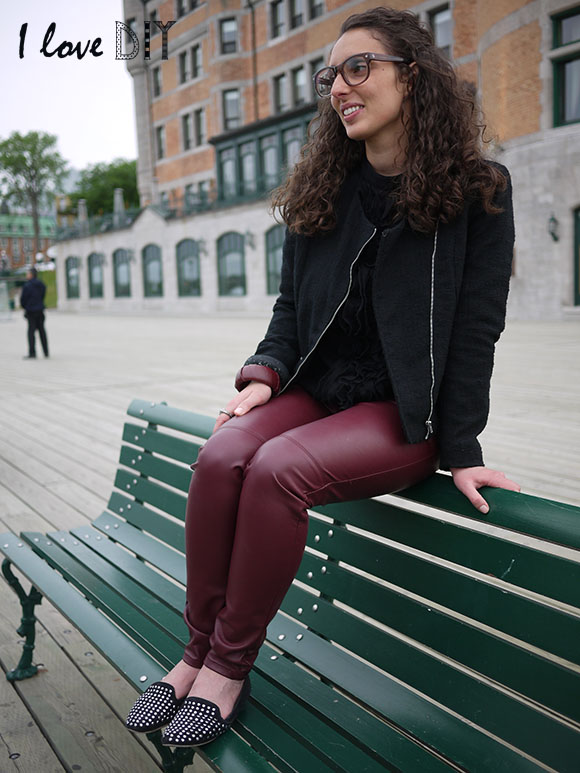 Porté avec mon Leggings en faux cuir et une veste noire H&M, mes slippers cloutées Zara, mon bracelet recyclé DIY assorti à mon leggins, et ma bague serpent Aldo, j'ai l'impression d'avoir un nouveau top dans ma garde robe ! J'imagine déjà une deuxième vie pour ma robe délaissée !  Alors n'oubliez pas avant de jeter : DIY !
PS : je vous prépare aussi une petite surprise avec la chute de la robe…
Worne with my faux leather leggins and my black jacket H&M, my slippers Zara, my bangle recycle DIY which is assorted to my pants and my snake ring Aldo, it's like I have a new top in my closet ! I already can say that my dress will have a second life ! So don't forget don't throw out but DIY !
PS : I also prepare something for you with the remaining fabric…