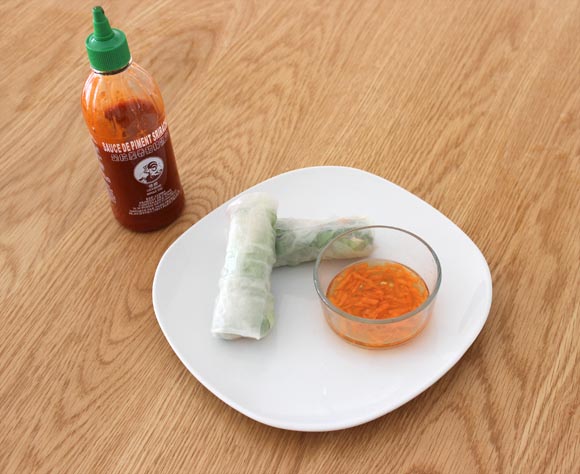 Ce temps me donne vraiment envie de manger salades, plats frais et healthy ! Et ça tombe bien vu que l'épreuve du maillot de bain sera bientôt là ! J'ai inauguré cette rubrique DIY cuisine la semaine dernière avec un premier article sur la façon de se faire un café Starbucks sans les calories et j'espère vraiment que ce type d'article vous plait ! Allez on file pour la recette !
This sunny weather really makes me want to eat salads, fresh  and healthy plates ! This is perfect because soon we will have to put our bathing suit ! I have started this section DIY coocking with a recipe to realize a Starbucks coffee without the calories and I hope you like these kind of articles ! So let's start with the recipe.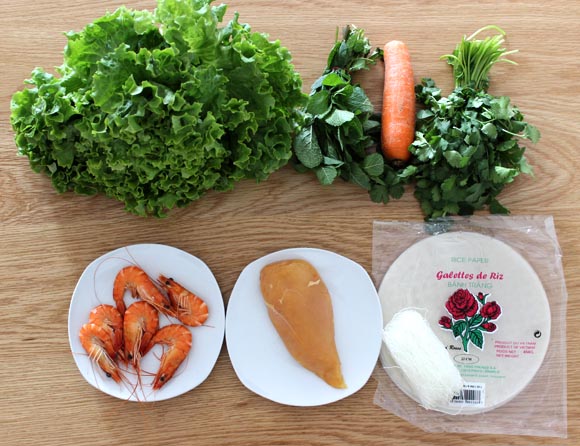 Pour les ingrédients il vous faut :
-De la laitue
-De la coriandre et de la menthe fraîches
-Une carotte
-Des crevettes
-Du poulet
-Des nouilles de riz
-Des galettes de riz (vous les trouvez maintenant dans tous les supermarchés)
For the ingredients you need :
-Lettuce
-Fresh coriander and mint
-Carrot
-Shrimps
-Chicken
-Rice noodles
-Rice paper (you can find them in every supermarkets)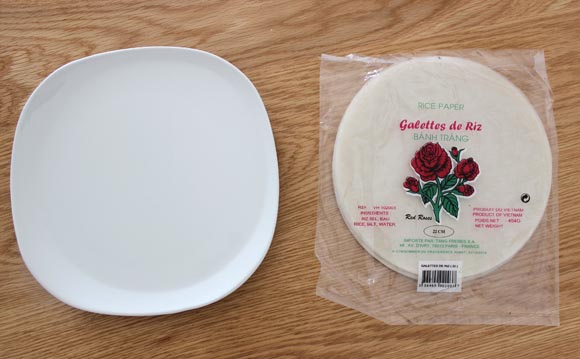 Commencez par préparer une assiette un peu plus grande que la taille de votre galette de riz que vous remplirez d'eau froide.
Start by preparing in a plate a little bite bigger than the size of your rice paper that you will fill with water.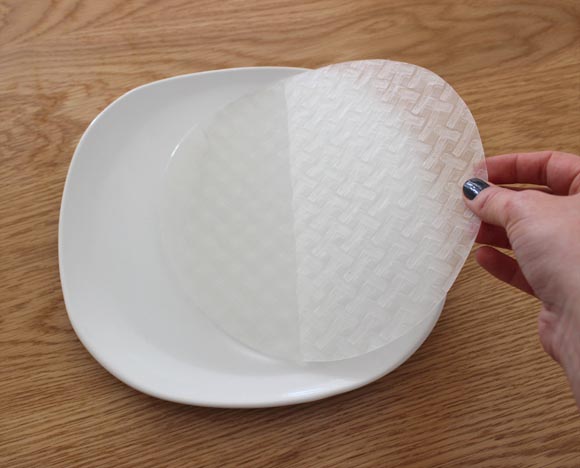 Immergez la galette dans l'eau et laissez la quelques instants jusqu'à ce qu'elle soit molle.
Put the rice paper in the water and wait till the paper is soft.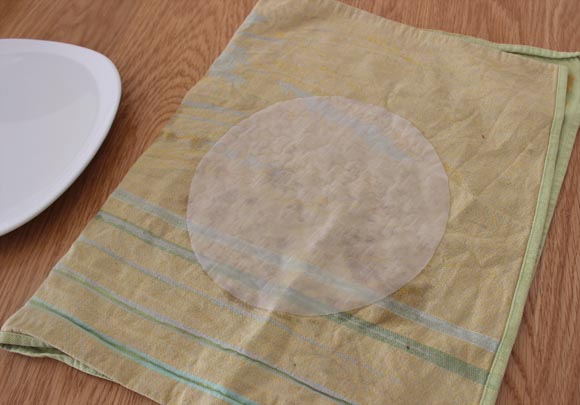 Placez la galette molle sur un torchon propre.
Place the rice paper on a clean towel.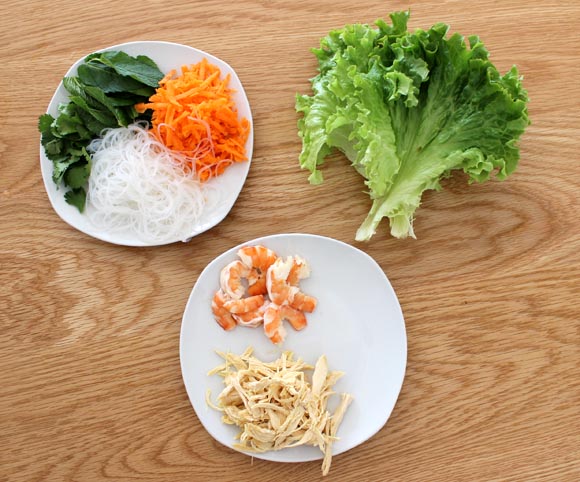 Préparez tous les ingrédients pour la garniture :
Lavez la laitue et les herbes, rapez la carotte, épluchez les crevettes, faites cuire le poulet et détaillez-le. Pour les nouilles de riz, pas besoin de casserole laissez les quelques minutes dans un bol d'eau bouillante.
Prepare the ingredients for the inside :
Clean the lettuce and the fresh herbs, grate the carrot, peel the shrimps, cook the chicken and detail it. For the rice noodles, no need to have a pan let them few minutes in a bowl of hot water.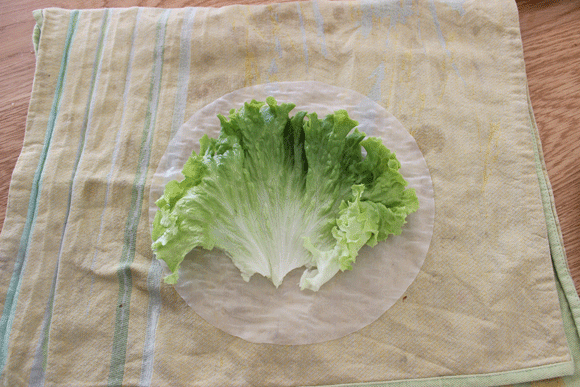 Placez une feuille de salade, le poulet, quelques crevettes, puis les nouilles, puis la carotte rapée et finissez par la menthe et la coriandre.
Place the lettuce, the chicken, some shrimps, then the rice noodles, the peeled carrot and finish by the mint and the coriander.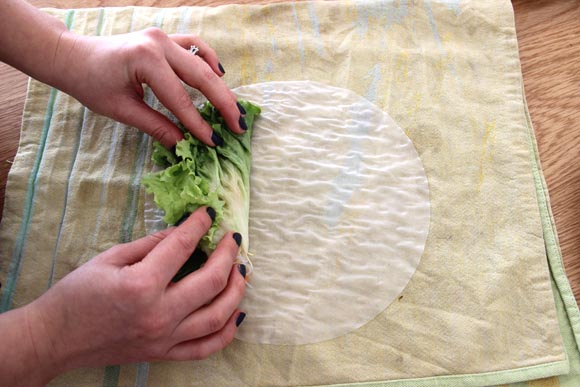 Pour fermer le rouleau, commencez par rabattre la feuille de salade.
To close the roll, start by refold the lettuce.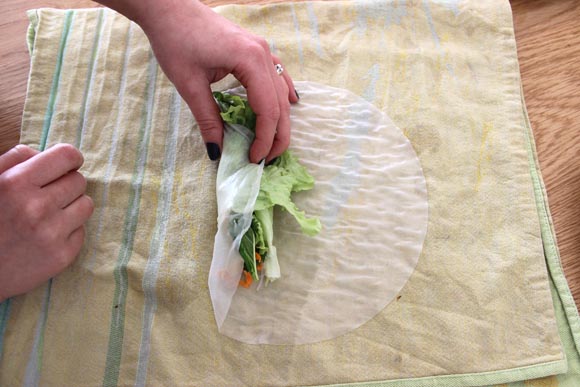 Roulez la feuille de riz. Vous aurez sans doute à tenir le torchon car la feuille aura peut-être collée. Ne vous inquiétez pas comme les crêpes la première est toujours ratée ;-)
Roll the rice paper. You will  probably have to hold the towel due to the sticking of the rice paper. Don't worry as well as you did crepes the first one always failed.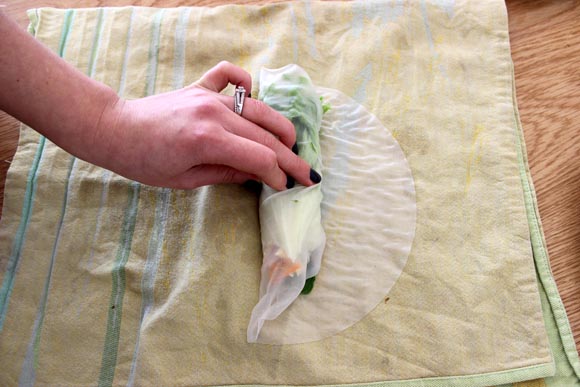 Continuez à rouler. La feuille est assez fragile donc il faut y aller doucement.
Continue to roll. The paper is very fragile so make it slowly.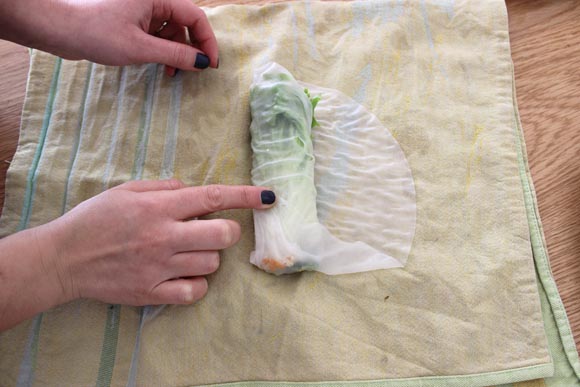 Rabattre un côté.
Fold one side.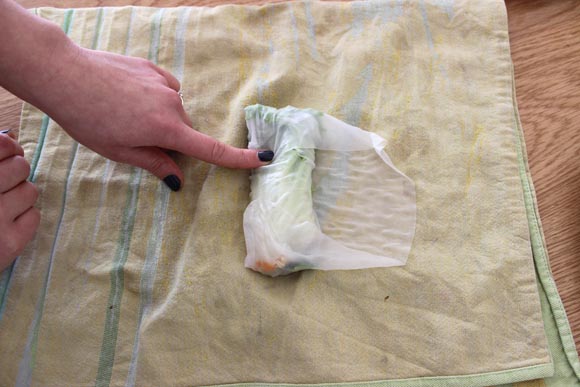 Puis l'autre.
Then the other.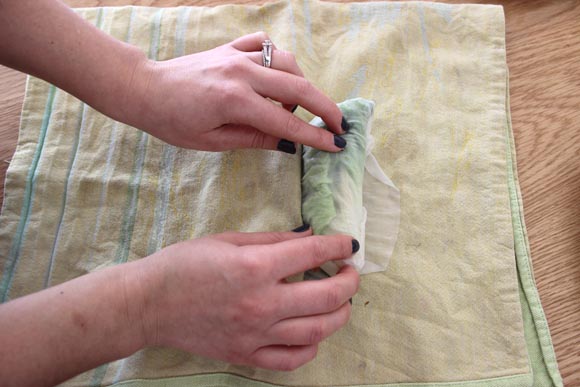 Et finir de rouler.
And finish to roll.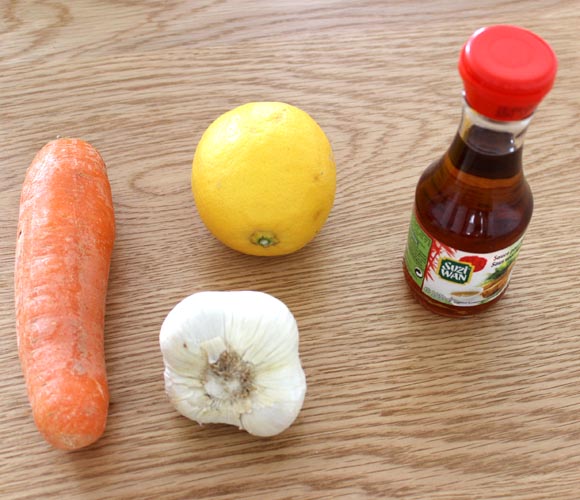 Pour la sauce  :
J'utilise la sauce pour nem Suzy Wan mais vous pouvez utiliser du Nuoc Man et y rajouter un peu de citron et du sucre.
J'ai pour ma part ajouté un peu d'ail haché, du citron, et quelques carottes rapées.
For the sauce :
I use the nem sauce from Suzy Wan but you can use Nuoc Man and add some lemon and sugar.
I have add some garlic, lemon and peeled carrot.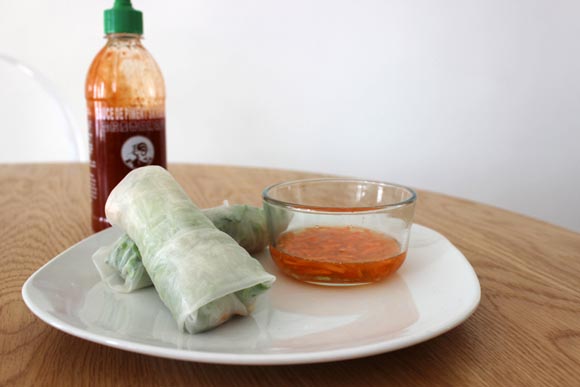 Et voila  ! Un repas très équilibréet qui contient la juste dose de  tout ! Protéines, légumes et féculents et pas de graisses. J'y ajoute un peu de Sriracha pour le côté piquant.
C'est aussi idéal à emporter au bureau pour le déjeuner. Vous pouvez les faire la veille pour les manger le lendemain.
Je suis personnellement accro aux rouleaux de printemps et j'ai d'autres recettes un peu plus originales. Si ça vous tente je les partagerais avec vous. N'hésitez pas à me le faire savoir.
And here you are ! A balance meal with the perfect dose of everything ! Proteins, vegetables and starches with no fat. I add some Sriracha sauce for the spicy.
It is also perfect to bring at the office for lunch. You can do it the day before.
I am personnaly addicted to spring rolls and I have a lots of others recipe more original. If you want I can share them with you. Don't hesitate to let me know.