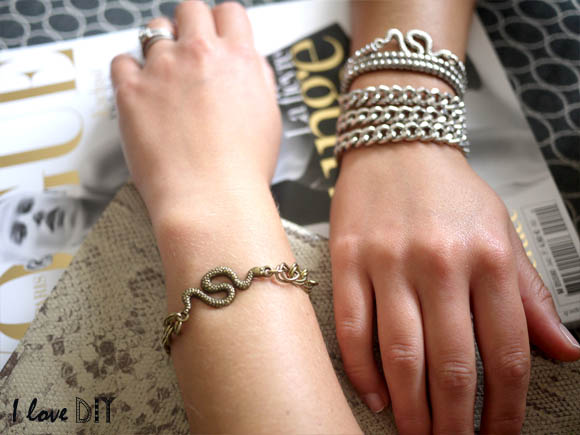 Je ne pouvais pas résister à l'envie de vous fabriquer un bracelet DIY inspiré de mes trouvailles d'hier très ssssserpent…
I couldn't resist to DIY a bracelet following my finds of yesterday very ssssssssssnake….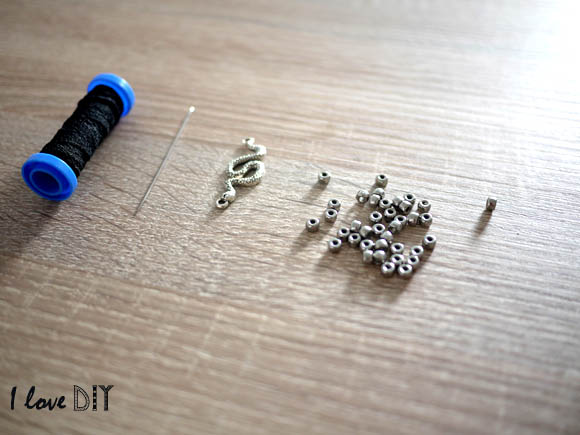 Pour la version argentée j'ai utilisé :
-Des perles argentées recyclées d'un ancien bracelet dont je n'aimais plus la forme
-Un serpent (La Droguerie)
-Du fil élastique
-Une grande aiguille (Facultatif mais bien utile)
For the silver version I have used :
-Recycled silver pearls from an old bracelet which I didn't like the form anymore
-A snake (La Droguerie)
-Elastic string
-Needle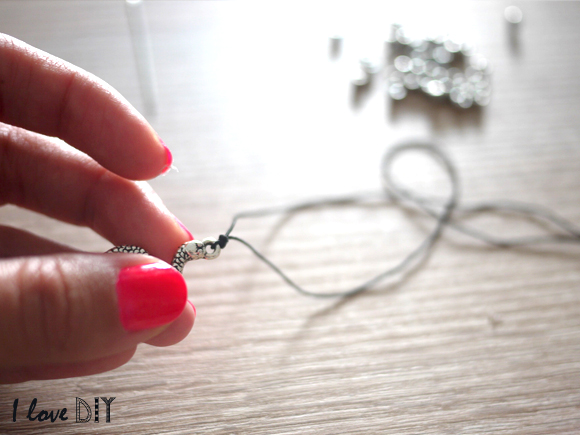 Commencez par faire un noeud afin d'avoir deux fils à passer dans les perles (les miennes étaient assez lourdes en plus )
Start by making a bow to have 2 strings (my pearls were a little bite heavy)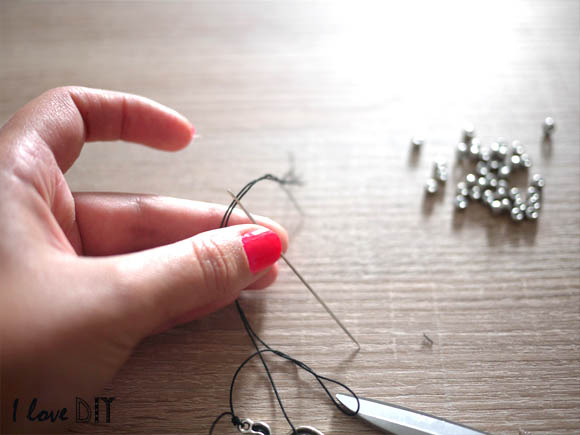 Passez les deux fils dans le chat de l'aiguille qui doit bien-sûr être assez grand. Utiliser une aiguille permet d'aller beaucoup plus vite pour enfiler les perles surtout quand il y a plusieurs fils mais ce n'est pas obligatoire.
Put the two strings in the needle that need to be big enough. Use the needle allow you to be faster above all when you have to pass 2 strings in one pearl but it is not compulsory.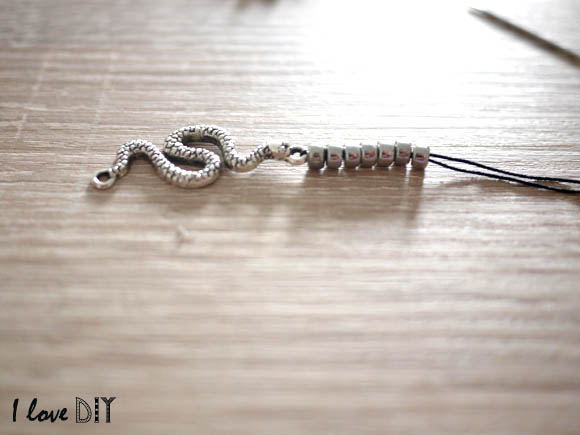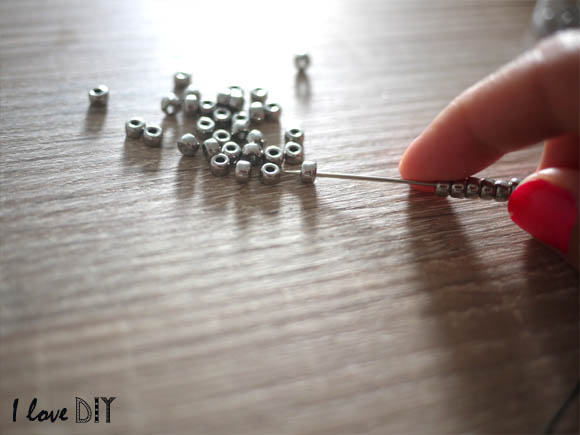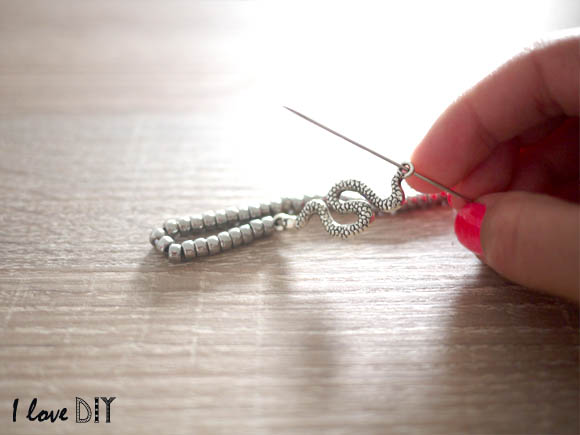 Finir en passant le fil dans l'anneau opposé
End by placing the thread in the opposed ring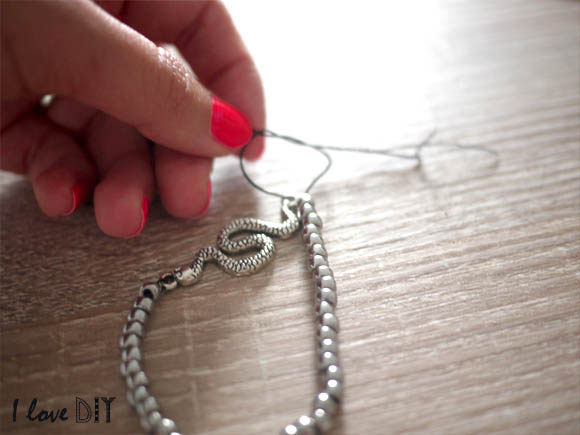 Faire un noeud
Make a bow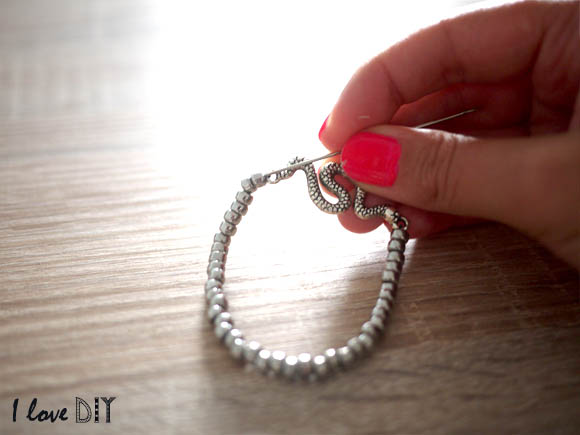 Et passer le noeud dans la première perle pour qu'il ne se voit pas
And pass the bow in the first pearl so that you can't see it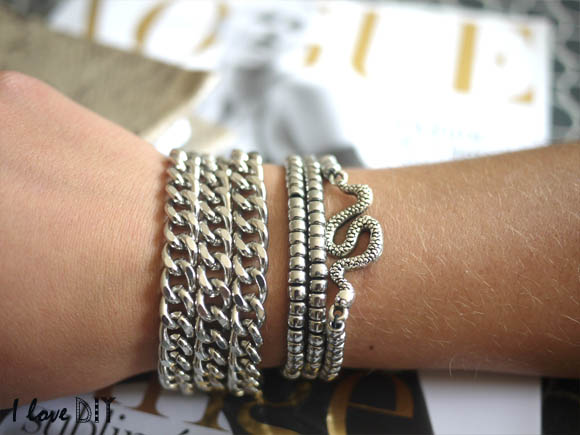 J'ai aussi réalisé deux autres bracelets très simples avec les perles argentées. J'adore portez mon nouveau bracelet DIY avec beaucoup d'autres pour un aspect manchette.
I have also realized two others bracelets very simple with the silver pearls. I love to wear my new DIY bracelet  with other ones and a lot for a cuff aspect.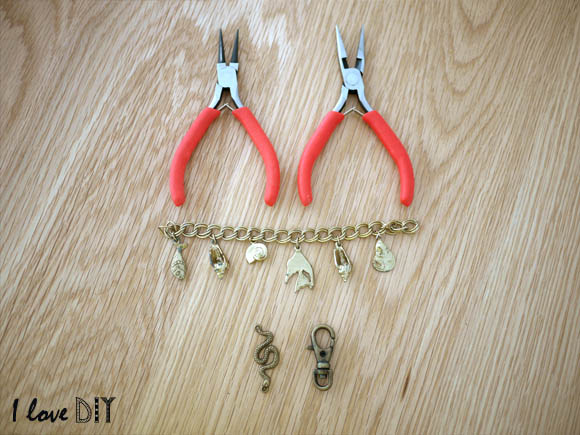 Pour la version bronze j'ai utilisé :
-Un ancien bracelet pour recycler la chaîne dans les même tons
-Un serpent bronze (La Droguerie)
-Un fermoir
-Des petits anneaux
-Des pinces à bijoux
To realize the bronze version I have used :
-An old bracelet to recycle the chain that was in the same color
-A bronze snake (La Droguerie)
-A clasp
-Small rings
-Jewelry pliers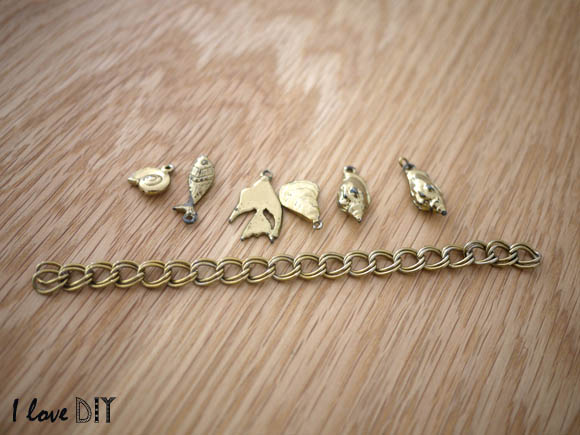 J'ai commencé par ôter les pampilles de la chaîne mais si vous utilisez une chaîne brute ce ne sera pas vôtre cas
I started by remove the drop beads but if you use a gross chain it won't be your case
Posez un anneau sur chaque extrémité du serpent
Place a ring at each side of the snake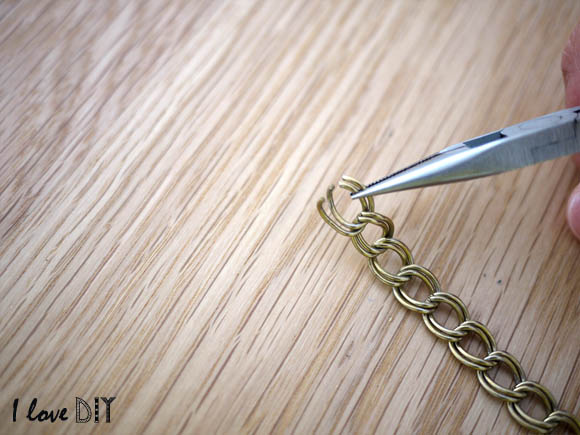 Ouvrir les anneaux de la chaîne et l'ajouter au serpent. Puis poser le fermoir.
Open the chain to add it to the snake. And place the clasp.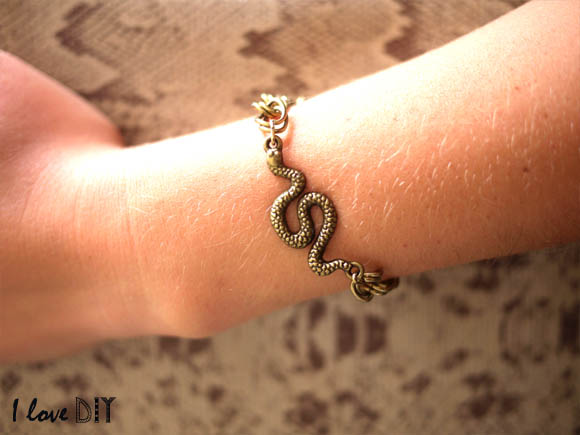 Comme la version bronze est sur une chaîne je la porte seule pour qu'elle soit bien mise en valeur.
Je sens que ces bracelets vont être mes hits de la saison !
As the bronze version is on a chain I wear it alone so that it is highlighted
I can feel that my new bracelets are gonna be the best of the season !