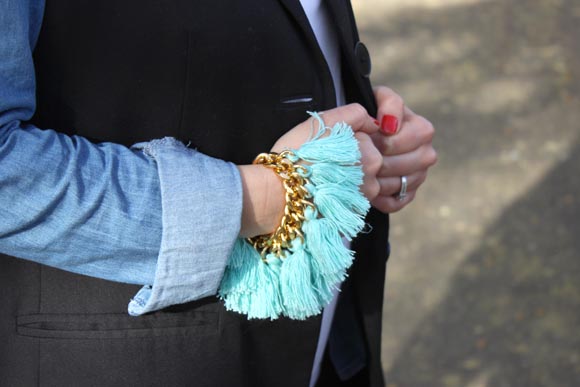 L'été pour moi c'est le renouveau des accessoires ! Alors je vous préviens vous allez en voir passer pas mal dans les prochains DIY ! Et cette année je suis très attirée par le turquoise. C'est une couleur qui va bien au brune mais aussi aux blondes, qui est douce mais qui a du peps. J'ai d'ailleurs craqué il y a peu sur une paire de Roshe Run à pois turquoise. Vous les avez peut-être vu sur les looks que je poste à foison sur mon Instagram sinon je vous montrerai ça très bientôt dans un prochain look. Trêve de blabla place à la créa !
Summer is for me time to revival my accessorizes ! So be advise that I am going to create a lot for the next DIY ! And this year I am very much attracted with turquoise. It's a color that suits well to brunette but also to light hair, which is soft and energic. I have by the way bought a pair of Polka dots roshe Run turquois. Maybe you have already see them on the several outfit that I post on Instagram if not I will show them in a next article. Let's stop speaking and create !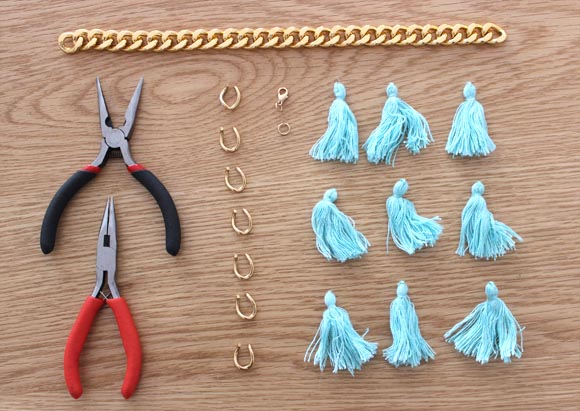 Pour  créer un bracelet pompons il vous faut : 
-De la chaîne à gros maillons 
-Des pompons (j'en ai utilisé 12 pour mon bracelet)
-Des gros maillons assortis à la chaîne
-Un fermoir
-Des pinces à bijoux
To create a tassel bracelet you need : 
-Chunky chain 
-Tassels ( I have used 12 for mine) 
-Big rings same color than the chain 
-Clasp 
-Pliers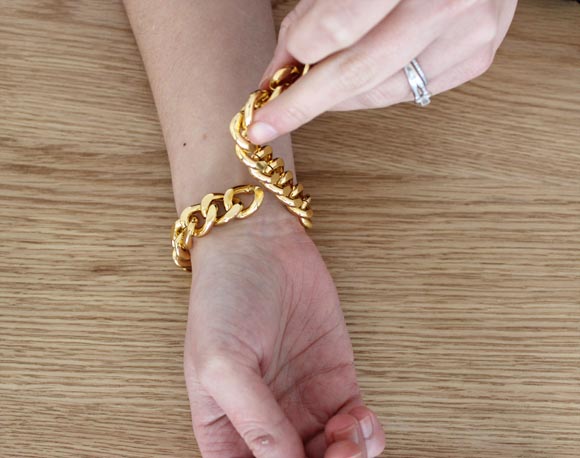 Commencez par mesurer la longueur de chaîne dont vous aurez besoin pour votre bracelet.
Start by measure the chain length you will need to create your bracelet.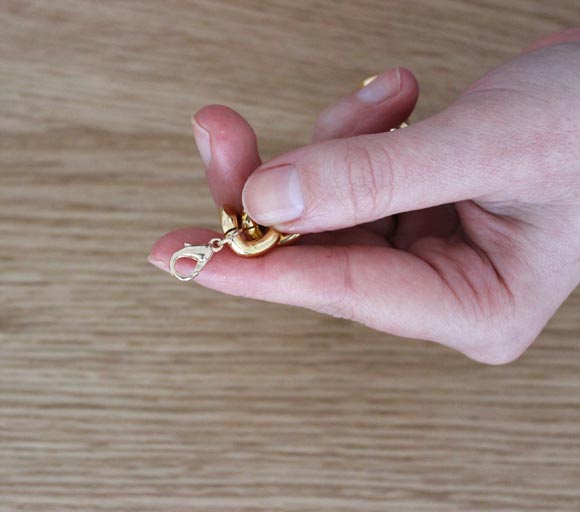 Puis y poser le fermoir.
And then place the clasp.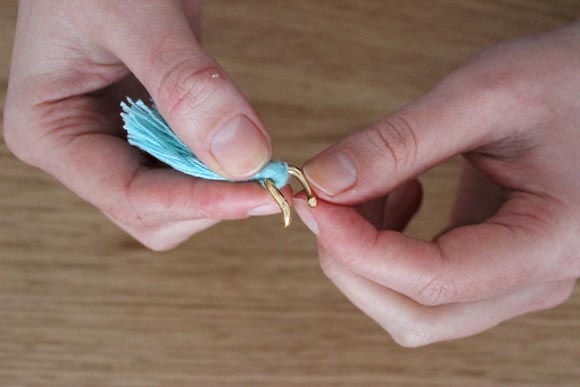 Ouvrir les gros anneaux et y insérer un pompon. Faire de même pour les 12 pompons.
Open a big ring and place the tassel. Do the same with the 12 tassels.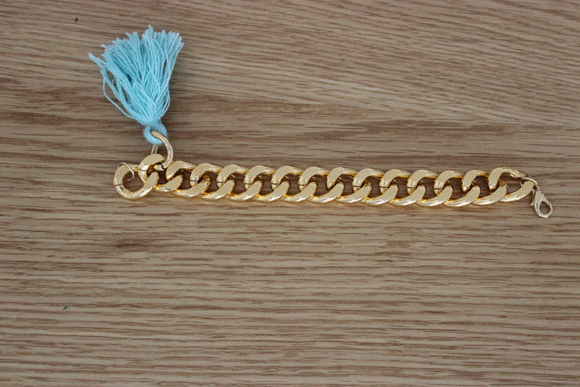 Puis insérez chaque anneau sur un maillon du bracelet.
Then insert each ring on the bracelet.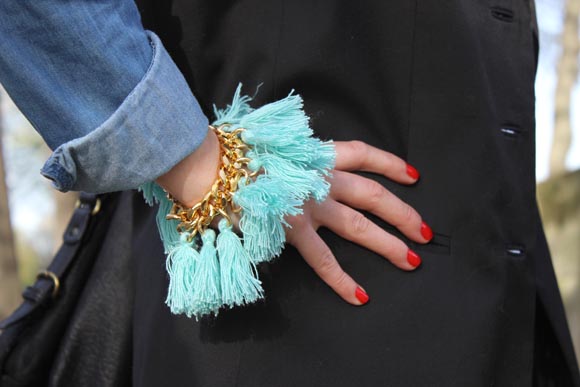 J'avais pour ma part envie d'un bracelet très fourni en pompons pour un résultat très ethnique et voyant. Mais vous pouvez en mettre beaucoup moins. Si vous choisissez d'en mettre moins, respectez un espace égal entre chaque pompon. C'est la seule règle.
I wanted a tassel furnished bracelet for an ethnic and noticeable effect. But you can decide to put less. If you choose this last option, respect an equal space between each tassel.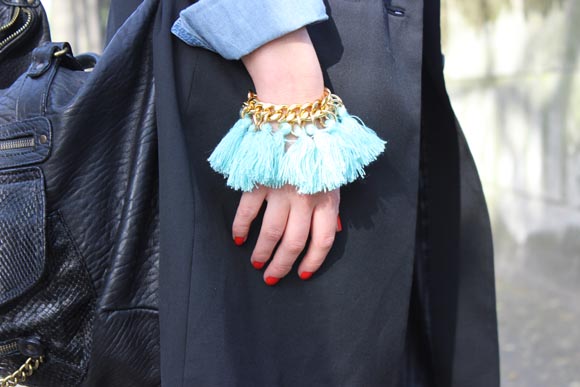 J'ai choisi de faire une version unie mais n'hésitez pas à varier les couleurs de pompons ou à créer un dégradé !
Si vous le réalisez n'hésitez pas à me faire parvenir vos créations sur ma page facebook ou Instagram !
I have decided to make a plain version but don't hesitate to vary the tassel colors or to create a gradiant effect ! 
If you realize it don't hesitate to share your creations on my facebook or Instagram !