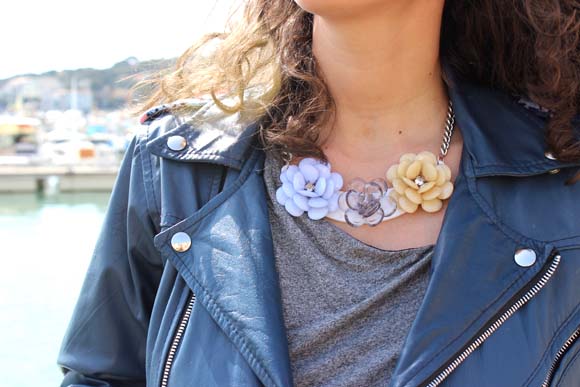 Je vous l'ai dit dans un de mes récents articles : en ce moment je suis addict aux fleurs et aux couleurs pastels…Du coup j'avais envie de créer un champs de camélias autour de mon cou.
I already told you in one of my recent articles : I am completely addicted to flowers and pastel right now… That's why I wanted to create a camellia field around my neck.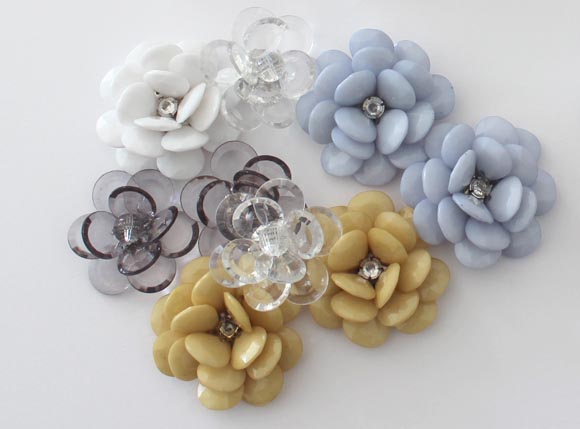 J'ai trouvé ces très belles fleurs montées sur tamis chez Perles and Co ! Je trouvais qu'elles avaient un look très Chanel.
I found that wonderful big flower at Perles and Co ! I feel like they have a Chanel look.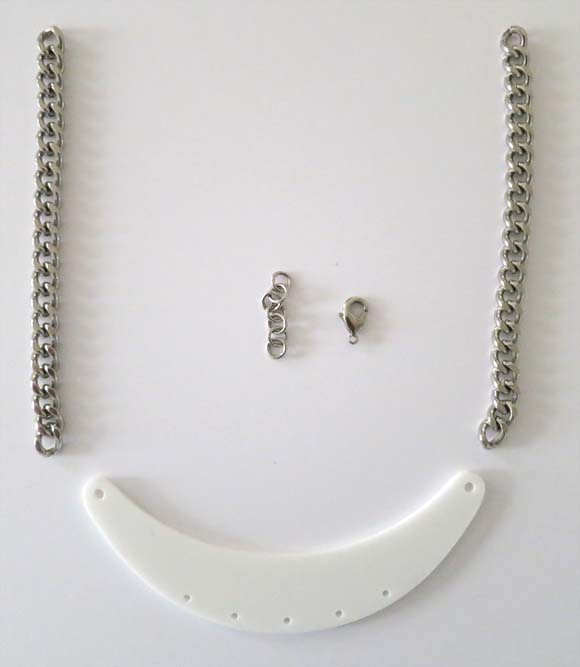 Puis un intercalaire de collier en plastique idéal pour poser mes fleurs.
Then I found a plastic necklace insert perfect to place my flower.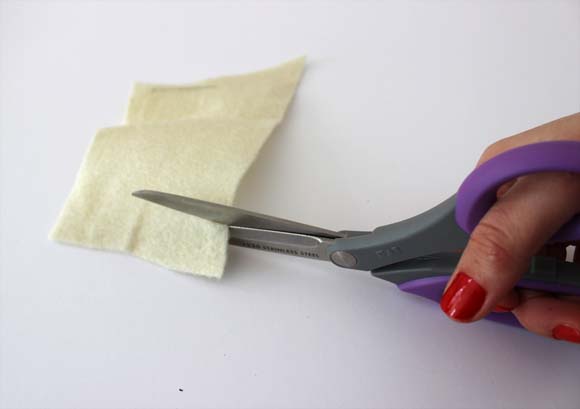 J'ai ensuite découpé des petits ronds de feutrine pour permettre une meilleure adhérence des fleurs à l'intercalaire.
I have then cut small round of felt fabric to allow a better grip of the flower to the plastic insert.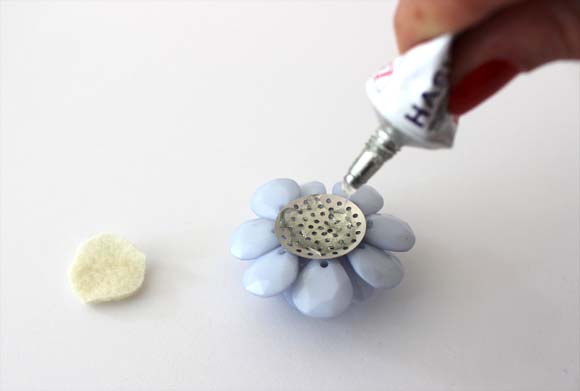 J'ai appliqué la colle sur le tamis de la fleur.
I have them apply glue on the head of the flower.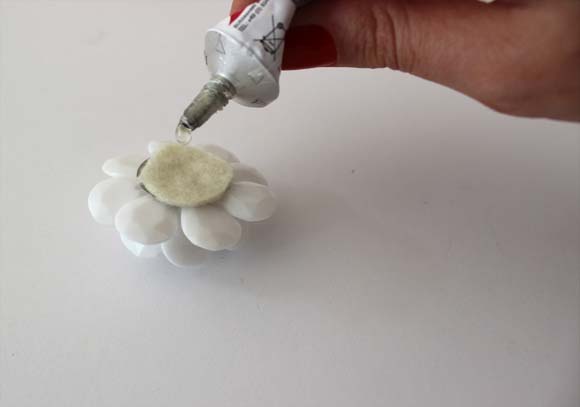 Puis sur la feutrine.
Then on the felt fabric.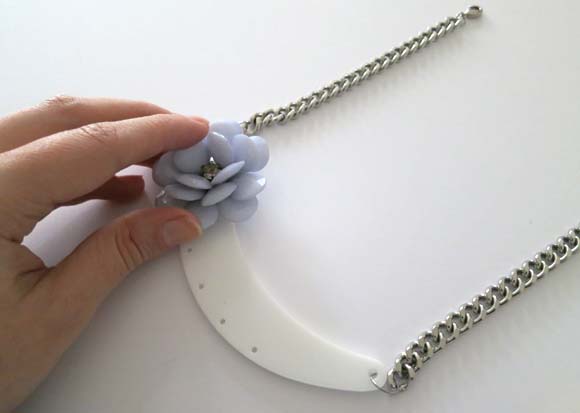 Et j'ai collé les fleurs sur la base de collier .
Then I stick the flowers on the necklace base.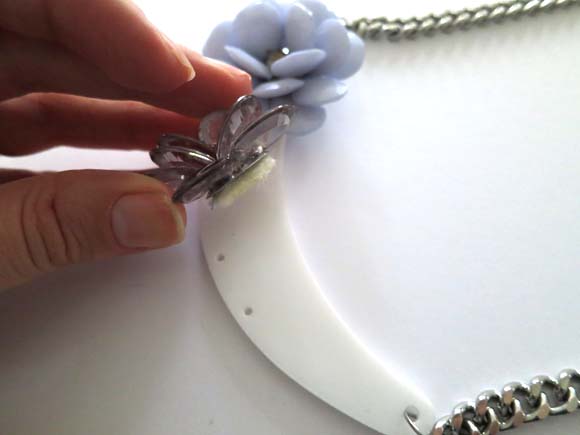 Prenez garde lorsque vous collerez vos fleurs de cacher les petits trous de l'intercalaire.
Take care when you will glue the flower of hiding the holes of the plastic insert.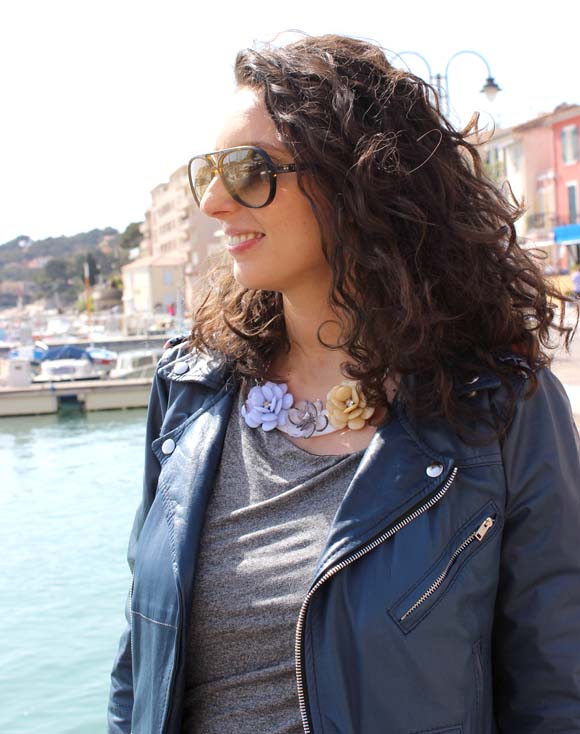 Quoi de mieux que d'immortaliser ce collier sur le port de Cassis ? Bon j'ai pris ces photos il y a déjà quelques temps d'où l'absence de bidou et surtout la longueur des cheveux différentes d'aujourd'hui.
What is best to immortalize this necklace than the Port of Cassis in Provence ? I have taken this pics a while ago that's the reason my belly is small and my hair longer.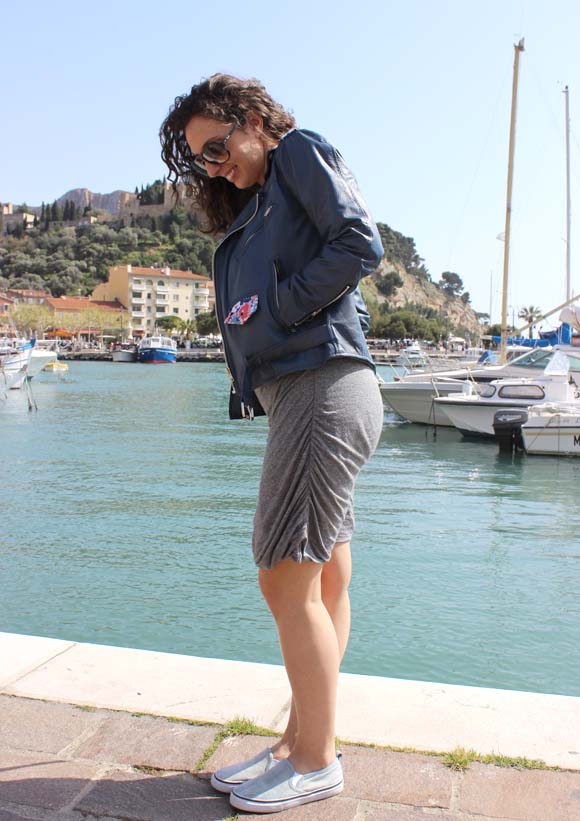 Perfecto Mamie Blue customisé pour Starwax ici, robe et Slips-on H&M, lunettes Ray-ban.
Motor bike jacket customized for Starwax here, dress and slips-on H&M, Ray-ban sunglasses.