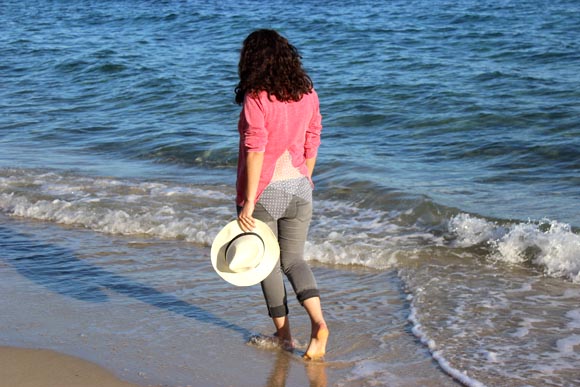 Vous n'avez pas pu passer à côté de la tendance sweat! Ou alors c'est que vous ne vivez pas sur terre;-)
A message, a fleurs, plus sport ou encore féminin il y en a vraiment pour tous les goûts. Sauf que moi j'en voulais un ultra féminin avec un joli dos un peu comme le pull que j'avais réalisé avec un grand decolleté dans le dos. Et quoi de mieux pour ça que le plumetis ?
You couldn't pass by the sweat-shirt tendency ! If yes that means that you don't leave on earth;-)
Messages, flowers, sport or feminine, everyone can find it's own. Except that I wanted mine ultra-feminine with a cute back, in the spirit of the decolleté sweater I made. And what is best for than using plumetis?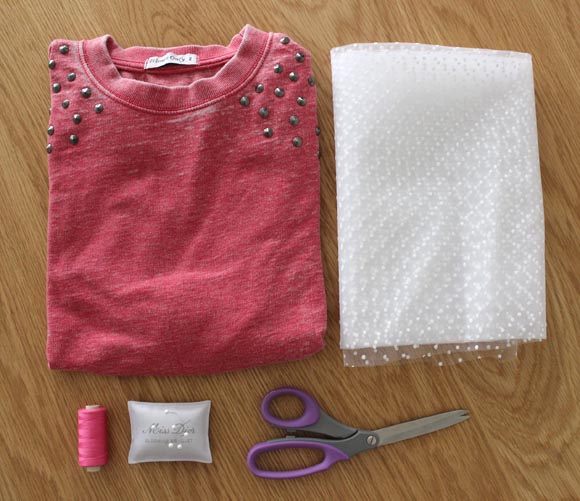 Pour créer un dos plumetis sur un sweat il vous faut :
-Un sweat (j'ai choisi le mien avec des clous devant chez Tati pour un look rock et féminin à la fois)
-Un morceau de plumetis (le plus compétitif comme d'habitude c'est chez Les Coupons de Saint-Pierre)
-Des épingles
-Des sciseaux
-Du fil assorti
-Une machine à coudre
To create your plumetis back sweat-shirt you need :
-A sweat-shirt ( I choose mine with studs in Tati for a rock and feminine look)
-A piece of plumetis from les Coupons de Saint-Pierre
-Pins
-Scissors
-Assorted thread
-Sewing machine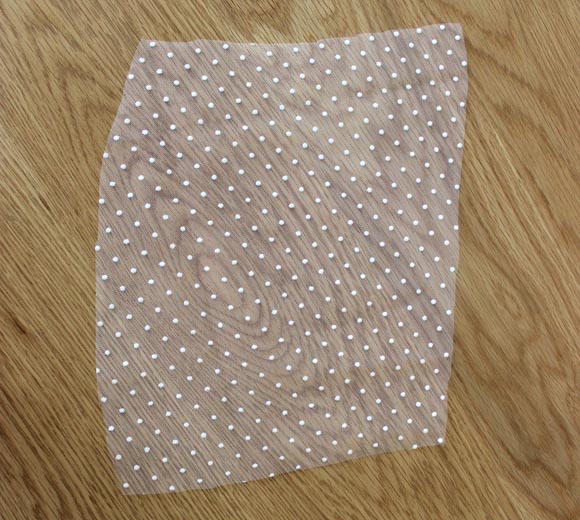 Commencez par découper une forme losange.
Start by cutting a losange piece.
Puis posez le losange sur le reste du tissu. Epinglez-le.
Then place the losange on the left fabric. Pin it.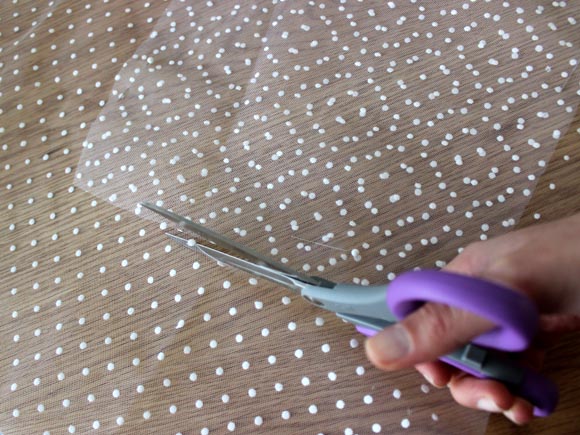 Et coupez une nouvelle pièce.
And cut a new piece.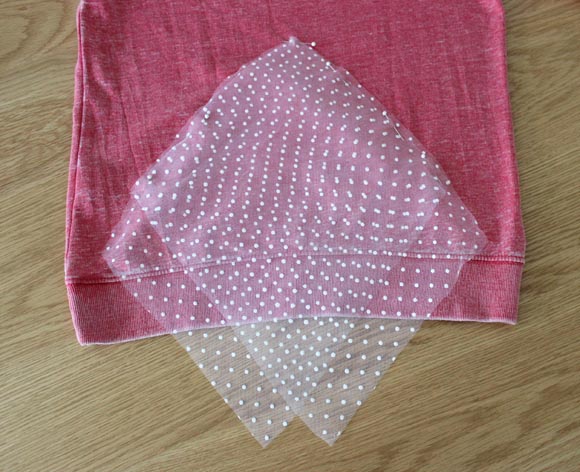 Posez les deux losanges de la même manière que sur la photo à l'ENDROIT du sweat.
Place both pieces the same way it is showed on the picture. On the right side of the sweater.
Marquez un repère la ou tombe le haut. Et coupez droit jusqu'au bout du pull.
Mark a target at the top of the fabric. And cut right untill the bottom of the sweater.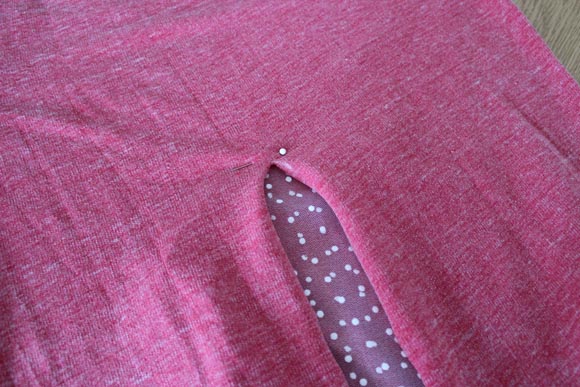 Epinglez les deux morceaux de plumetis en dessous. Votre sweat est toujours à l'endroit.
Pin both plumetis pieces under the sweater. It is still on the right side.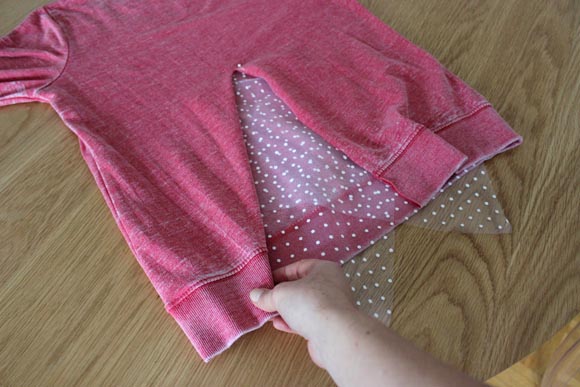 Repliez les côtés pour ouvrir le dos et dévoilez le plumetis et votre dos au passage.
Fold the sides to open the back and show the plumetis and your back at the same way.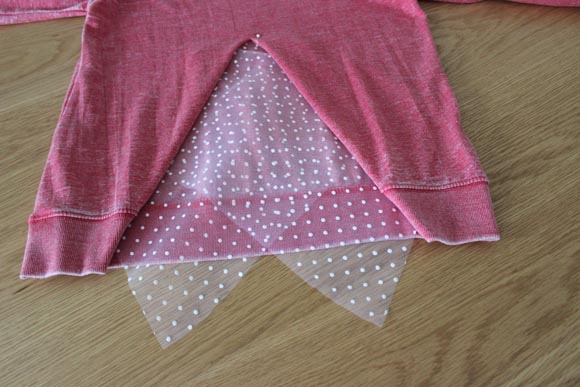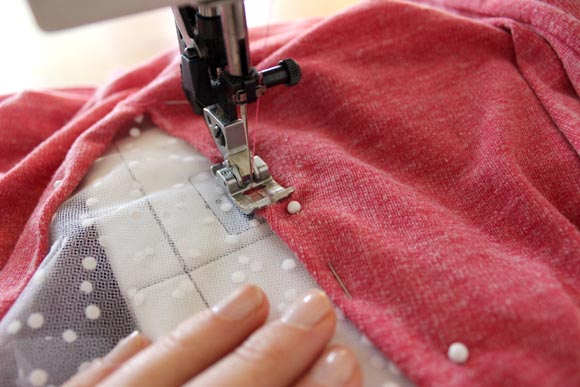 Coudre le tout ensemble. 
Je pense justement à changer ma machine. Et j'ai justement trouvé des machines à coudre sur www.shopty.com.
Connaissez-vous ce site ? Vous avez déjà acheté une machine à coudre ou quelque chose d'autre pour le DIY sur Shopty ?
Sew everything together.
I am thinking about changing my sewing machine. And I have actually find sewing machine on www.shopty.com. Do you know this website ? Have you already bought a sewing machine or anything for DIY on shopty ?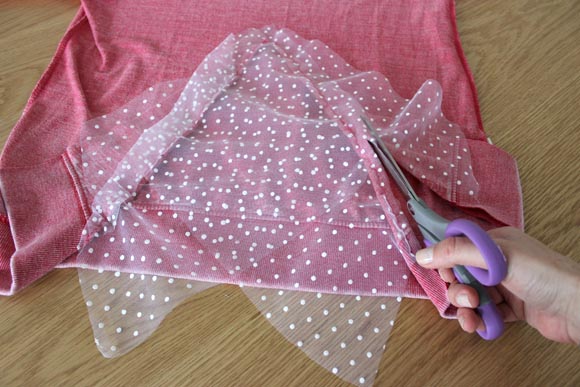 Retournez le sweat et coupez l'excédent de tissu du pull et du plumetis.
Fold the sweat and and cut the excess of fabric from the sweat-shirt and from the plumetis.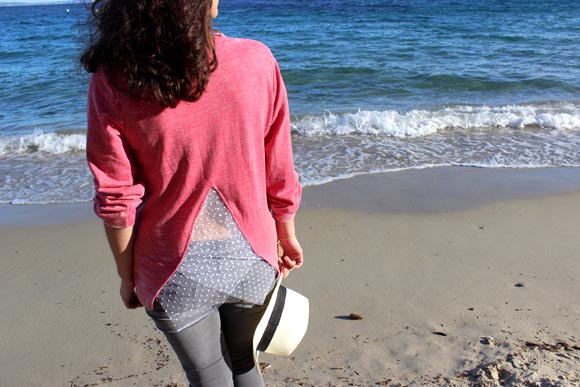 Et voilà! Une façon originale de customiser un sweat pour lui donner cette petite touche d'originalité que vous en retrouverez pas chez tout le monde.
A portez sur peau nue pour les moins farouches ;-) Histoire de faire monter la température…
ou avec un petit top blanc pour les autres.
And here your are! Here is an original way to customize a sweat-shirt to give it a touch of originality that you won't find in anybody.
You can wear it with nothing under or with a white top.