Fauchée, écolo ou tout simplement envie de faire un cadeau vous-même à votre chéri pour la Saint-Valentin, cet article est fait pour vous !
Ce projet peut presque vous coûter 0€, oui oui vous avez bien entendu ! si vous réutiliser une chemise de votre homme déjà présente dans son placard. Sinon H&M propose un modèle basique très bien coupé et facile à repasser pour 9,99€.
Penniless, environmentalist or simply want to make a present yourself for your man for Valentine's day, this article is made for you !
This project can cost you nothing, yes you heard it well ! if you re-use a man's shirt that he already have in his closet. Otherwise you can find a basic one at H&M well cut and easy to iron for less than 9,99€.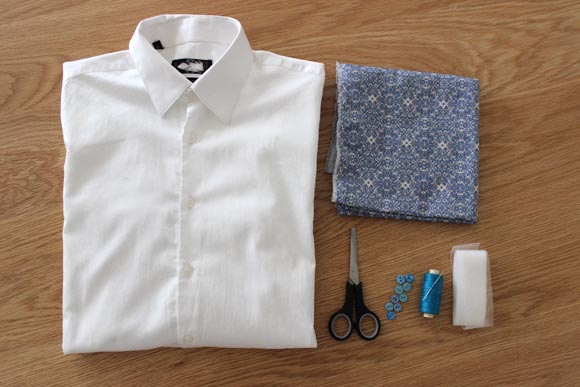 Pour customiser une chemise d'homme il vous faut :
-Une chemise toute simple
-Un morceau de tissu imprimé ou uni suivant le style de monsieur
-Des boutons de couleurs assortis au tissu
-Du thermo-collant pour faire des ourlets rapides sans coudre
-Du fil assorti, une aiguille et une paire de ciseaux
To customize a men's shirt you will need :
-A simple man's shirt
-A piece of fabric plain or printed depending of the style of your men
-Assorted buttons
-Fast hem iron on
-Assorted thread, needle and a pair of scissors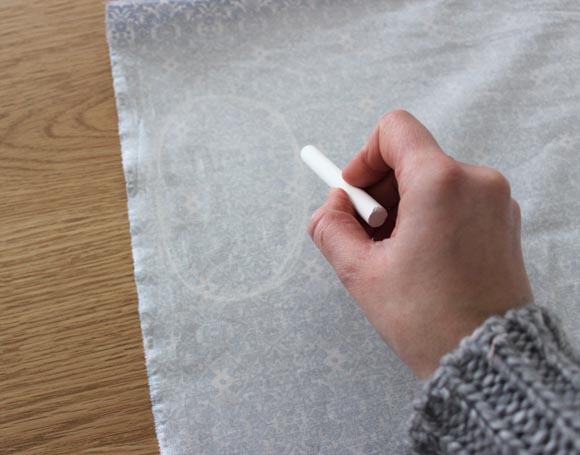 Commencez par dessiner la coudière sur le tissu. Je l'ai fait à main levée mais si vous n'êtes pas à l'aise vous pouvez télécharger un patron sur le site de Prima ici 
Start by drawing the elbow pad. I did it free hand but if you don't feel comfortable with it you can download one on the website of Prima here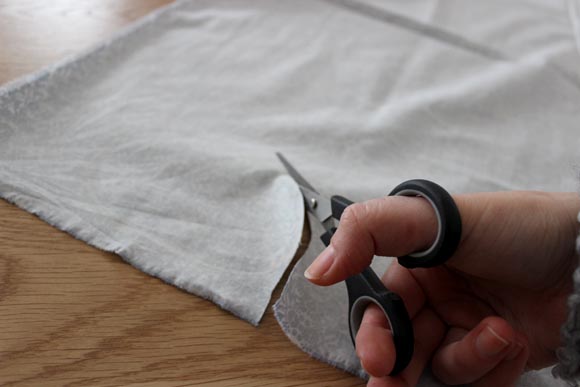 Découpez-la.
Cut it.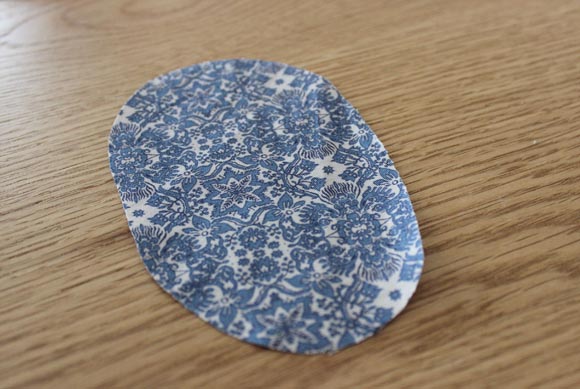 Voila ce que vous obtenez.
Here is what you get.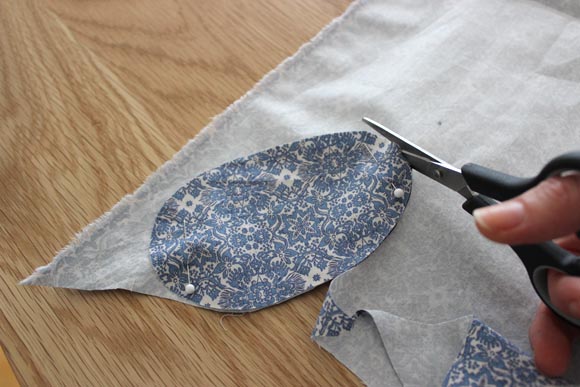 Découpez une deuxième coudière en la superposant sur le tissu. Mieux vaut épingler le tissu pour qu'il ne bouge pas.
Cut a second elbow pad by placing the first one on the fabric. The best is to pin it so it won't move.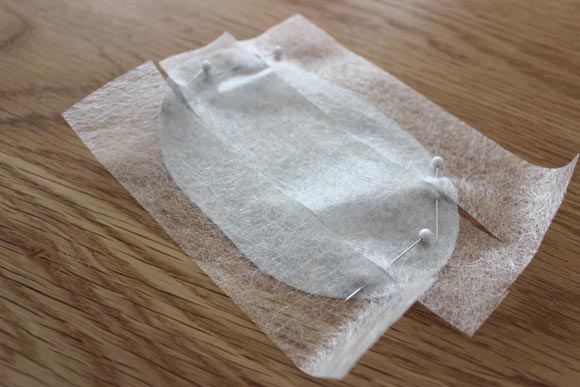 Epinglez les bandes de thermo-collants pour ourlet rapide. J'ai utilisé cette technique car le thermo-collant est double face.
Pin the fast hem iron-on on the elbow pads. I use this technic because the hem is double face.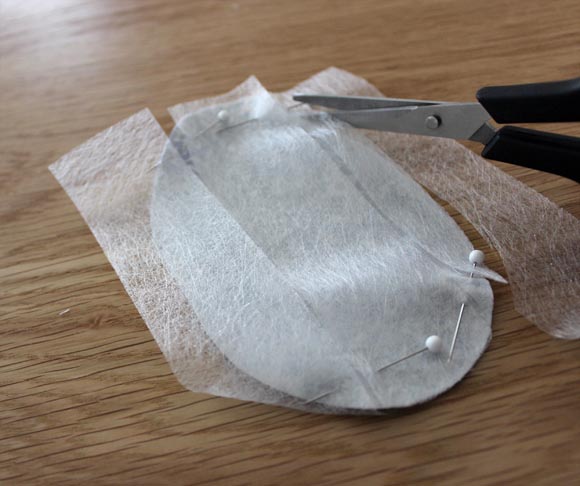 Coupez l'excédent.
Cut the excess.
Placez la coudière et le thermo-collant en dessous sur la chemise.
Place the fast hem under the pad and then on the shirt.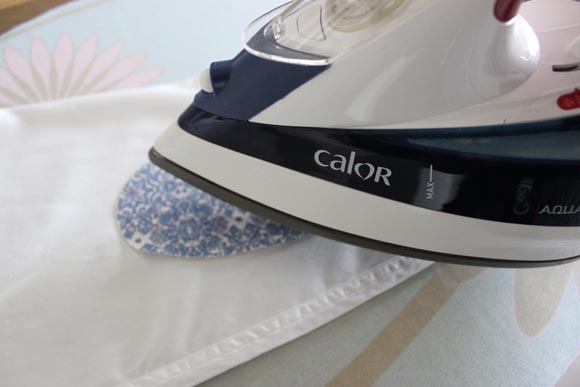 Repassez au fer.
Iron it.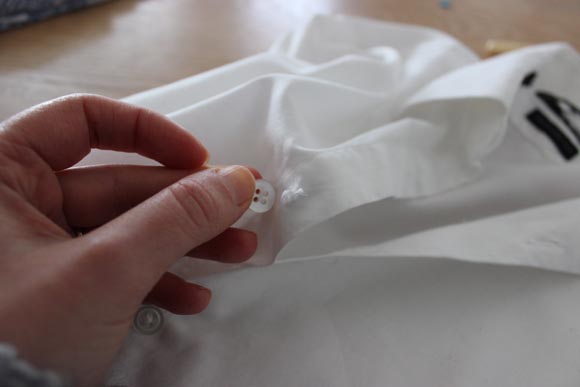 Oter les anciens boutons.
Remove the old buttons.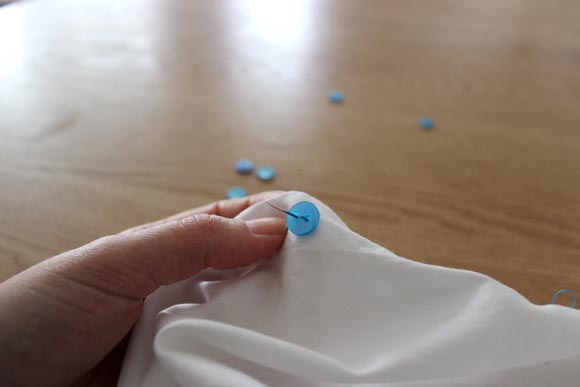 Et les remplacez par les nouveaux boutons assortis aux coudières.
Replace them by the new buttons.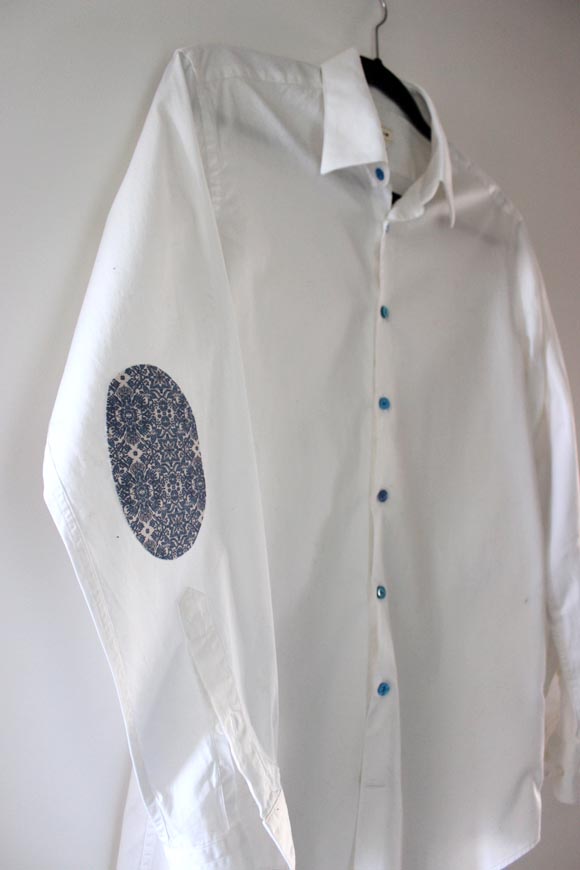 Et voila ! Un cadeau fait main avec amour pour votre cher et tendre.
And here you are ! A hand-made present realize with love for your
man.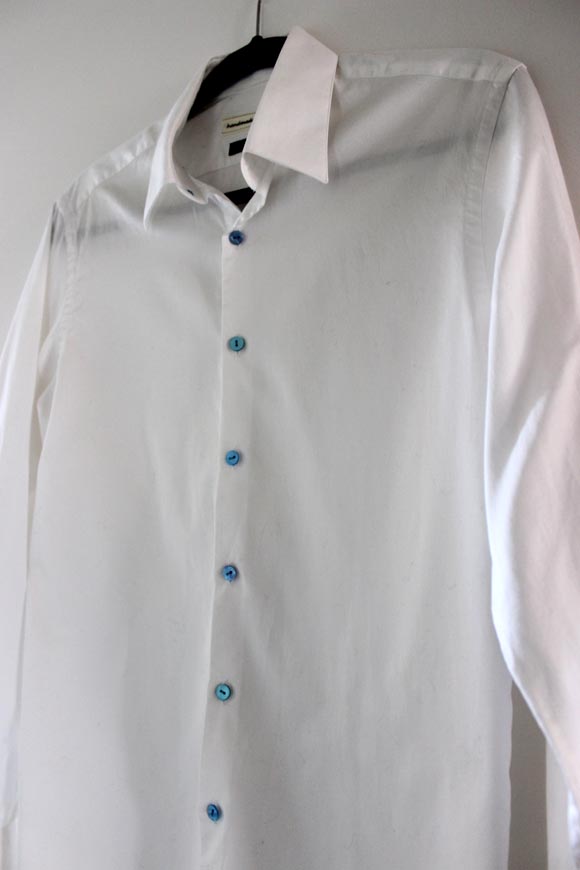 J'ai pour ma part décidé d'utiliser des boutons de différents bleu pour créer un effet dégradé.
I have decided to use different blue to create a tie and dye effect.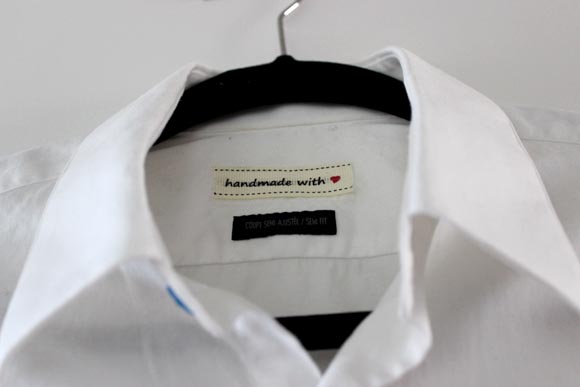 Et j'ai aussi thermo-collé avec le même procédé que pour les coudières un morceau de ruban "Hand-made with love" ;-)
I have also iron on the same way I did for the elbow a piece of ribbon "Hand-made with love";-)
Alors cette année votre cadeaux de Saint-Valentin sera do it yourself  ?
Will you Valentine's present be hand-made this year ?