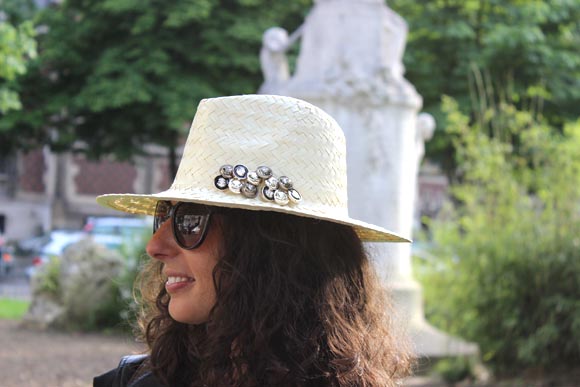 On continue la semaine chapeau avec une customisation plus rock, plus ville du chapeau en paille. Je dois dire que cette idée m'est venue en passant devant une vitrine The Kooples et en voyant leurs boutons si caractéristiques…J'avais envie d'une version à porter avec un perfecto sans manches et un short en jeans. Bon vu ma grossesse je n'ai pas osé le short en jeans mais la petite robe noire ;-) Pour un total look noir.
Let's continue this special hat week with a rocky customization, a more city version of the straw hat. I have to say that this idea came when I was walking by a The Kooples window and when I saw their caracteristic buttons…. I wanted a version that I can wear with a denim shorts and a sleeveless perfecto. As I am  pregnant I didn't dare the shorts but the little black dress ;-) For a total black outfit.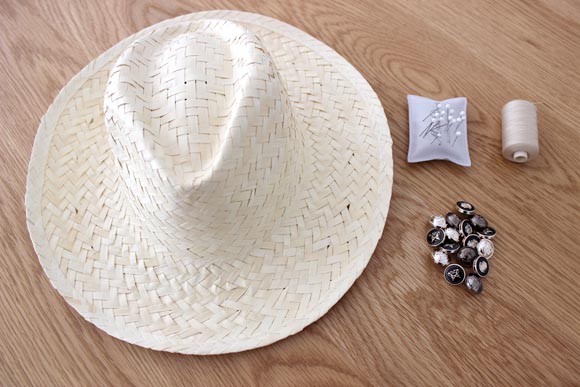 Pour customiser un chapeau en paille avec des boutons pour un look the Kooples il vous faut :
-Des boutons couronne, des boutons ecussons, des boutons couronne noirs tous de la Mercerie Chic.
-Du fil beige et une aiguille
To customize a straw hat with buttons for a The Kooples look you need :
-A straw hat
-Crown buttons, badge buttons, and black crown buttons
-Beige thread and needle.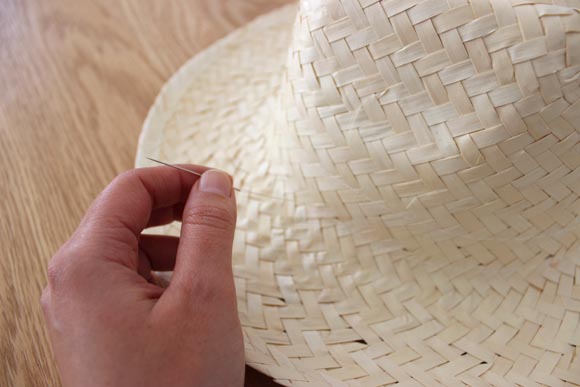 J'ai eu envie de ne positionner les boutons que sur le côté du chapeau mais vous pouvez aussi les mettre tout autour. J'ai donc commencé par insérer l'aiguille au début de l'endroit ou je souhaitais qu'ils soient positionnés.
I wanted to put all the buttons on one side but you can decide to put them all around. I have started to insert the needle at the beginning from where I wanted them to be.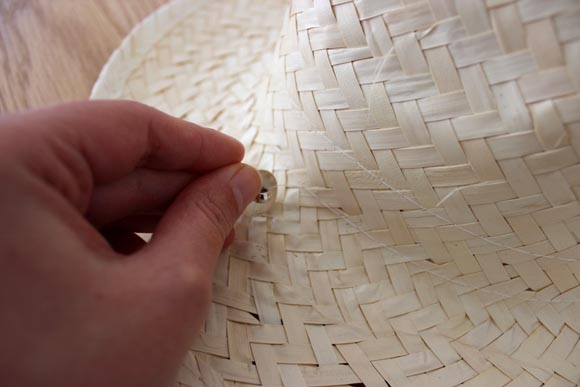 J'ai ensuite passé le premier boutons dans l'aiguille.
I have then pass trough the first buttons on the needle.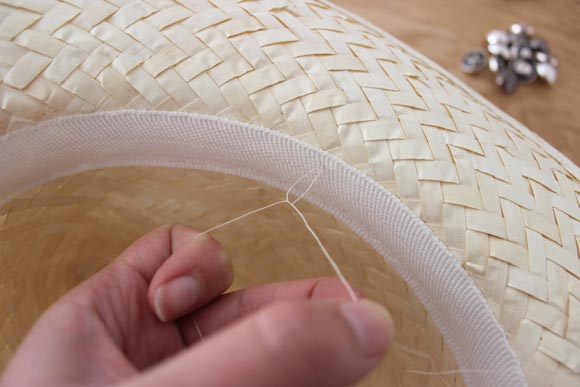 Faites ensuite un double nœud bien serré à l'envers du chapeau en prenant garde à ce que le bouton soit bien positionné à l'avant. Si vous ne serez  pas assez le bouton va piquer du nez vers le bas.
Then  make a double bow well tight at the back of the hat. Be carefull that the button is well positionned on the front. Si vous ne serez  pas assez le bouton va piquer du nez vers le bas. If you don't tight it enough the button will fall at the front.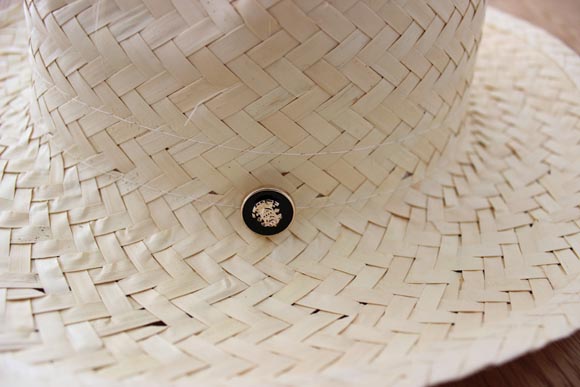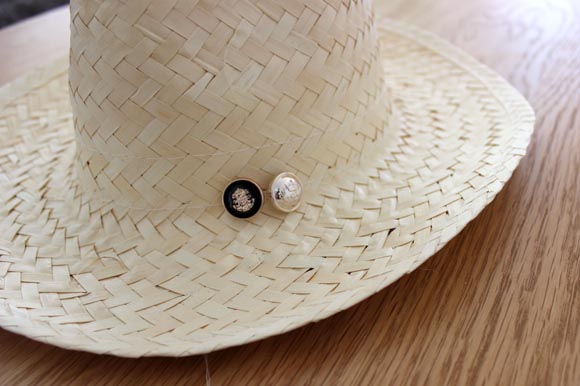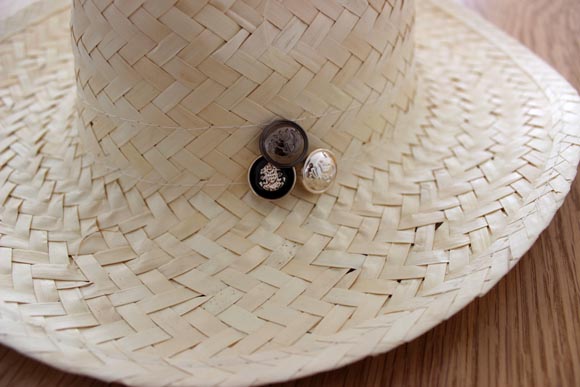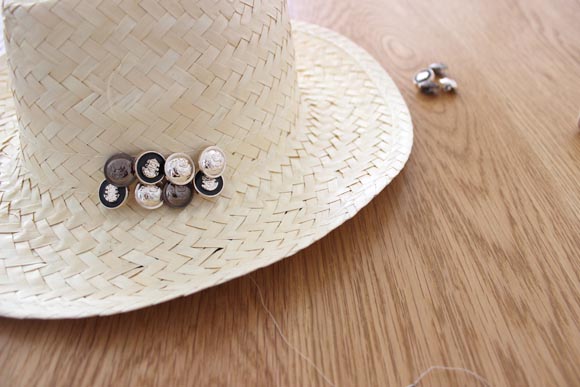 Continuez à coudre l'ensemble des boutons en les superposant un peu les uns sur les autres.
Continue to sew all the buttons and surimpose them one to each other.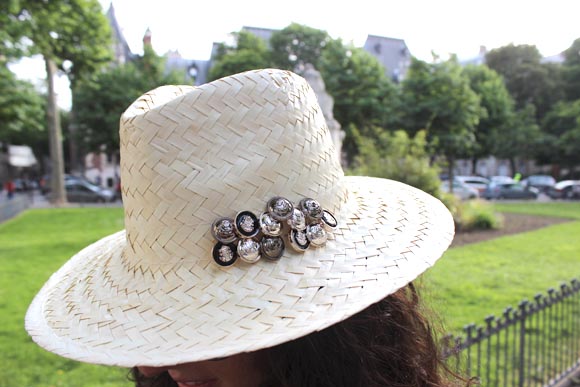 Voila une version plus ville du chapeau en paille et un bon moyen de recycler des boutons !
Here is a more city version of the straw hat and good way to recycle buttons !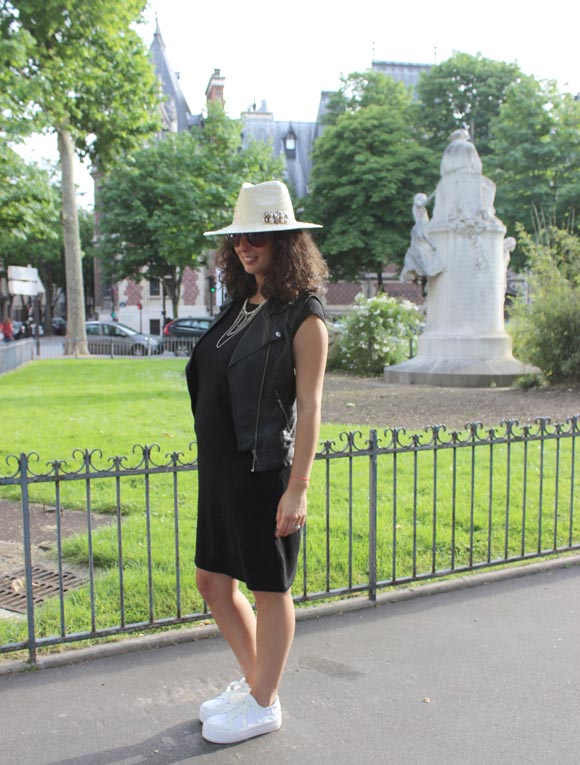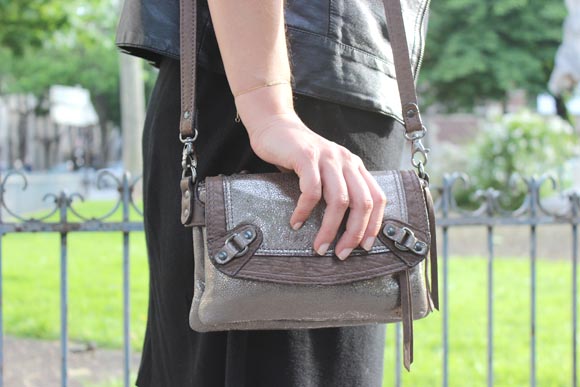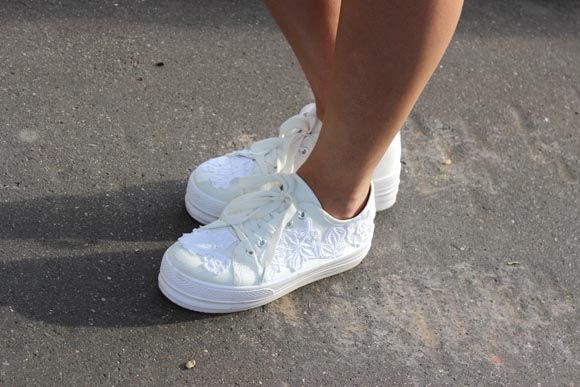 Perfecto sans manches Kiabi, robe de grossesse Vertbaudet, lunettes Primark,  Collier chaînes et perles DIY, Sac Gaby Abaco, Baskets compensées customisées ici.
Kiabi sleeveless jacket, Maternity dress Verbaudet, Primark sunglasses,  Chain and pearls necklace DIY, Abaco purse, plateform sneakers DIY.