Ça vous direz de vous fabriquer des gants et un bonnet ? Bon vous allez me dire que vous ne savez pas tricoter ? Et bien vous n'en avez pas besoin pour réaliser ce tuto !
Would you like to realize gloves and a beanie ? Well you gonna tell me that you don't know how to knit ? You don't have to  know that to realize this tutorial !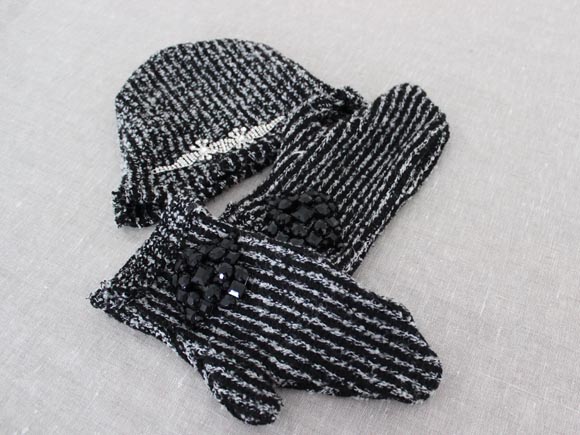 Pour réaliser des accessoires chauds (bonnet et gants) sans tricoter il vous faut :
-Un vieux pull
-Une craie
-Une paire de ciseaux
-Des épingles
-Du fil et une aiguille ou une machine à coudre
-Des broches et des bijoux cassés (Facultatif)
To realize warm accessories  (beanie and gloves) without knitting you need :
-An old sweater
-Chalk
-Scissors
-Pins
-Needle and thread or sewing machine
-Brooches and broken jewels (optional)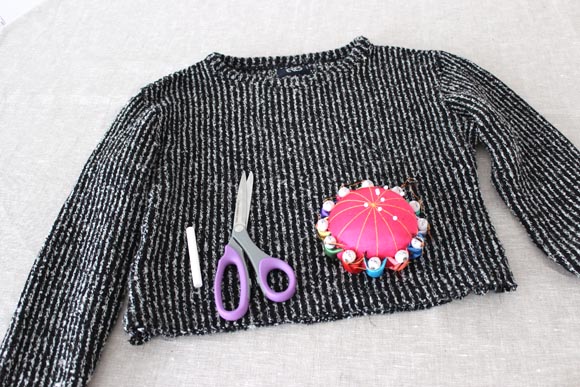 Placez vos mains  ainsi que le bonnet sur le pull afin d'appréhender l'endroit ou vous allez couper et surtout pour être sur d'avoir la place nécessaire.
Place your hands over the sweater as well as a beanie to see where you gonna cut and to make sure you have enough space to realize everything.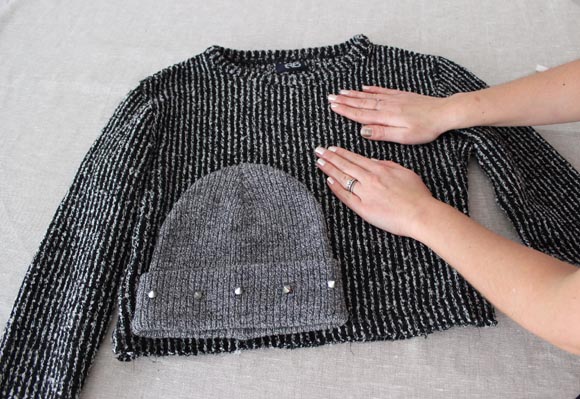 Dessinez le contour de tous les éléments à la craie.
Draw the contour of each elements with the chalk.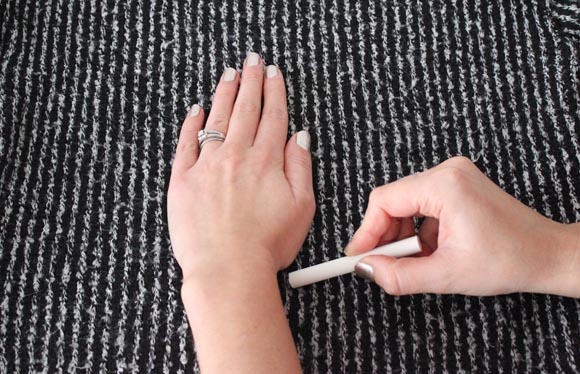 Et coupez dans les 2 épaisseurs du pull.
And cut it in the 2 thicknesses.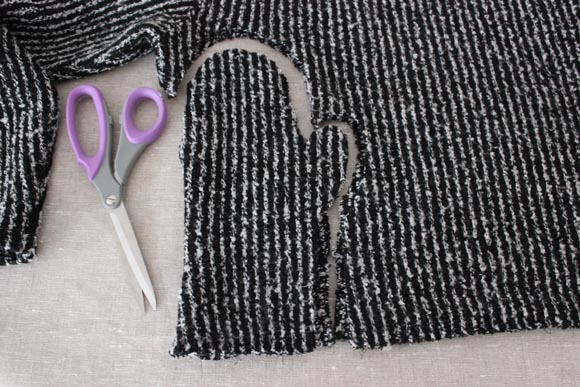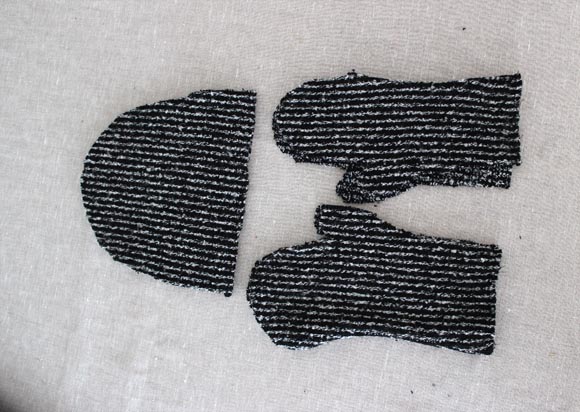 Cousez les contours à la machine ou à la main.
Sew the contour with the machine or by hand.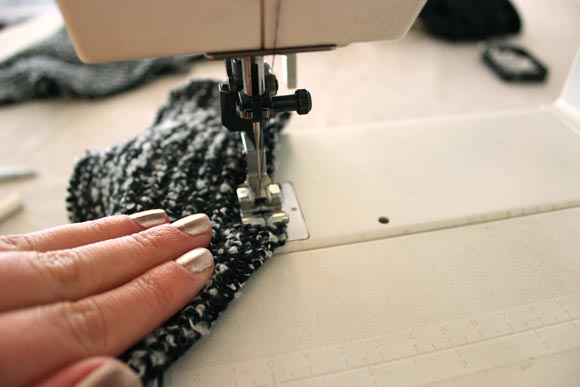 Vous pouvez vous arrêter la ou customiser vos accessoires si vous les trouvez trop sages.
You can stop here or customize your accessory if you feel there are too plain.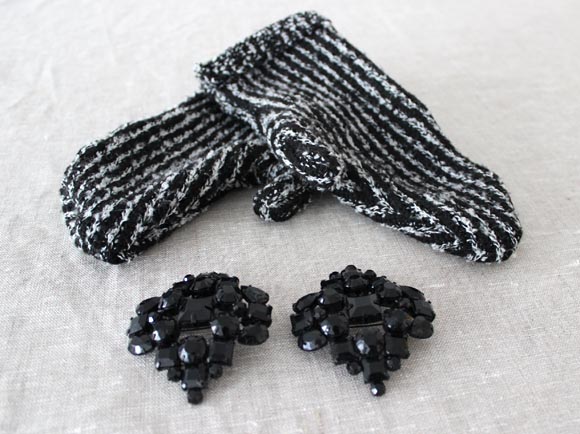 J'ai utilisé de grosses broches trouvées chez H&M il y a un moment et qui me servaient d'épaulettes sur une veste…
I have use 2 big brooches found at H&M a while ago and that I was using as shoulder pads on a jacket…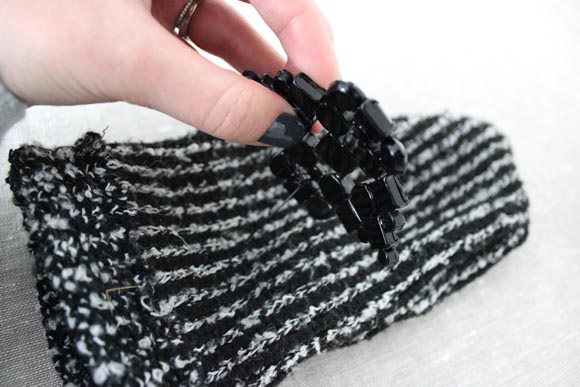 Pour le bonnet j'ai utilisé un bracelet cassé en le cousant devant.
For the beanie I use a broken bracelet by sewing it on the front.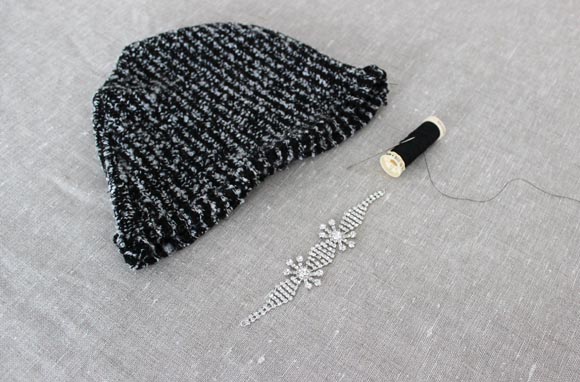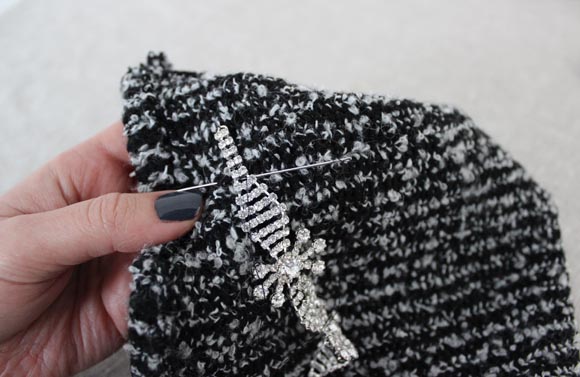 Vous pouvez aussi réalisez un bandeau, des chaussettes en utilisant la même technique. Un bon moyen de recycler son pull préféré.
You can also realize headband, socks by using this technic. A good way to reuse your favorite sweater.