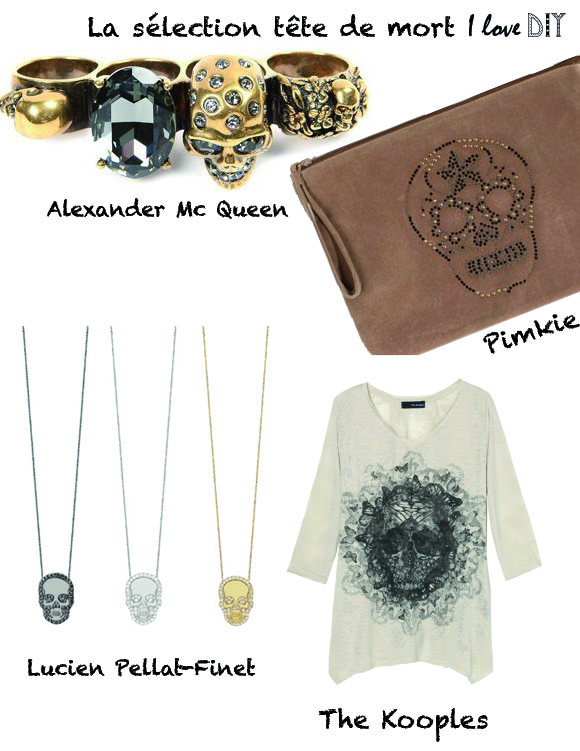 La petite touche tête de mort j'adore pour ce petit côté rock que cela apporte. Porté avec un short en jean et une paire de boots en cuir, le « Skull » est pourtant un dessin morbide. Il s'est pourtant démocratisé pour apparaître un peu partout top, bijoux, sac à main et s'est même fait une place chez les grands créateurs comme Alexander Mc Queen qui en a fait le pivot de sa ligne d'accessoires. Je vous ai sélectionné quelques une des pièces fortes du moment : Mon gros gros coup de coeur la bague Alexander Mc Queen, la pochette strass Pimkie, la version Tee-shirt chez The Kooples et enfin pour la petite touche luxe la chaîne Lucien Pellat-Finet joaillerie.
Et nous on se retrouve demain pour un DIY qui s'inspire de cette tendance !
I love the Rock side that the skull brings. Wear it with a simple pair of denim shorts and a pair of leather boots, this head bone is though morbid but it has generalized itself in fashion to appear everywhere, top, jewel, purse and even the designers have adopted this trend like Alexander Mc Queen that has used it in his accessory line. I have selected today some of my favorite pieces : My big crush the Alexander Mc Queen ring, a clutch from Pimkie, a top from The Kooples and last but no least the luxury chain version from Lucien Pellat-Finet.
Let's meet tomorrow for my DIY version inspired of this trend !