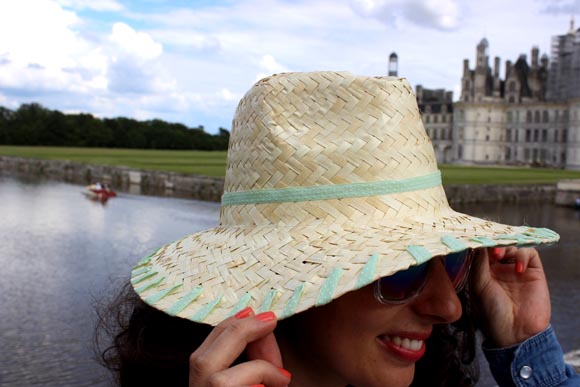 Parfois il suffit d'un rien pour donner un petit peps de couleur à un chapeau de paille. Cette saison je suis assez accro au turquoise du coup quand j'ai vu ce petit ruban ruban à pois blanc je n'ai pas pu résister longtemps…
Sometimes a little thing can bring a peps of color to a straw hat. This season I am really crazy about turquoise so when I saw this polka dots ribbon I couldn't resist to customization…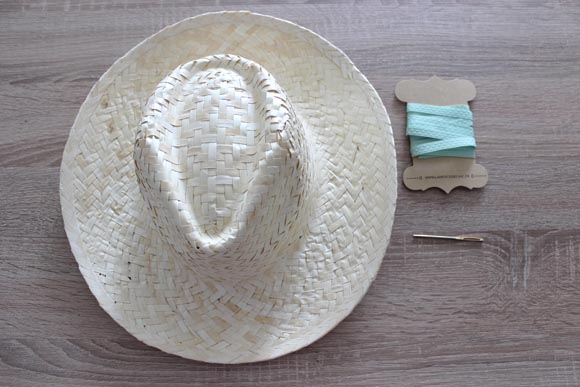 Pour customiser un chapeau en paille avec du ruban il vous faut :
-Un chapeau en paille (Le mien vient de la Mercerie Chic mais vous pouvez en recycler un que vous avez déjà)
-2 m de ruban turquoise plumetis (j'en ai eu juste assez donc si vous préférez être large prenez 3m)
-Une grosse aiguille type aiguille à tapisserie ou aiguille à laine
-Un point de colle de préférence chaude
To customize a straw hat with ribbon you need :
-A straw hat
-2M ribbon turquoise with white polka dots ( I had just enough so if you prefer take 3m)
-A large needle
-Hot glue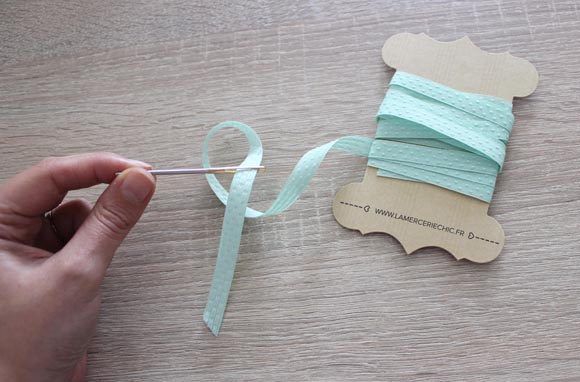 Enfilez votre ruban sur l'aiguille. Il faut que le chat soit assez grand.
Put through the ribbon on the needle. It has to be large enough.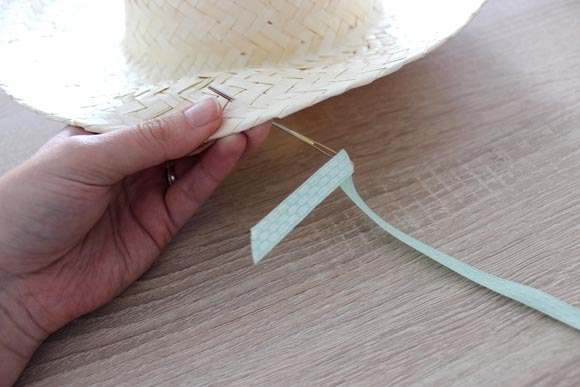 Puis enfilez la entre deux brins de paille. Vous ne devez pas percer le chapeau mais vous servir du tissage pour insérer l'aiguille.
Then sew it between the straw string. You must not drill the hat but use the weaving to insert the needle.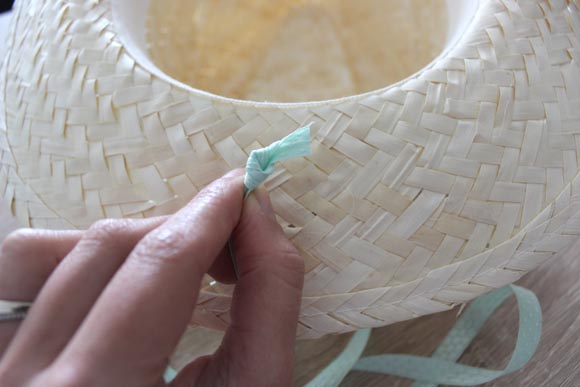 Faites un noeud de sorte que le ruban tienne. Ne le serrez pas trop car à la fin il faudra le défaire pour le nouer avec la fin du lien une fois que vous aurez fait le tour du chapeau.
Make a bow so the ribbon will remain. Don't tighten too much because at the end you will have to remove it to tie it with the end of the ribbon once you will make the entire turn.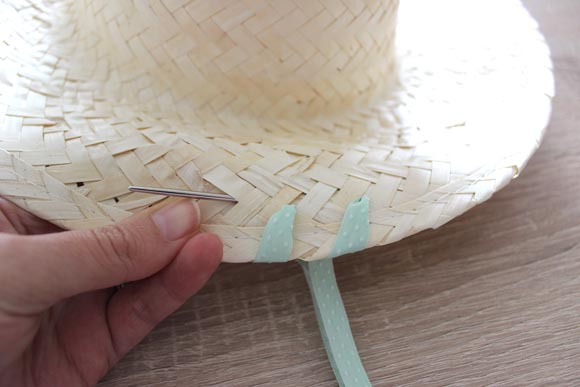 Continuez à broder tout le long en prenant garde à toujours piquer à la même hauteur.
Continue to embroid all around and be careful to sew at the same high.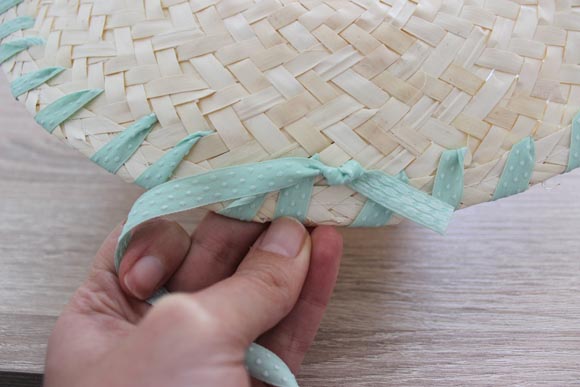 Une fois que vous arrivez au bout, faites un noeud.
Once you reach the end make a bow.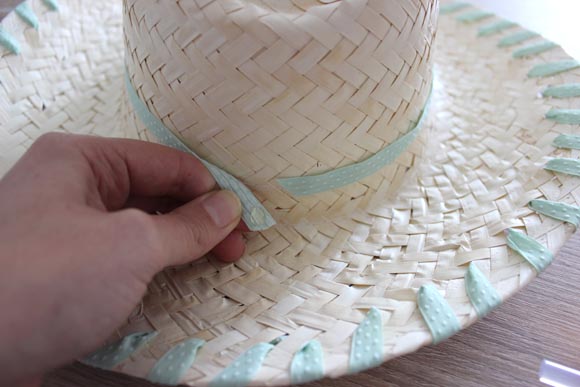 Entourez ensuite le haut du chapeau avec le même ruban.
Circle the hat with the same ribbon.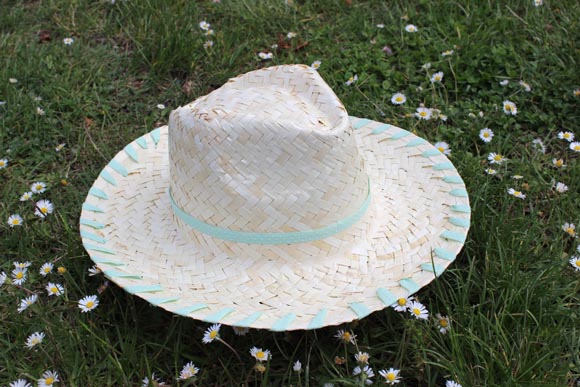 Voila ! Portez votre nouveau couvre-chef avec un maximum de couleurs vives ! c'est bientôt l'été…
Here you are ! Wear your new hat with a maximum of color ! It's almost summer…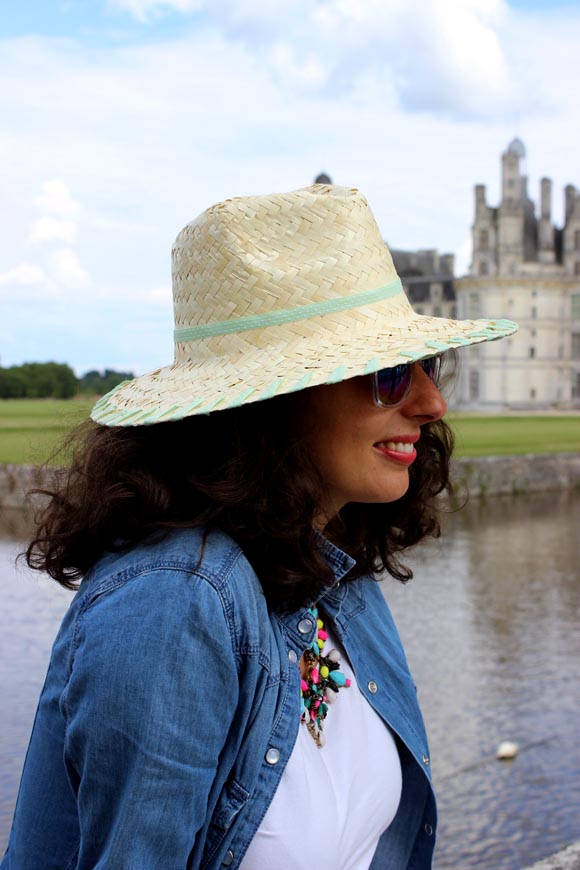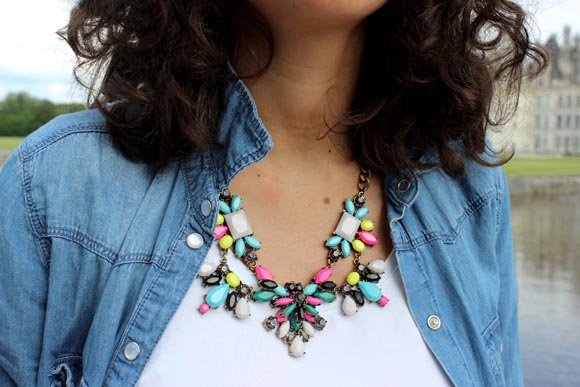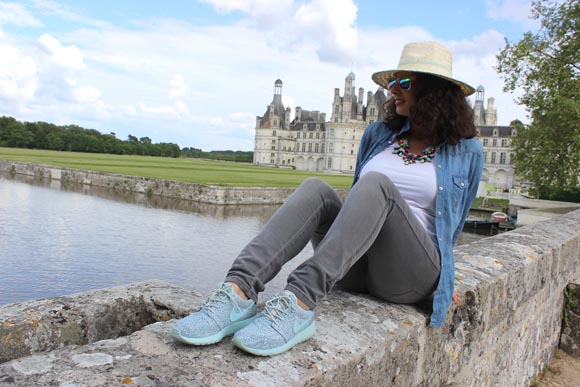 Jeans et top de grossesse H&M, Chemise en jeans H&M, Collier bon plan dont je vous parlais ici, Lunettes Primark, Baskets Roshe Run Nike.
Pregnancy jeans and top from H&M, Shirt H&M, Necklace good deal here, Primark sunglasses, Roshe Run sneakers Nike.