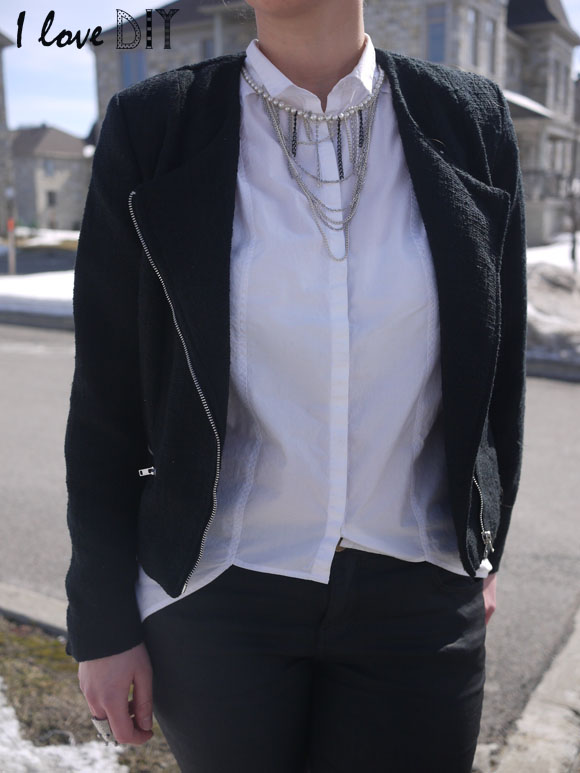 Comme je l'écrivais hier dans mon article Inspiration, j'ai adoré la collection Saint Laurent Automne-Hiver 2014. J'ai adoré les bijoux à l'esprit grunge d'ou le DIY du jour à base de perles et de chaînes pour un collier DIY d'inspiration Saint-Laurent ! Les étapes et plus de photos sont à suivre sur la page suivante…
As I was writing it yesterday in my inspiration article, I have adored A-W 2014 Saint Laurent collection. Grunge jewelry were so amazing I couldn't resist of doing a pearls and chain DIY necklace inspired by Saint Laurent ! Steps and more pics after the break …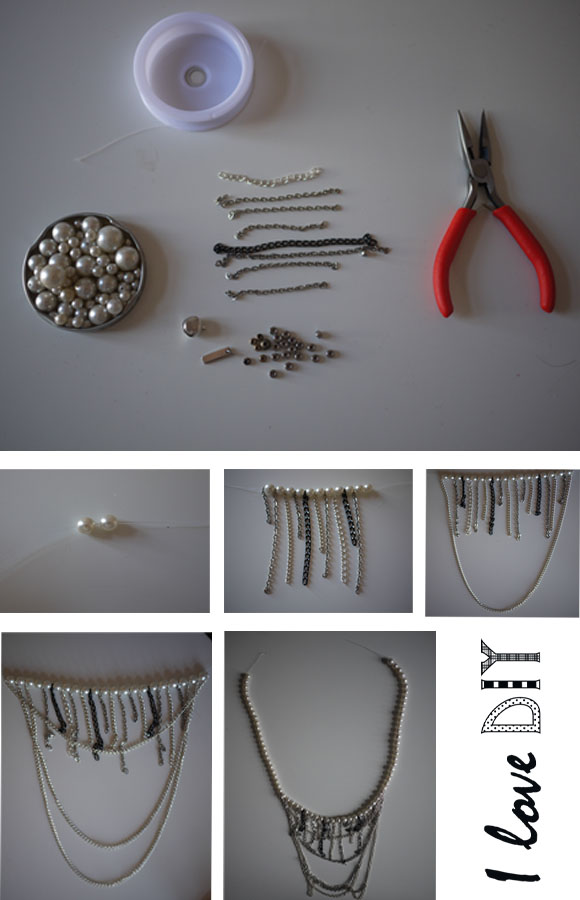 Pour créer votre collier d'inspiration Saint Laurent il vous faut du fil élastique si vous êtes flemmardes… mais vous pouvez aussi utiliser du fil et un fermoir, des perles, des chaînes de différentes couleurs et tailles. Alterner une perles avec une chaîne en insérant simplement le premier maillon de la chaîne sur le fil. La chaîne tombera donc verticalement. Au bout de 10 cm, insérer les chaines à l'horizontale. Le but est que le rendu ne soit pas asymétrique et un peu emmêlé ;-)
To create your necklace inspired by Saint Laurent, you will need elastic string if you are lazy… but you can also use a snap, pearls, chains of different size and colors. Alternate between one pearl and one chain by inserting the first link of the chain on the string. The chain will be vertical. When you have done that during 10 cm, insert the chains horizontally. The finish should look non asymmetric and messy ;-)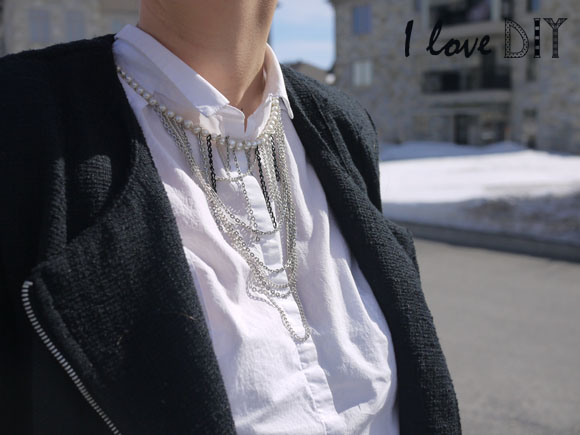 Je suis vraiment très satisfaite du rendu de mon nouveau collier favori ! J'adore l'association des perles, souvent trop classique, avec les chaînes !
C'est parfait sur une chemise blanche avec une veste noire en tweed pour un look bureau hyper tendance ou sur une chemise en jean ou un top plus décontracté pour d'autres circonstances.
I am very satisfy about my new favorite necklace ! I love the association of pearls and chains. Pearl necklace have often a classical look for me !
It's perfect on a white shirt with a black tweed vest for a working look very trendy or on a jean shirt or on a casual top more comfy for other circumstances.