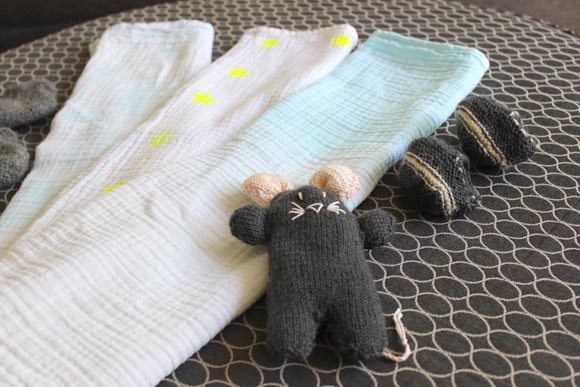 A l'heure ou je vous parle je me prépare tranquillement à l'arrivée de notre petite fille… Notre valise est prête et ses affaires aussi. Histoire de ne pas vous oublier pendant les premières semaines de sa venue j'ai planifié un certains nombres de mes articles ! Donc à l'heure ou vous me lisez elle est sans doute déjà là…
Je suis un peu obsédée par l'association du turquoise et du jaune ces derniers temps. C'est d'ailleurs les couleurs que nous avons choisi pour sa chambre. Je ne voulais pas de rose ;-) J'ai donc poussé l'obsession jusque dans les langes.  Voici  3 idées pour customiser des langes ou tout autres tissus (torchons, taies d'oreillers…).
These last days, I am getting ready to welcome our daughter… My suitcase is ready and her belongings too. But as I wanted to continue to post I have planed numbers of article during the first week of her arrival. So as you are reading me she is probably here…
I am a little obssessed right now with the association of turquoise and yellow. By the way that is the colors I have choosen for her bedromm. I didn't want pink ;-) I have decided to customize her cleansing towel the same way. Here are 3 ideas to do it. You can also use these technics to customize any fabric (tea towel, pillowcase…)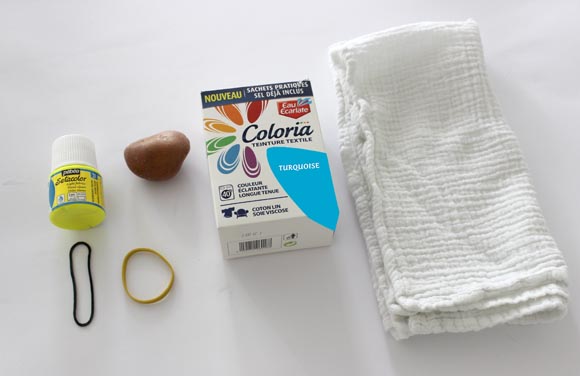 Pour customiser des langes il vous faut :
-Des langes ou du tissu en coton
-De la  peinture textile
-De la teinture
-Une pomme de terre avec un bon couteau bien aiguisé
-Des élastiques
-Une bassine et un fer à repasser
To customize baby cleasing towel you need :
-Cleansing towel in coton
-Textile paint
-Potato and a knife
-Elastics
-Basin and iron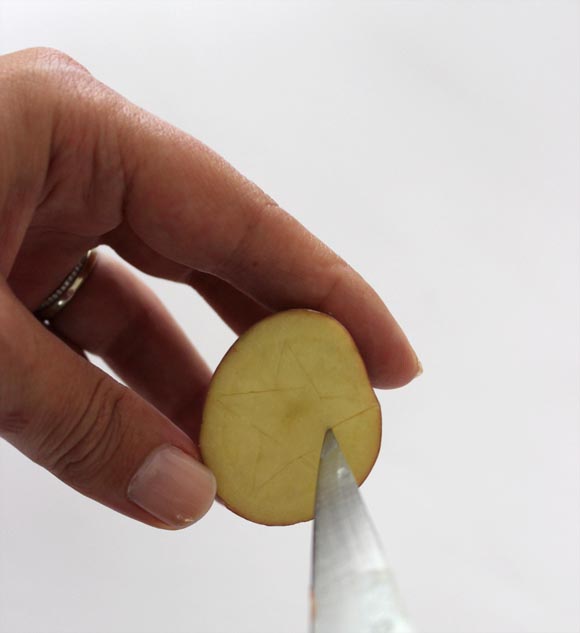 Commencez par tailler le motif de votre choix dans la pomme de terre. Elle va vous servir de tampon.J'ai choisi un motif étoile mais vous pouvez vraiment faire ce que vous voulez : Initiale, coeur…
Start by cutting the pattern of your choice in the potato. It's going to be your stamp.I have chosen to do a star but you can also do : Initial, heart…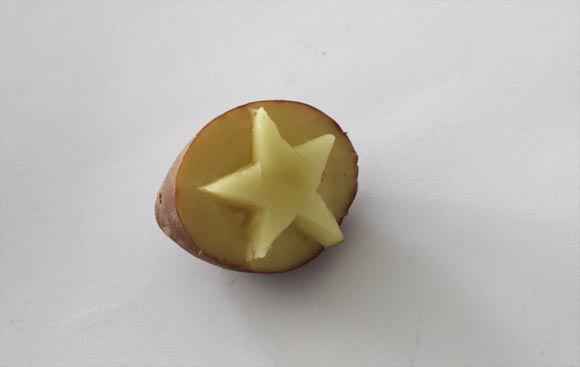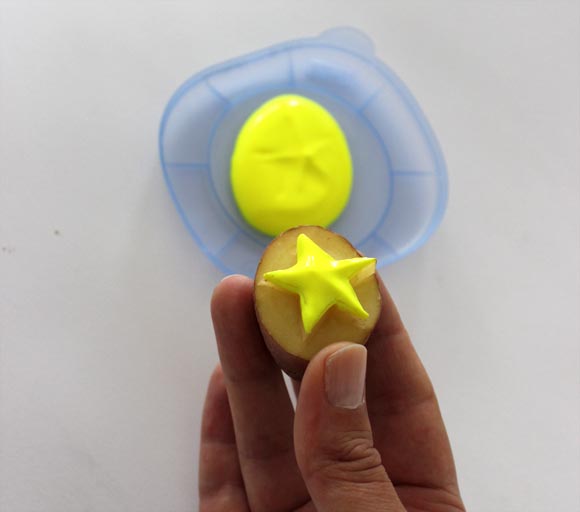 Trempez ensuite le tampon dans la peinture textile. Si je devais le refaire, j'utiliserais un pinceau pour ne pas en mettre trop sur le tampon.
Soak the stamp in the texile paint. If I had to redo it I will use a brush to avoid putting to much paint on the stamp.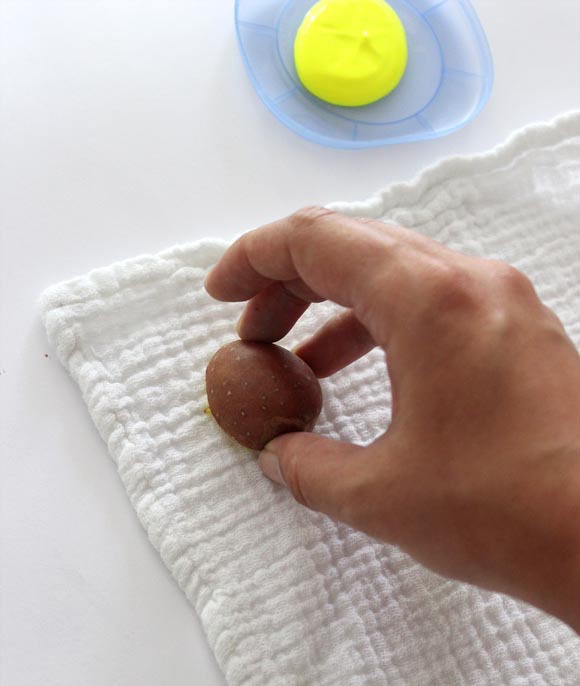 Appliquez sur le tissu.
Apply on the frabic.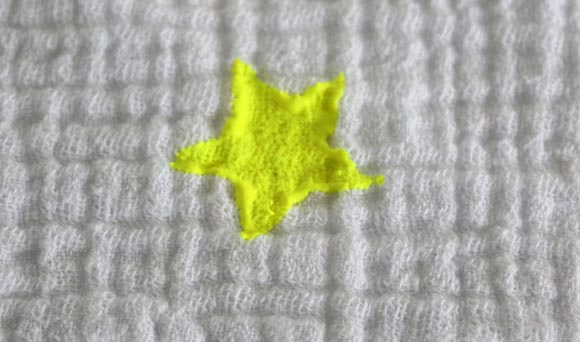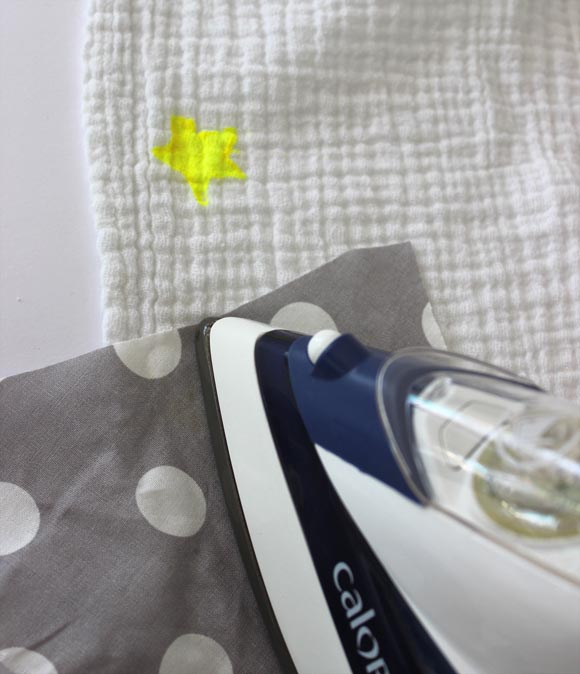 Puis fixer la peinture au fer. C'est indispensable pour que vous puissiez lavez votre lange.
Fix the paint with the iron. This is compulsory so you can wash your towel.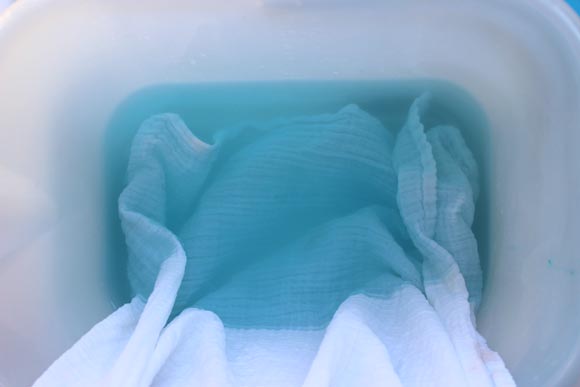 La 2ème option pour customiser le lange est le dipe and dye. Et avec les nouvelles couleurs de Coloria dont le turquoise ;-) je n'ai pas pu résister ! J'ai mis très peu de teinture pour avoir un effet léger. J'ai ensuite plongé une partie du lange 5 minutes, puis au fur et à mesure j'ai descendu le tissu toutes les 5 minutes en laissant une partie blanche, pour avoir un bel effet dégradé.
The 2nd option to customize your baby towel is dipe and dye. With the new Coloria Color turquoise on top ;-) I couldn't resist. I have just a little bite of dye to have a soft effect. I then put one part of the fabric on the bassin during 5 minuts, then gradually I put the fabric down every 5 minutes (I let a white part) to have a gradiant effect.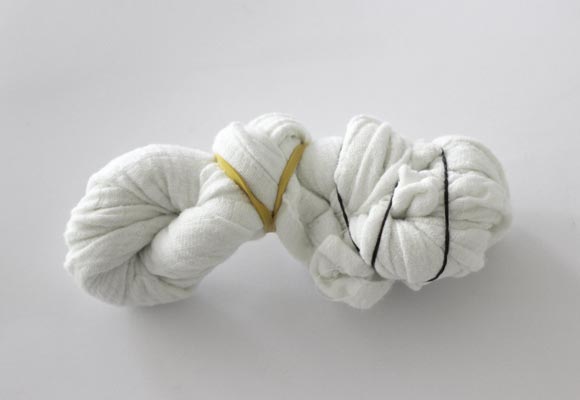 Pour la 3ème customisation, j'ai opté pour le tie and dye. J'ai froissé et entouré le lange maintenu avec des élastiques et je l'ai fat tremper dans le même bain de teinture qu'utilisé pour le dipe and dye toujours pour un effet léger.
For the 3rd customization I have choose tie and die. I have wrinkled the fabric and put some elastics. I soak it in the same bath that the dipe and dye for a soft effect.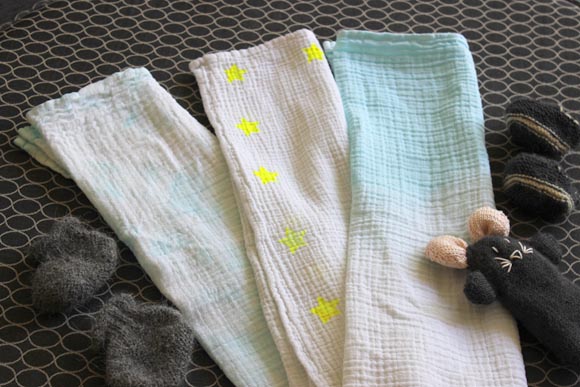 Et voila ! Des langes tout chou ;-)
Here you are ! Cute cleasing towel ;-)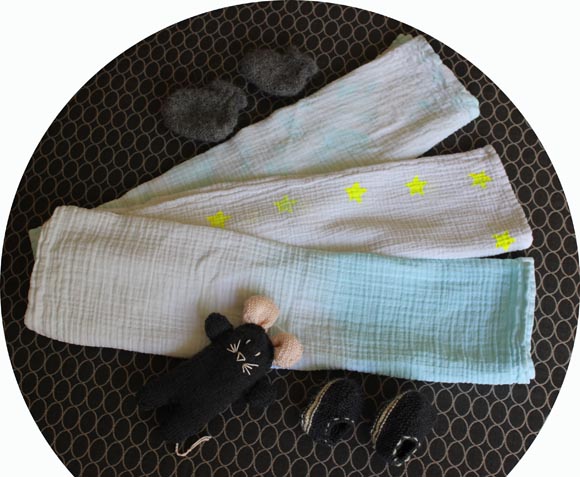 Doudou DIY, Chaussons DIY. Pour voir d'autres DIY Spécial baby c'est par ici et ici ;-)
Cuddly toy DIY, bootees DIY. To see others baby DIY it's here and here :-)