Les vacances c'est synonyme de bronzage, de chaleur et d'odeurs exotiques… Alors aujourd'hui si on se fabriquait notre propre gel après-soleil ? Apaisant et ultra-hydratant c'est le meilleur moyen de faire durer son joli hâle. Je vous propose une recette 100% naturelle et efficace. L'ensemble des éléments que j'ai utilisé viennent du site Joli' Essence qui en plus de proposer une large gamme de produits bio pour faire ses cosmétiques Bio à la maison propose des tutoriels et pleins d'idées sympas. Un gros coup de cœur pour moi.
When we talk about holidays we  can't pass by tanning, warmness and exotic smells… So today I propose you to realize you own after sun gel. Smoothing and ultra moisturizing it's the best way to make your tan lasts. I propose you a 100% natural and efficient recipe.  I found all the elements on the website Joli' Essence  that proposes a large range of organic products to create cosmetics at home but also tutorial and great ideas. A big crush for me.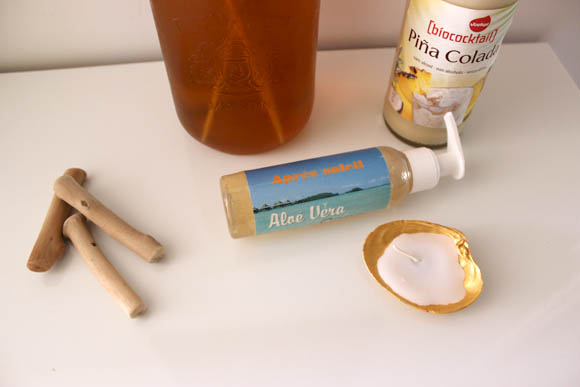 Pour fabriquer votre gel après soleil maison il vous faut:
-De l'Aloé Vera
-Un flacon vide
-Une pompe
-Une étiquette (que j'ai créée)
-Du scotch
To realize your home made after sun gel you need :
-An empty jar
-A pomp
-A label (I have created)
-Tape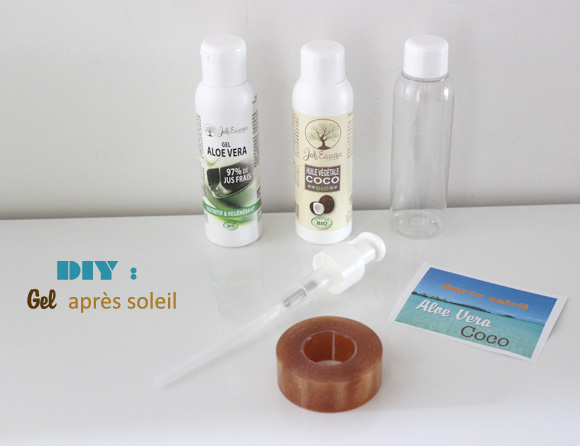 Commencez par remplir le flacon d'Aloé Vera. L'Aloé vera est reconnu pour ses vertus hydratantes, protectrices, cicatrisantes, purifiantes, tenseurs et régénérantes. D'ailleurs j'en bois très souvent (heu pas celui la les filles ! il est uniquement réservé à l'usage cosmétique). Si vous ne connaissez pas, vous pouvez en trouver chez Monoprix ou dans les magazins bios. En ce qui concerne le gel, personnellement je trouve que c'est le parfait produit d'été de part sa texture, sa facilité d'absorption. Il procure vraiment un effet très frais. Si vous voulez accentuer l'effet mettez le au frigo !
Start by filling the jar with Aloe Vera. Aloes is known for his moisturizing, protective, healing, tensing and regenerating benefits. I actually drink it very often (not this one which is only reserved for cosmetic use). If you don't know it try it. You can find it in organic stores. Concerning the gel, I personnaly found that this is the perfect summer product because of the texture, the easy absorption. You really have a cooling effect. You can also put it on the fridge to have more cooling sensation.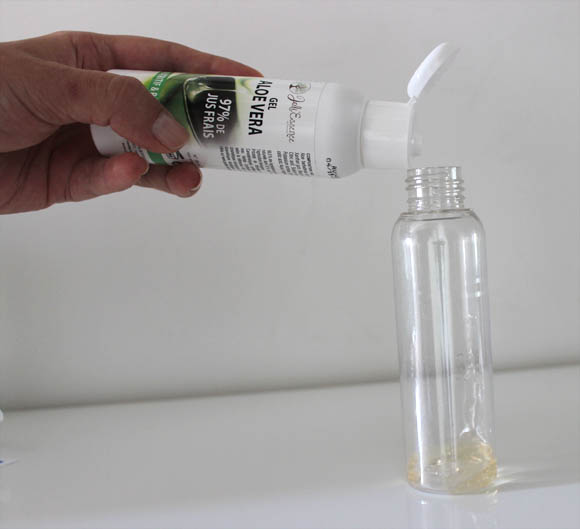 Ajoutez ensuite l'huile de coco mais attention, vous ne devez pas dépasser 5% pour que l'huile se mélange de manière uniforme au gel. J'ai choisi cette huile pour son odeur d'été ! mais aussi pour ses vertus nourrissantes exceptionnelles. Moi qui ait d'ailleurs les cheveux très secs je la pose en masque toute la nuit une fois par semaine ;-)
Then add some coconut oil but be careful, you can't go over 5% to make it melt correctly to the Aloe. I have choose this oil because of the summer smell but also because it is really moisturizing. Actually as I have very dry hair so I use it once a week as a mask for the whole night.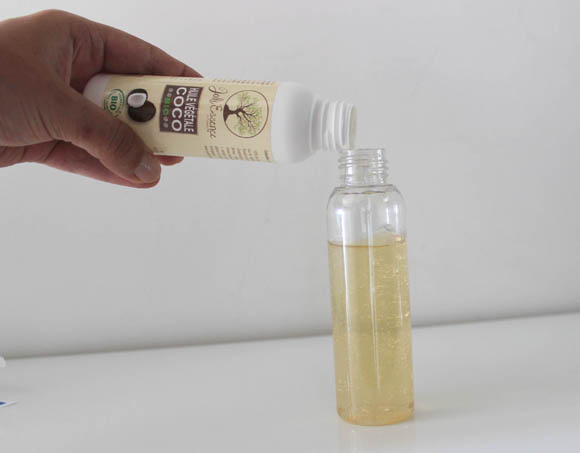 Ensuite coupez la pompe pour qu'elle rentre dans le flacon.
Then cut the pomp so it can go on the jar.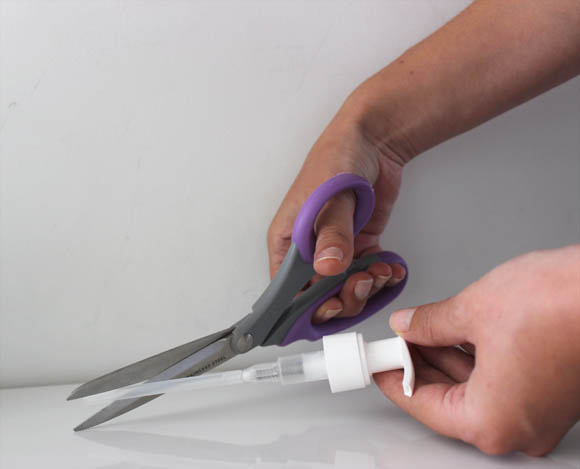 Découpez l'étiquette que je vous joins plus bas (à imprimer au format 8x10cm si vous utiliser ce flacon).
Cut the labels that I give you below (you have to print it at 8x10cm if you use the same jar than me).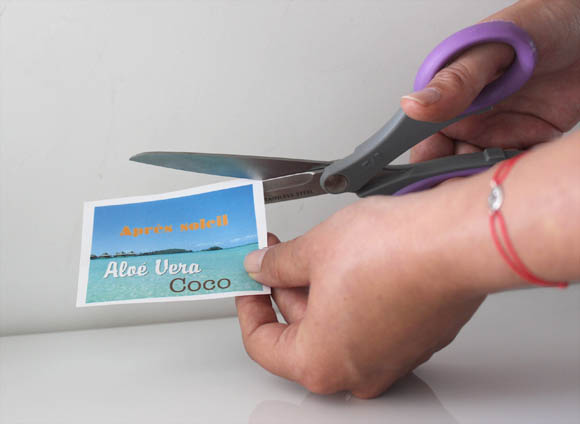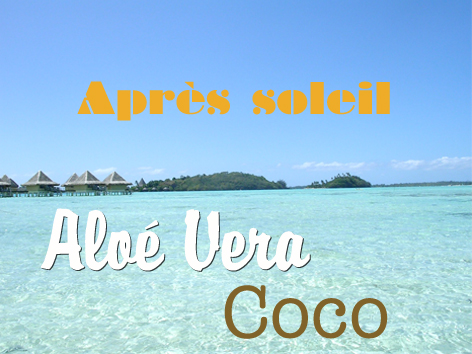 Comme elle est en papier, je vous recommande de la recouvrir de scotch pour qu'elle ne s'abîme pas. Cela permettra de la plastifier et de ballader votre flacon partout :-)
As the label will be in paper, I recommand you to cover it with tape so it won't be damaged and you can bring your gel everywhere.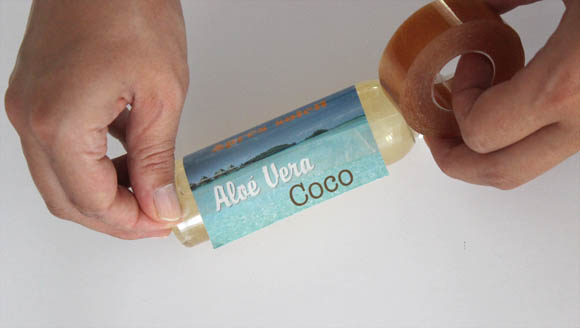 Utilisez votre gel sans modération ! Sa texture est tellement fondante qu'on devient vite accro.Mais ce que je trouve top c'est que l'on peut s'habiller tout de suite après l'application sans sensation collante !
Use your gel as often as you want ! His texture is so smooth  than we can really become addicted. What I really like is that you can wear your clothe right after the application without any sticky sensation !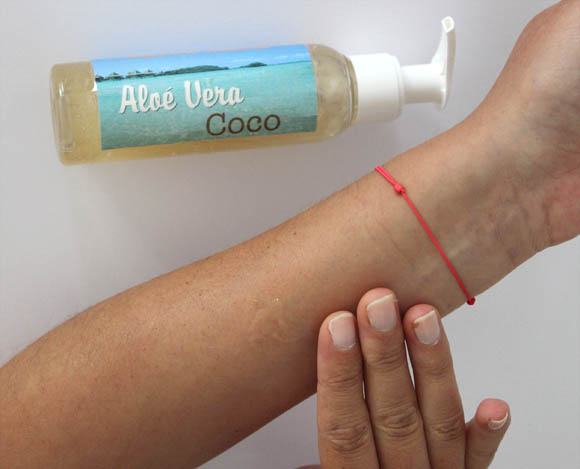 Que pensez-vous de cette recette? ça vous plait ? avez vous des astuces pour faire durer le bronzage ? ou pour réaliser vos produits cosmétiques vous-même ?
So what do you think about this recipe ? Do you like it ? Do you have any tipps to make your tan last longer ?
Or to realize your home made cosmetics ?