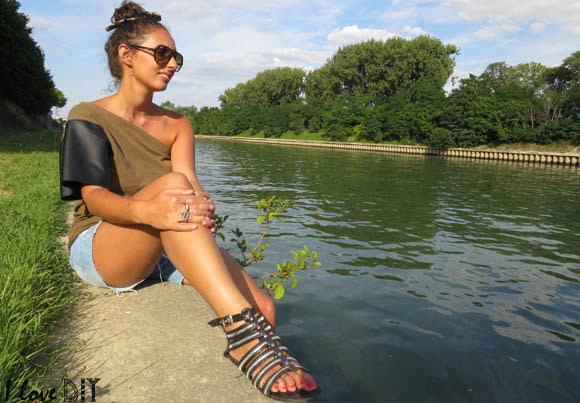 Comme promis hier, voici un DIY pile dans la tendance Kaki et cuir !
As promised yesterday, here is the DIY that fits perfectly with the khaki and leather trend !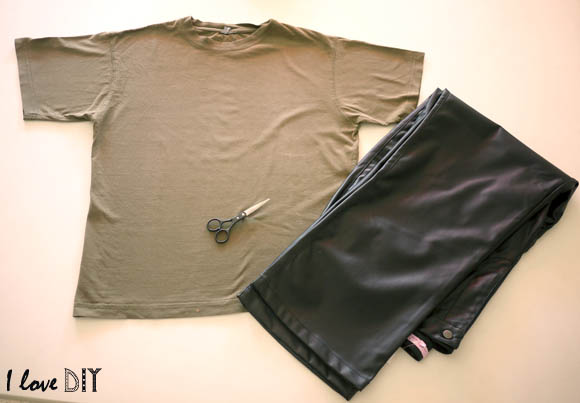 Pour créer un tee-shirt manche en cuir asymétrique il faut :
-Un tee-shirt 
-Un morceau de skaï ou comme moi un pantalon shoppé chez Eurodif pour 3€ (En passant soyez attentives lorsque vous trouvé un vêtement, une écharpe ou tout autre chose, le tissu peut toujours être réutilisé) 
-Des ciseaux 
-Une machine  à coudre ou du fil et une aiguille 
To create a leather sleeve and asymmetric tee you need :
– A tee-shirt
-A piece of skaï or like me a skaï trousers bought for 3€ in Eurodif (Be careful when you see a cloth, a scarf or anything else, you can always reuse the fabric)
-Sicors
-Sewing machine or needle and thread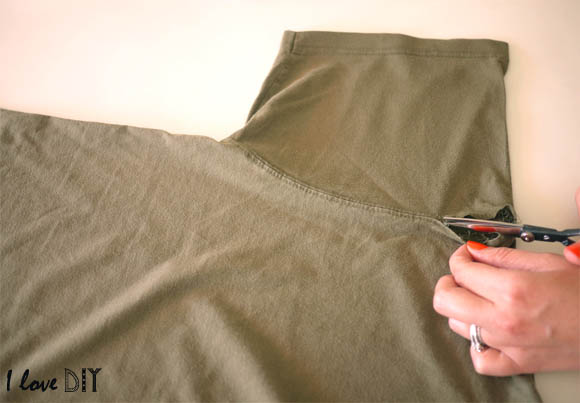 Commencer par découdre les manches
Start unstitch the sleeves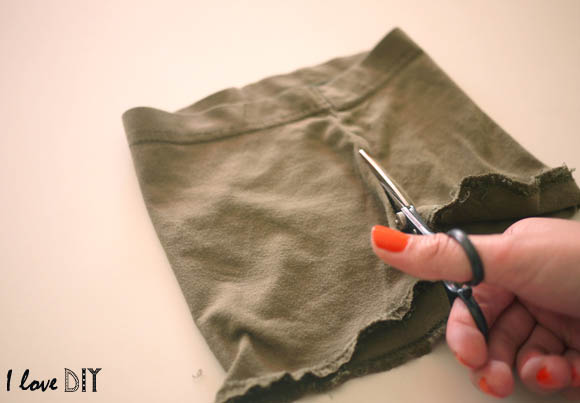 Et les découdre complètement. On pourra alors les utiliser comme patron pour créer la manche en skaï
And unstitch them completely. We are going to use them as a pattern to create the skaï sleeve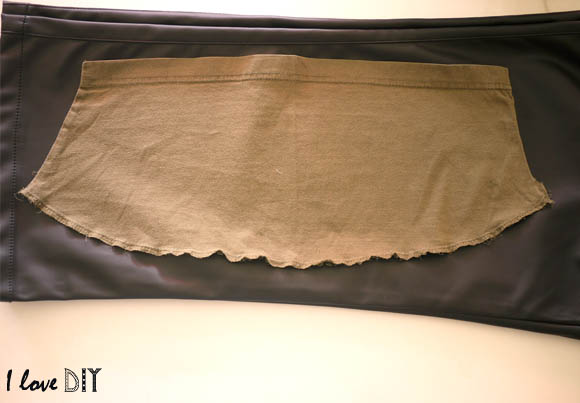 Une fois décousue, placer la manche sur le tissu et la découper
Once unstitched, place the sleeve on top of the fabric and cut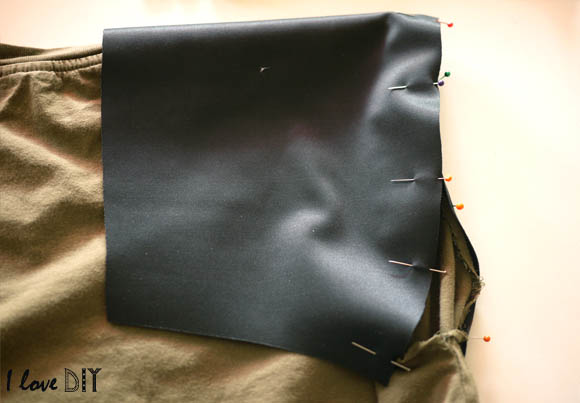 Epingler sur le tee-shirt
Pin it on the top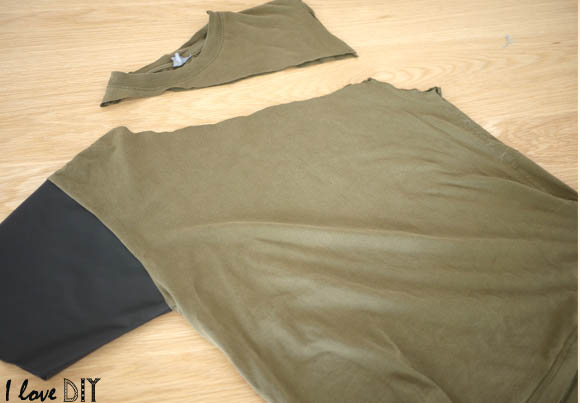 Couper en diagonale pour créer l'asymétrie. J'ai ensuite fait un ourler mais cela n'était pas vraiment nécessaire car le jersey ne s'effilochait pas. Ce sera à vous de voir en fonction de la matière du top que vous utilisez.
Cut diagonally  to create the asymmetry. Then I made an hem but this was not too necessary because the jersey doesn't fringe. You will take the decision depending on the fabric you use.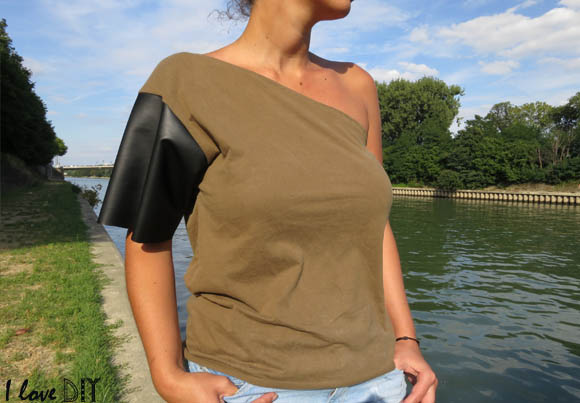 Et voila comment recycler un vieux tee-shirt en jersey insignifiant en un top tendance et original !
This is how to recycle an insignificant old tee in a trendy and original top !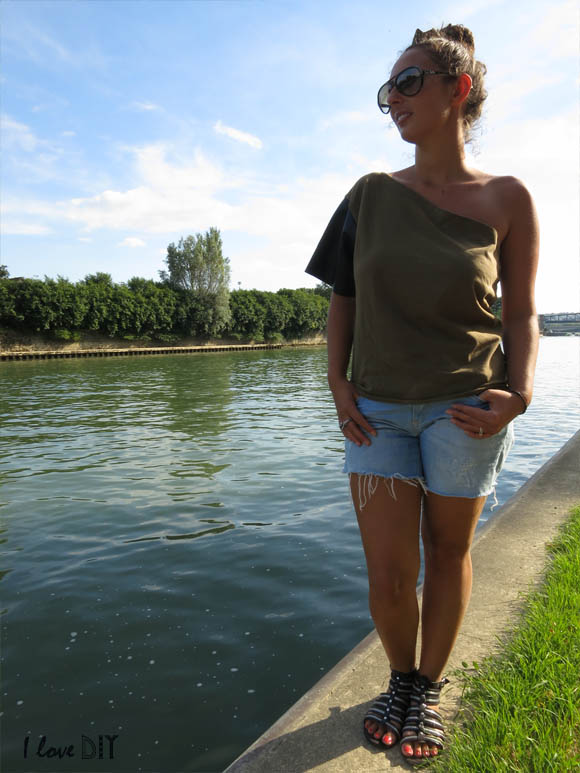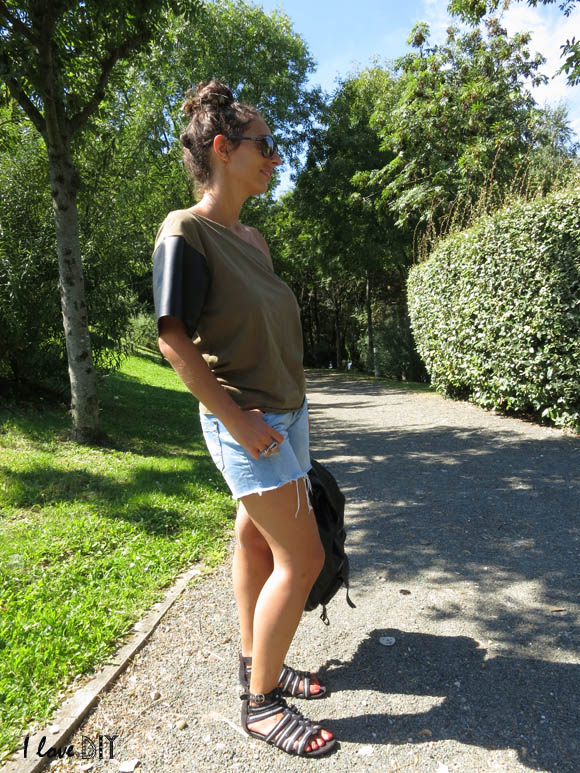 Je le porte avec :
Un short en jean DIY (DIY denim shorts)
Une paire de spartiates ERAM à zip (Spartiate shoes with zip)
Une bague serpent Aldo (Aldo ring )
Une paire de lunettes Ray-Ban (Ray-Ban sunglasses)