Samedi dernier j'ai réunis quelques amis autour d'un « Noël de copains « :-) au programme cadeaux ! dîner de fêtes et boisson à bulles !
Et pour que la surprise soit totale j'ai décidé de créer une décoration de table Do it yourself mini budget. Alors comment ne pas partager ce bon plan avec vous ? Pour les retardataires qui ne ce sont pas encore penchés sur la question ou pour ceux qui voudraient peaufiner leur déco de table voici quelques astuces ! De la même manière que la vidéo que j'ai réalisé pour créer un accessoire cheveux en moins d'une minute, vous devriez disposer de l'ensemble du matériel à la maison si vous êtes adeptes du fait main.
Last saturday I have gathered together some friends to celebrate « friendship Christmas »;-) The programm includes presents ! party dinner and champagne  ! To make a really great surprise I decided to realize a low-budget table decoration do it yourself. So how can't I share this good deal with you ? For the latecomers who didn't prepare their decoration or for the one who wants to add some details to theirs here are some tips ! As my video to make a hair accessory in less than a minute, you should have everything at home if you are use to make hand made things .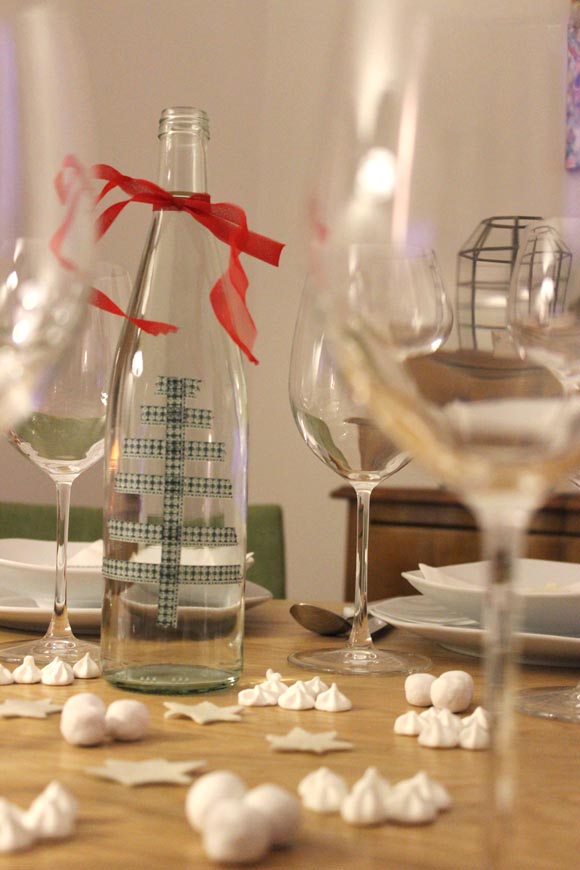 J'ai une sainte horreur des bouteilles en plastique à table ! Je remets toujours l'eau dans une bouteille en verre toute simple. Si vous n'en avez pas je vous conseille d'y remedier. Je trouve que ça fait toute la différence. Pour la décorer j'ai utilisé du masking tape vert afin de l'orner d'un sapin de Noël. Et histoire d'ajouter un peu de couleur j'ai noué sur le haut un ruban rouge. Coût de l'opération : Quelques euros pour un rouleau de masking tape et un ruban rouge. Vous pouvez utiliser cette technique chaque fois que vous recevez ne créant un motif different.
I hate plastic bootle ! I always put water on a simple glass bottle. If you don't have one I recommend to get it.  I fell it makes all the difference. To decorate it I use green masking tape to realize a Christmas tree. And on top I added a red ribbon to add some color.
Cost of the operation : Few euros for the masking tape and the ribbon. You can use this technic each time your are making a table decoration.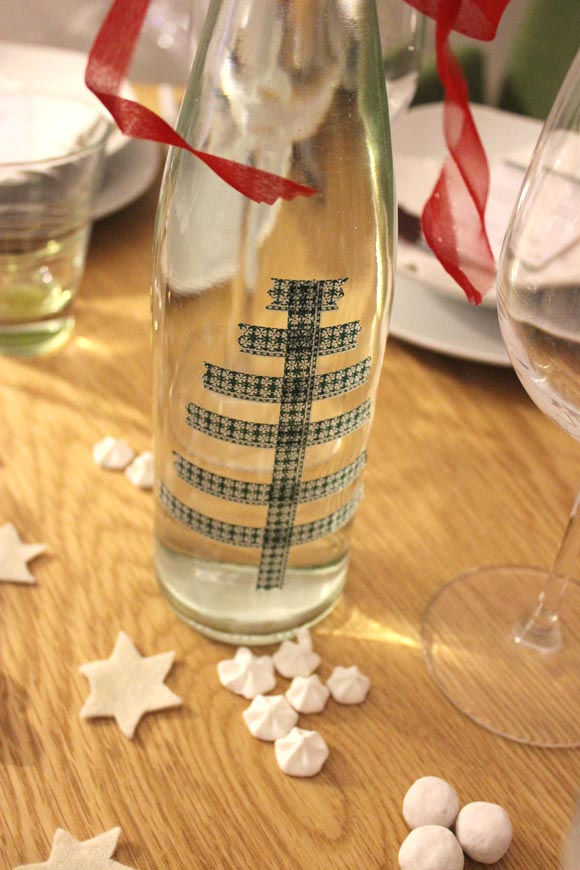 Pour les menus, j'ai utilisé des cartonnettes de correspondance que j'ai habillé de masking tape avant de les découper aux ciseaux cranteurs pour un effet ondulé.
J'ai posé le menu directement dans l'assiette avec un sapin découpé dans du skai rouge.
For the menus, I use white paper. I trim it with masking tape before cuting it with notched scissors for a nice finish.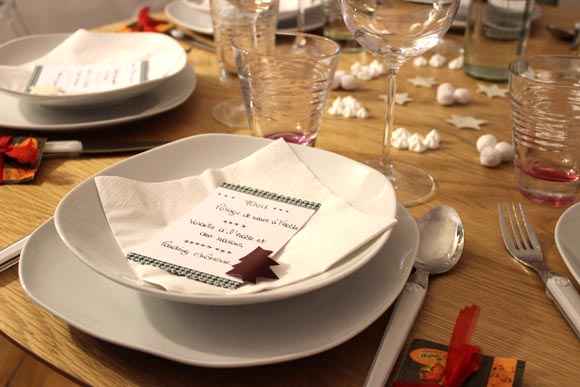 Pour mon centre de table j'avais opté pour du blanc et du gourmand ! Des étoiles découpées dans de la feutrine, quelques meringues et des boules de coco : le tout comestible…
For my center table I have chosen white and gourmet ! Some stars cut from felt, some meringues and coco sweetnesses : everything could be eaten.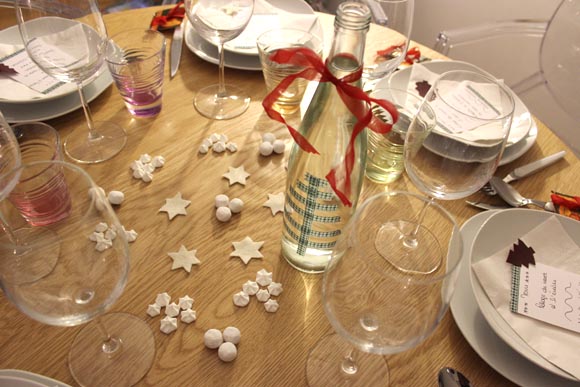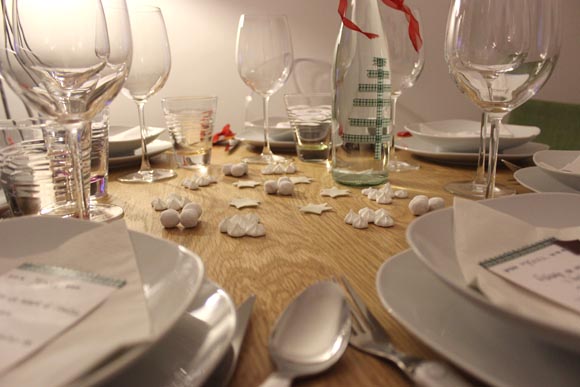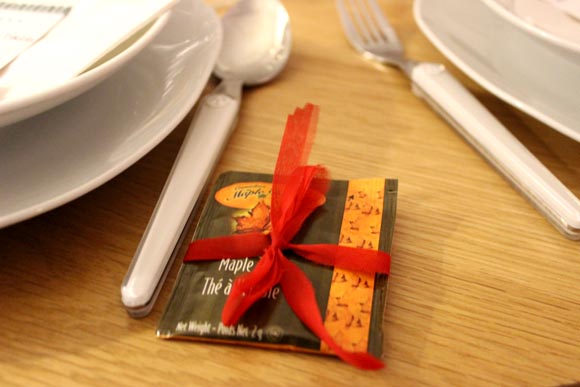 Pour finir, je tenais à offrir un petit cadeau à mes invités donc j'ai emballé des sachets de thé à l'érable avec du ruban rouge.
To end, I wanted to offer a small present to everyone so I wrapped maple tea sachets  with some red ribbon.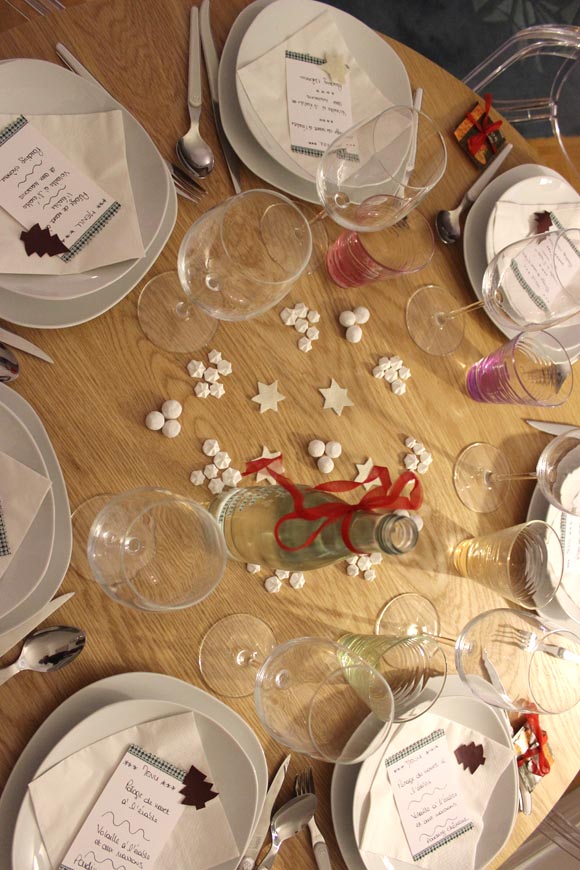 Voila j'espère que cette décoration vous a plus et surtout vous a donné quelques idées économique pour la vôtre ;-)
Je vous souhaite un très beau Noël ! et je vous retrouve dans quelques jours avec un bon plan très très sympa qui ne vaut pas le coup d'attendre les soldes…
I hope you like this decoration and above all give you some economic ideas for yours ;-)
I wish you a Merry Christmas ! and I meet you in few days with a very very good deal…