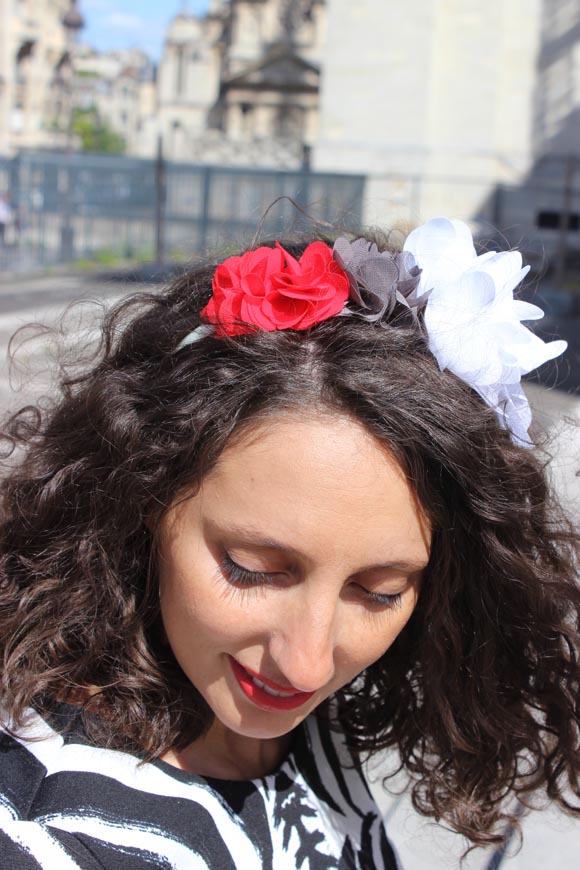 Pour finir cette semaine sur le thème des couvres-chef en beauté, on ne va pas customiser un chapeau mais un serre-tête ! Cet accessoire quasi oublié il y a encore quelques années et revenu sur le devant de la scène et pas seulement pour les petites filles ! Et comme la saison des mariages bat son plein je suis sure que ce tuto peut vous donner des idées pour agrémenter vos tenues !
To close this « hat » week, we are not going to customize a hat but a head-band ! This accesory was almost forgot few years ago but it came back and not only for little girls ! And as the season of wedding is here I am sure this tutorial will give you some ideas to add an accessory to your outfit.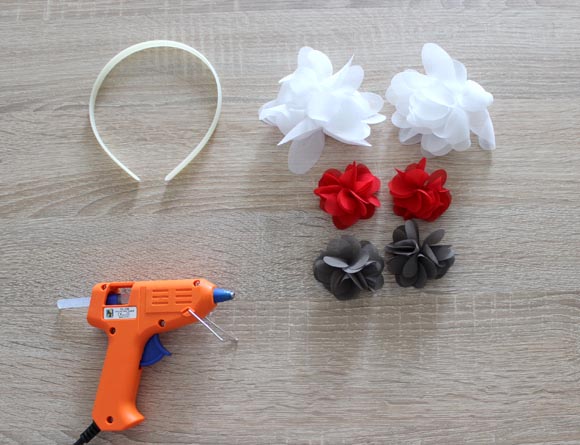 Pour vous fabriquer un serre-tête à fleur il vous faut :
–Un serre-tête  (vendu 1,45 € par lot de 2 sur la Mercerie Chic)
-2 grosses fleurs en mousseline blanches, 2 fleurs en mousseline rouge  et 2 fleurs en mousseline grises 50mm
-Un pistolet à colle
To realize this flower headband you need :
-A headband
-Big white flowers, 2 small red flowers, 2 small grey flowers
-Glue gun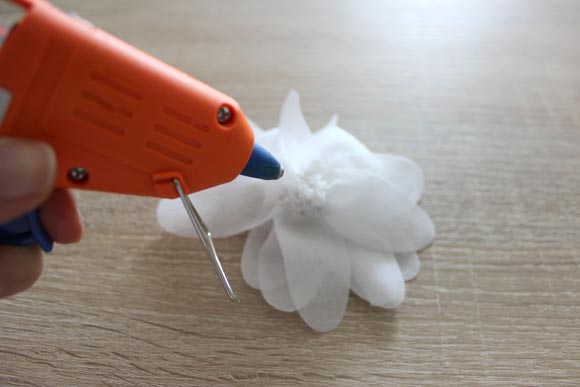 Appliquez une pointe de colle au dos de la fleur.
Apply a small quantity of flowers at the back of the flower.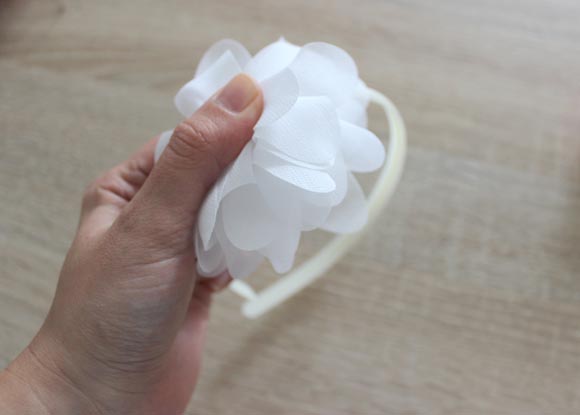 Pressez quelques secondes pour que la fleur adhère.
Press few seconds so the flower can stick.
Continuez en plaçant 2 fleurs blanches, puis 2 grises et enfin 2 rouges.
Continue by placing 2 big white flowers, then 2 grey and 2 red.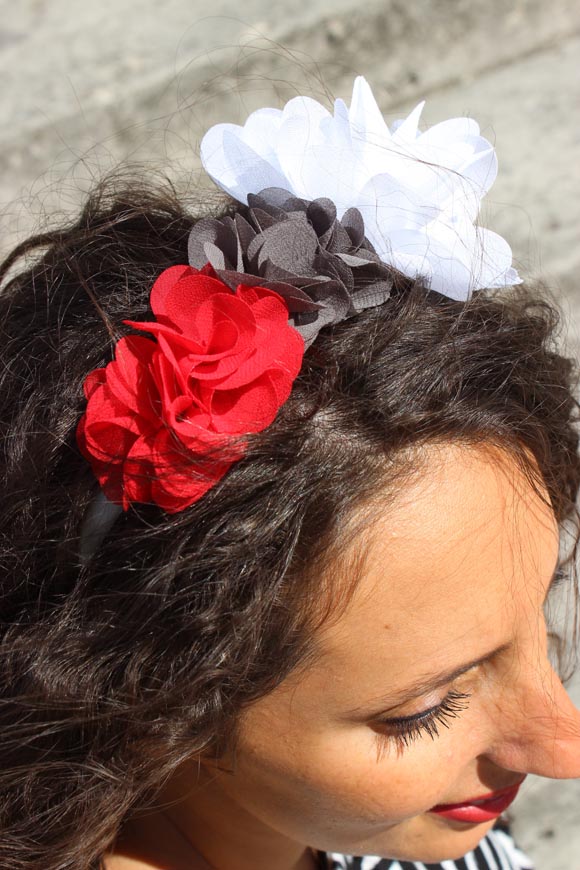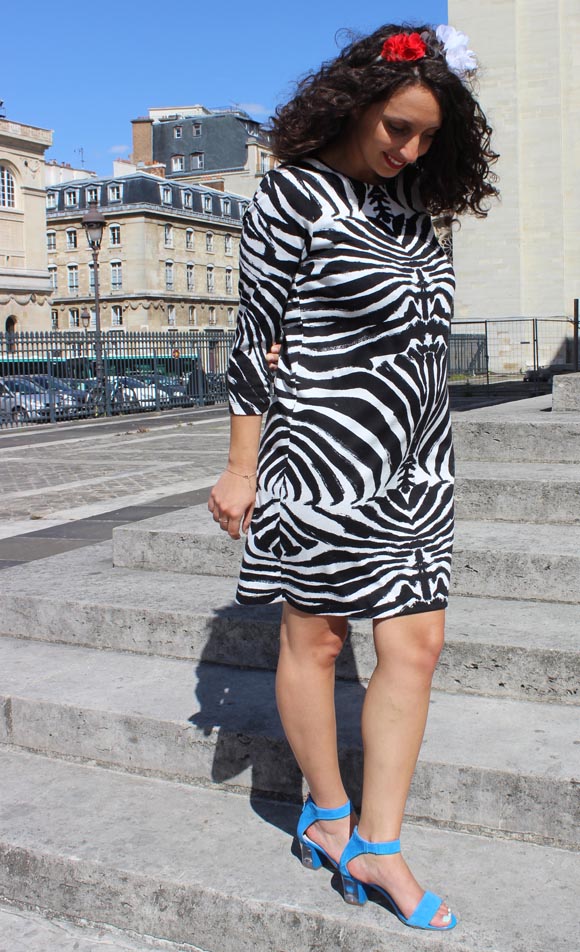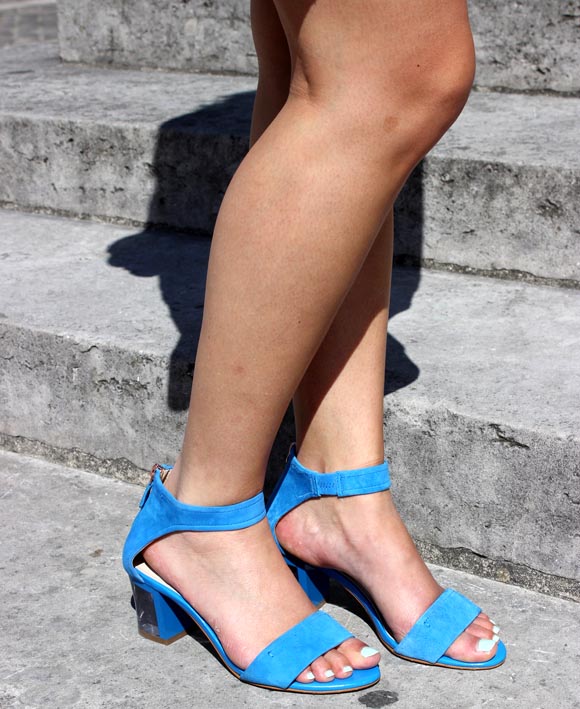 Robe H&M, chaussures Marks & Spencer, Vernis Amande Monoprix, headband DIY.
H&M dress, Marks & Spencer shoes, Nail polish Monoprix, DIY heaband.