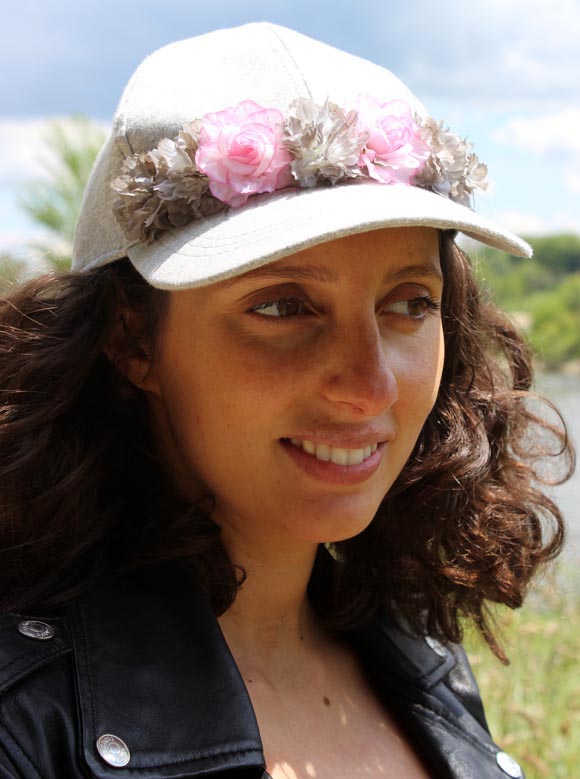 Vous avez surement remarqué le flot de sneakers se deverser dans les rues ! Oui la tendance est au sportswear mais CHIC ! J'ai d'ailleurs craqué pour une paire de roshe Run à pois turquoise ;-) Que je ne porte pas encore ici mais que je vous montre prochainement. Et du coup j'avais besoin d'un couvre-chef pour aller avec mais je le voulais girly ! Alors ni une ni deux on customise une casquette avec des fleurs.
Au passage je démarre aujourd'hui une semaine entièrement consacrée aux chapeaux ! Chaque jour de la semaine un DIY consacré à nous protéger du soleil, à être ultra chic ou tendance, à crâner sur la plage avec notre création faite maison !
You have inevitably noticed the waves of sneakers that invade our streets ! Yes sportswear is trendy but we want it CHIC ! I have by the way give in for a turquoise roshe run pair with polka dots ;-)  I don't wear them here but I will show you them very soon. So I wanted a hat to go with it but I wanted it girly ! So let's customise a baseball cap with flowers.
I am launching today a special week only devoted to hats ! Every single day of this week I will show a DIY to protect from the sun, to be chic or trendy, to show off on the beach with our home-made creation.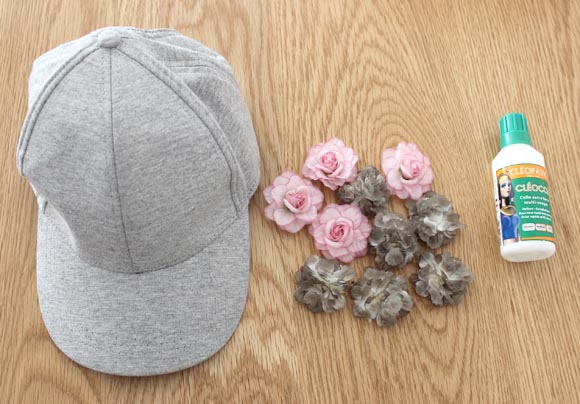 Pour customiser votre casquette il vous faut :
-Une casquette (la mienne vient de chez Primark et m'a couté 2€)
-Des fleurs roses et grises de la Mercerie Chic
-De la colle textile ou un pistolet à colle
To customize a baseball cap you need :
-A baseball cap
-Rose and grey flowers
-Textil glue or a glue gun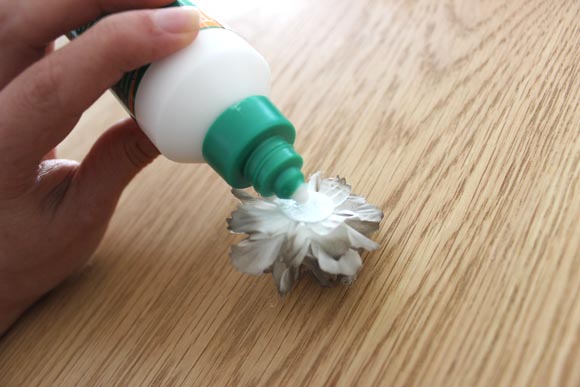 Appliquez une pointe de colle au dos de la fleur. Ce que j'ai aimé avec les fleurs de la mercerie chic c'est qu'elles ont un petit morceau de feutrine au dos ce qui permet à la fleur de bien adhérer au support.
Apply a small quantity of glue at the back of the flower.What I have loved with this flowers is that they have a piece of felt fabric at the back so they are sticking very well.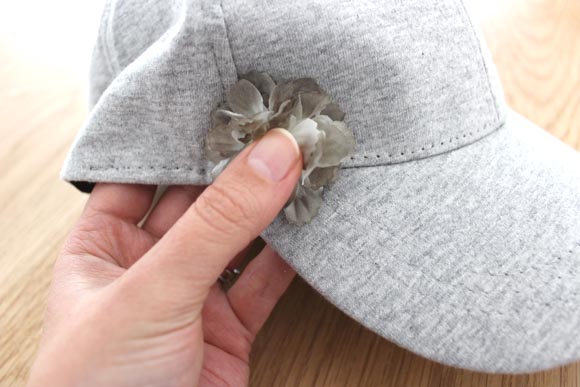 Et pressez quelques secondes pour faire adherer.
And press few seconds to make it stick.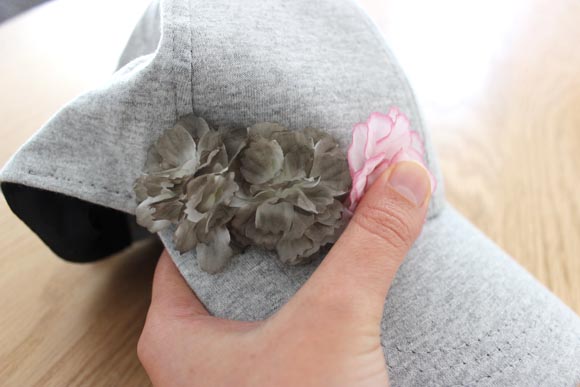 Continuez de la même manière avec les autres fleurs en alternant les roses et les grises.
Continue the same way by alternating with the pink and grey flowers.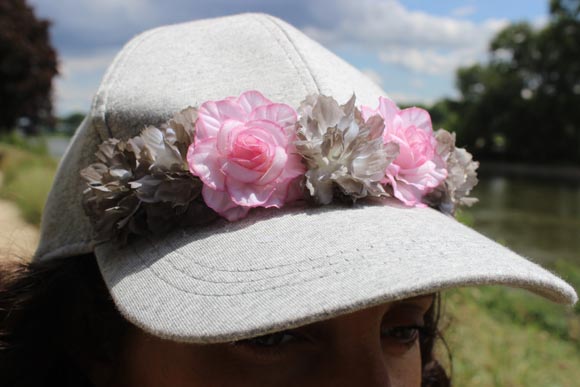 Voila comment féminiser une casquette en moins de 10 minutes !
Here is how to feminize a baseball cap in less than 10 minutes !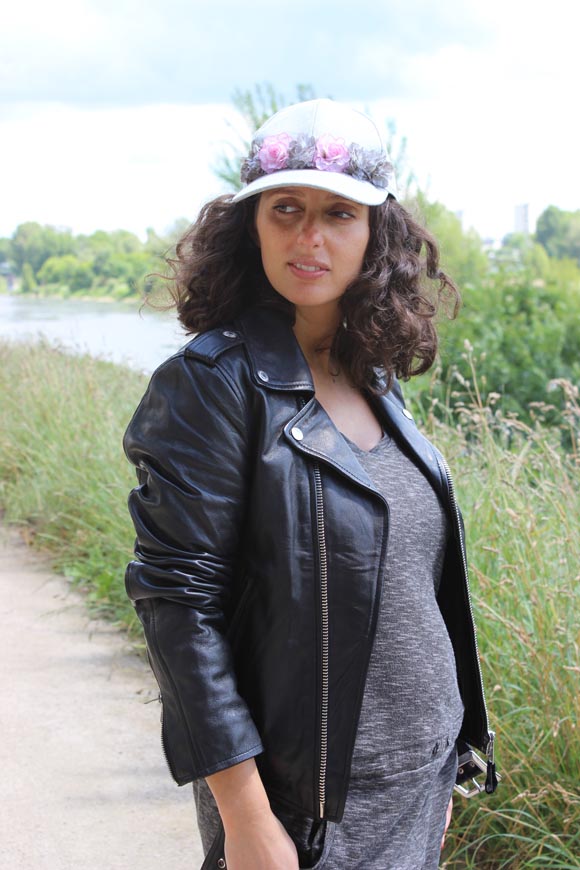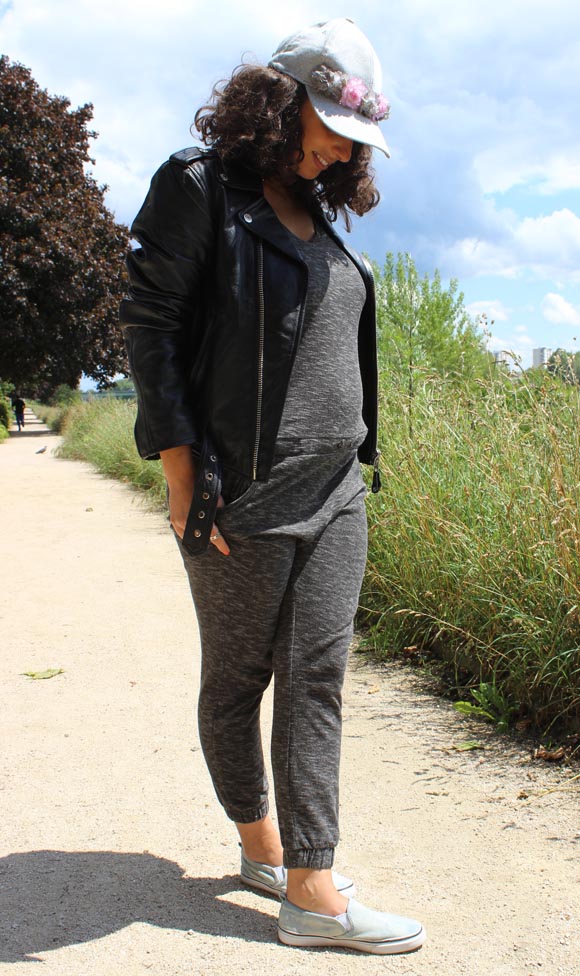 Je la porte avec une combinaison hyper confortable. J'ai ai trouvé d'autres sur le site Movedancewear. J'aime bien détourner les vêtements de danse et les sortir de leur contexte.
I am wearing it with a super comfy jumpsuit. I have found others in Movedancewear. I love to wear dance clothes out of their context.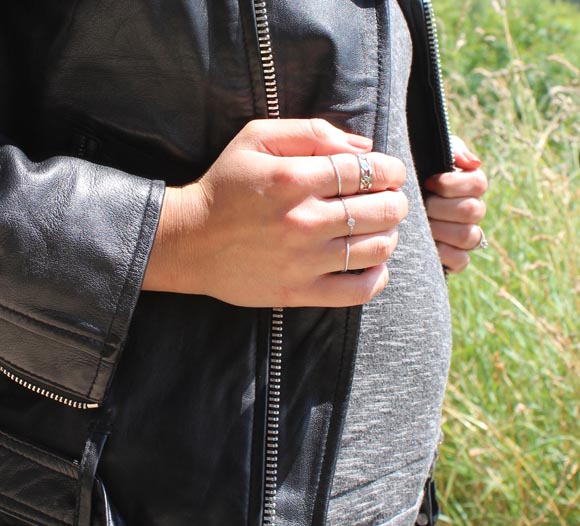 Perfecto Schott, Combinaison Zara, Slips-on bon plan H&M dont je vous parlais ici, bague Mademoiselle Pierre + DIY ici + Redline.
Motor bike Schott, Jumpsuit Zara, Slips-on H&m I have talking about them here, rings : Mademoiselle Pierre + DIY + Redline.