Beaucoup d'entre vous sont encore en vacances à caresser le sable chaud avec vos petits orteils… Bandes de chanceuses ! Profitez de ce moment paisible pour ramasser quelques coquillages ce sera votre objectif de la journée entre 2 glaces ou 2 baignades… Pour les autres qui comme moi ne sont pas en bord de mer, vous avez toujours l'option Casa pour acheter des coquillages. On va transformer nos petites coquilles en objets de déco tendances et pratiques pour ranger notre bazar ;-)
The most part of us are still in holidays caressing the sand with their toes… How lucky you are ! Take advantage of it to bring home some shelfishes between 2 ice-creams… For the other, who like me are not near the sea, you can still buy some in any craft shops. We gonna transform shells in decoration objects : trendy and usefull to tidy up our mess ;-)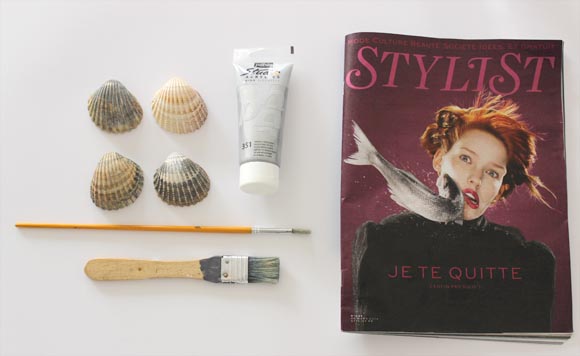 Pour transformer vos coquillages en boîte de rangement il vous faut :
-Des coquillages
-De la peinture acrylique de la couleur de votre choix (j'ai choisi de l'argenté pour un effet plus chic)
-Un pinceau
-Un vieux journal pour protéger votre surface de travail
To transform your shellfishes into boxes you need :
-Shellfishes
-Acrylic paint the color of your choice (I choose silver for a more classy effect)
-Pencil
-An old newspaper  to protect your work space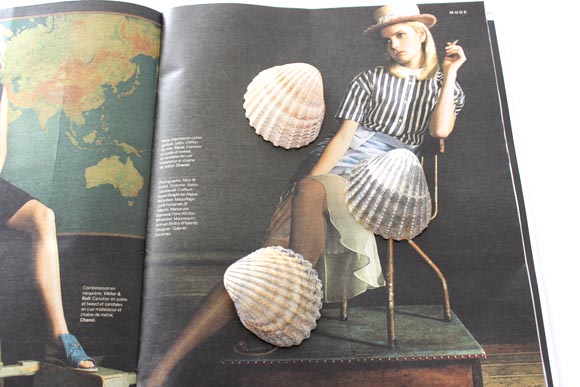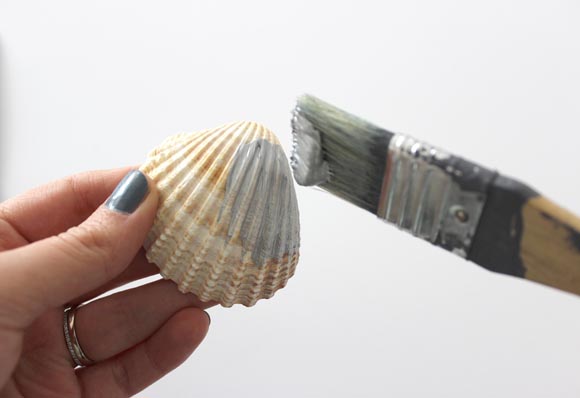 Placez vos coquillages sur le journal et commencez à peindre une face. Laissez sécher puis peindre l'autre face. Attention : attendez bien que la face soit sèche pour retourner le coquillage sinon votre journal va coller et altérer la peinture.
J'ai du passer 3 couches pour obtenir une couverture optimale et un argenté bien dense.
Place the shellfishes on the newspaper and start painting one side. Let it dry and paint the other side.
Warning : you need to wait the side to be very dry to flip it the other side. If not your newspaper is going to stick and damage the paint.
I had to do 3 layers of paint to have a very silver color.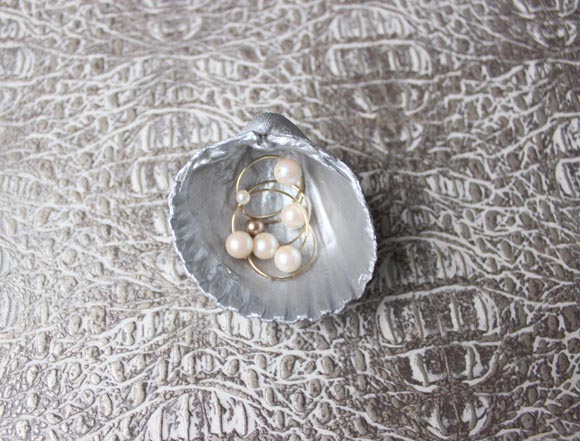 Je trouve ces petits rangements parfaits pour mes nombreuses bagues (d'ailleurs si vous voulez revoir le DIY de ces bagues perles c'est par ici) ou même pour des boucles d'oreilles.
I find that all these little storage units are perfect for my several rings (by the way if you want to have a look of this DIY pearl ring it's here) you can also store your earrings.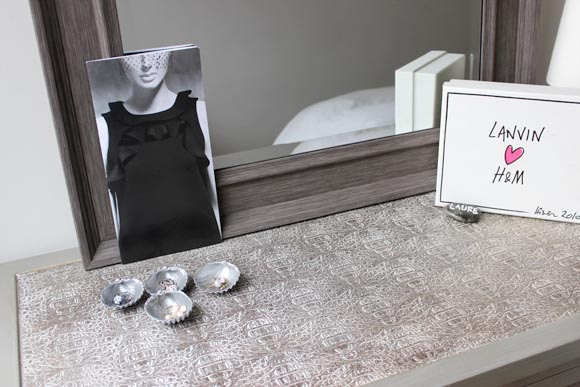 Et vous quels sont vos astuces pour ranger vos bijoux ? Vous aimez cette option ?
Pour voir d'autres tuto déco c'est par ici.
What about your tipp to store your jewel ? Do you like this option ?
To see other deco tutorial it's here.