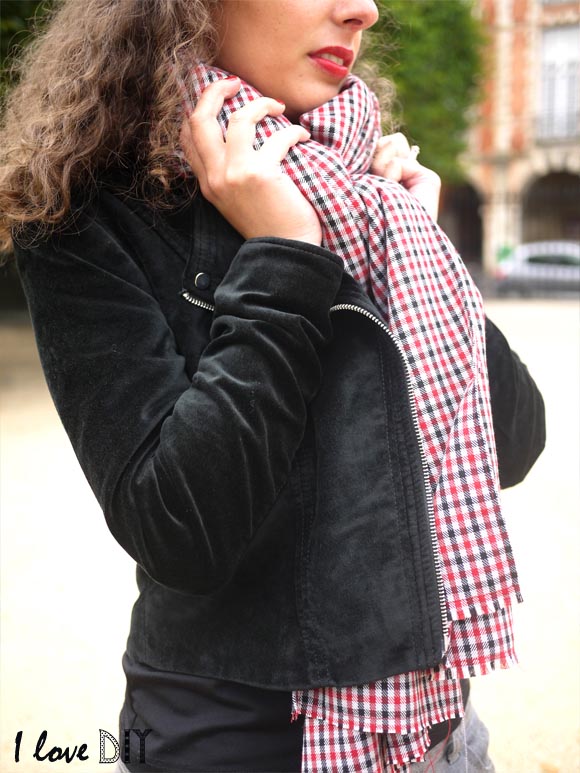 L'automne est décidément là… Alors les filles on attrape pas froid et on suit toujours les conseils de sa maman : ne jamais avoir le cou découvert !
Il me restait un gros morceau du tissu que j'avais utilisé pour réaliser mon short ORIGAMI DIY  provenant des Coupons de Saint-Pierre (il est toujours à 5 euros les 3 mètres ici), alors je ne pouvais pas résister à reproduire mon écharpe préférée ! Celle avec qui on peut faire 3 tours, qui est chaude, cosy bref l'écharpe parfaite !
Autumn is here… So don't catch cold girls and follow your mum's advice : Never go out without your neck uncover !
I still had a big piece of fabric that I used for my ORIGAMI shorts DIY from Coupons de Saint-Pierre ( Still 5 euros for 3 meters  here). I couldn't resist  to copy my favorite scarf ! The big one, the one you can make 3 times the around of your neck, warm, cosy in brief the perfect one !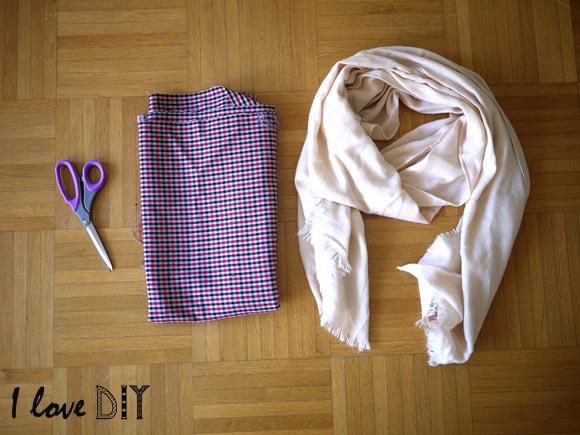 Pour fabriquer votre écharpe il vous faut :
-Du tissu
-Votre écharpe préférée histoire de parfaitement la copier
-Une bonne paire de ciseaux
-Un fer à repasser
-Une machine à coudre ou du fil et une aiguille
To realize your DIY scarf you will need :
-Fabric
-Your favorite scarf
-A good pair of scissors
-An iron
– A sewing machine or needle and thread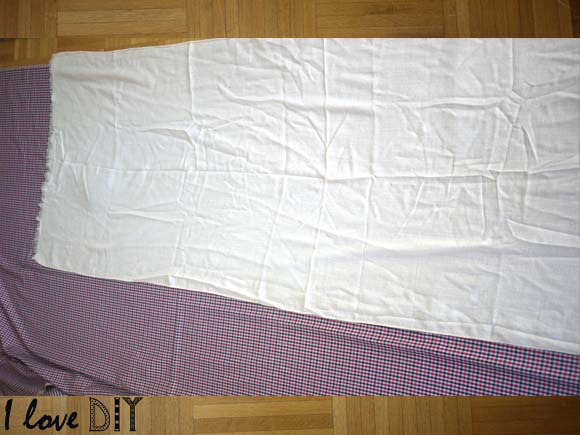 Placez votre écharpe sur le tissu.
Place your scarf on the fabric.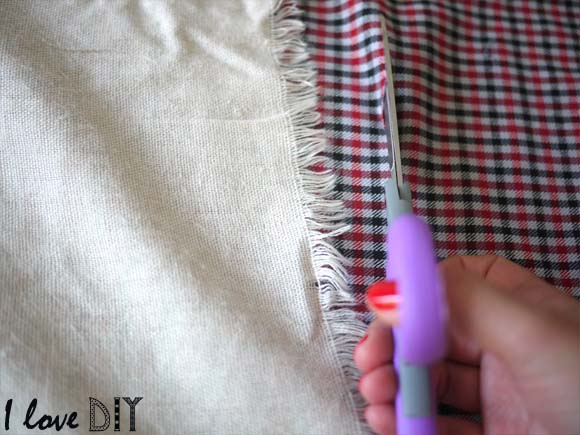 Puis coupez tout autour.
Then cut all around.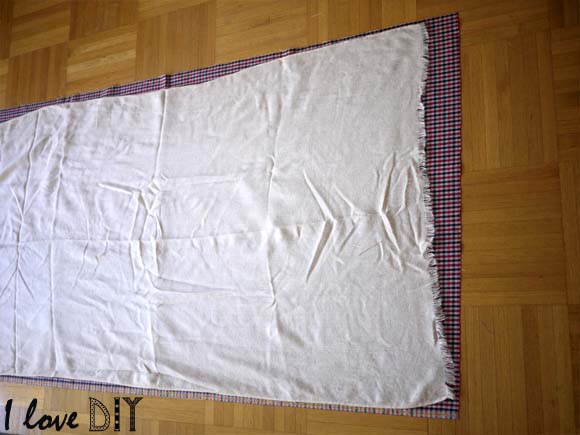 Vous obtiendrez un morceau de la même taille que votre écharpe.
You will get a piece the same size of your scarf.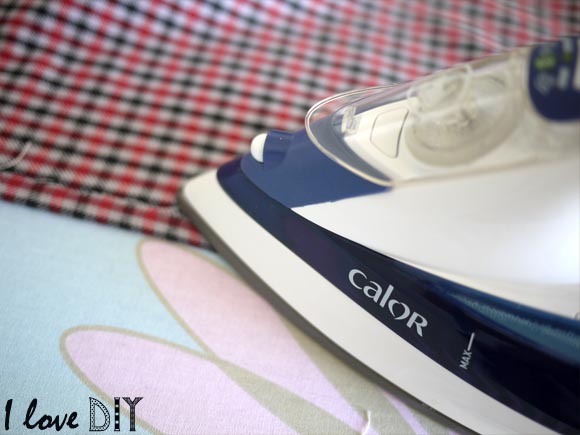 Marquez un ourlet au fer.
Mark an hem with the iron.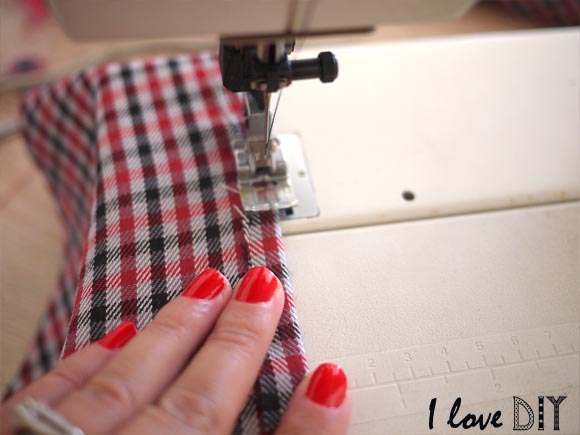 Puis le coudre avec une machine ou à la main.
Then sew it with a machine or by hand.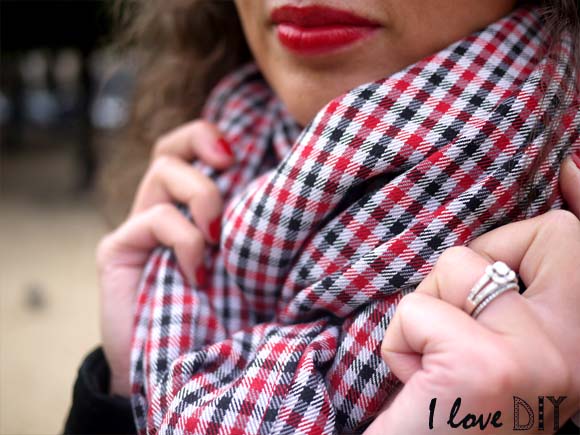 Portez-la sans modération ! Moi j'ai déjà adopté la mienne et je l'adore ! Alors pas question d'attraper froid cet hiver !
Wear it all winter long ! I have already adopt mine and I love it ! So there's no way you will catch cold !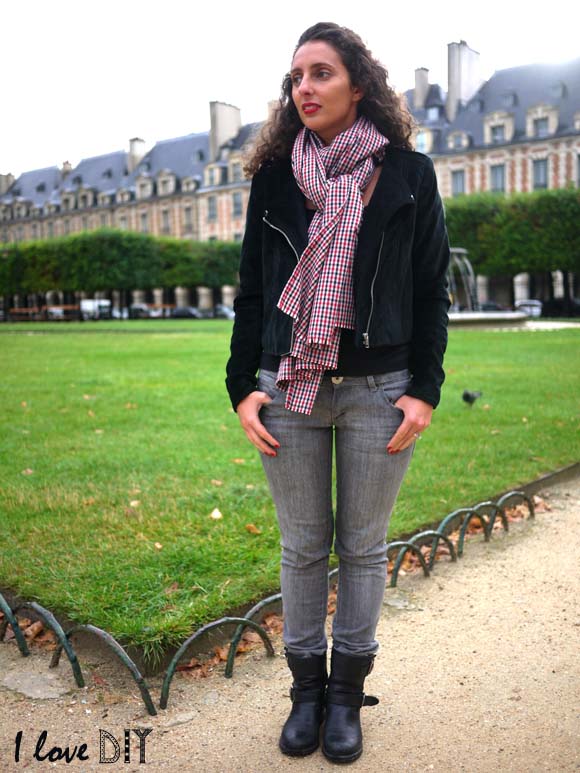 Echarpe DIY, perfecto H&M à 19€ bon plan dont je vous parlais ici, slim gris troqué, boots Aldo, rouge à lèvres Bourjois. 
Scarf DIY, perfecto H&M, slim from a swap, Aldo Boots, lipstick Bourjois.