La campagne de pub de cet hiver de Paul Ka est vraiment très inspirante. J'ai particulièrement apprécié les pompoms de fourrure des escarpins… Je ne pouvais pas laisser passer une occasion pareil de créer mes stilettos DIY.
The winter Paul Ka press campaign is really inspiring. I have particularly appreciated the fur tassel stilettos… I couldn't get of the way of making my own …
Matériel nécessaire :
–De la fourrure récupérée (chapeau, col de manteau peu importe… ) ou de la fausse fourrure. Si vous optez pour de la fausse fourrure allez-y avec de la couleur ce sera plus fun ! Pour trouver de la fourrure recyclée vous pouvez fouiner dans les friperies il y en a toujours.Le morceau que j'ai utilisé vient d'un vieux chapeau que j'avais acheté pour quelques dollars.
–De la feutrine
–Du ruban assez fin
–Du fil, une aiguille et une paire de ciseaux
Material needed :
–Some recycle fur (hat, collar coat anything…) or fake fur. If you are taking this option you can work with colored one, it will be fun ! To find recycle fur you can have a look on second hand stores. There is always some. The piece I have used,came from an old hat that I have bought for some dollars.
–Felt fabric
–Thin ribbon
–Needle, thread and cisors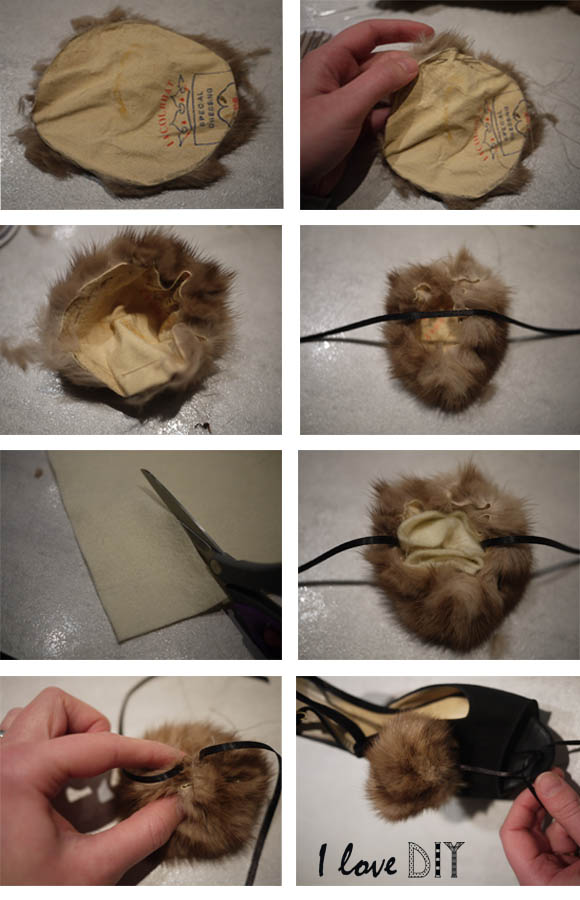 Ce qui est génial avec cet accessoire, c'est que vous pouvez l'utiliser un peu partout, sur un serre-tête, en bracelet, en noeud  dans les cheveux… Les possibilités sont infinies. Alors laissez parler votre créativité et osez !
What is  interesting with this accessory is that you can use it everywhere, on a head-band, on a bangle, or simply in your hair… There are thousand of possibilities. So let's your creativity play and dare !